NEW YORK- Fort Worth-based American Airlines (AA) flight from New York (JFK) to Tel Aviv (TLV) diverted to Dublin (DUB), Ireland.
The major US carrier operates 1X daily flight AA146 using its Boeing 777 fleet. Subsequently, the diversion took place today (20 July 2023).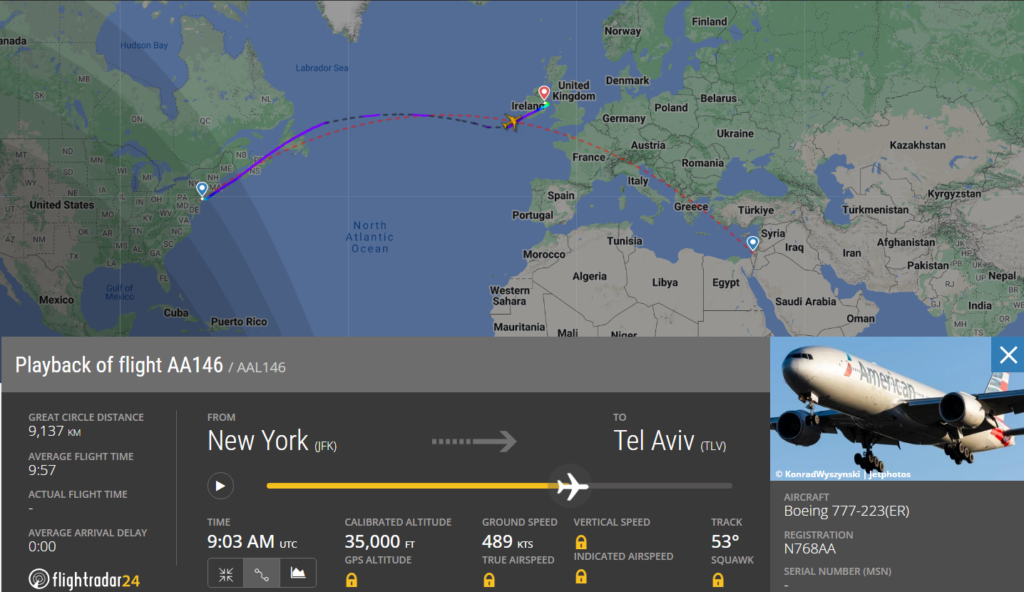 American Airlines Flight Diverted to Dublin
According to Twitter user Michael Kelly, American Airlines flight AA146 diverted to DUB due to Medical Emergency. Now let us establish a flight timeline with the help of Flight Radar 24 (FR24) to understand what actually happened.
American Airlines flight AA146 took off from New York (JFK) at 3:58 AM UTC, with 40 minutes delay. After being airborne for almost five hours, the flight attendant reported onboard medical issues and notified the flight crew.
After this, without wasting any time, the AA146 pilots notified Dublin Airport (DUB) ATC. Following this, the airport prepares to handle an emergency by deploying a rescue vehicle and ambulance.
The AA146 flight landed safely at DUB at 9:51 AM UTC, and rescue and emergency vehicles followed the aircraft to the terminal. Further, more details regarding the medical issues are awaited, and we will update you once we have them.
The aircraft involved in the incident is American Boeing 777-200ER, registered as N768AA.
Continued Flight
After staying on the ground at DUB for approx three hours, the flight prepared to continue its journey to Tel Aviv (TLV), Israel.
At around 12:43 PM UTC, the flight took off again and was airborne at the time of writing. Further, it is expected to land at TLV after being airborne for almost five hours and 30 mins.
This is the developing story, and We will keep you posted.
Stay tuned with us. Further, follow us on social media for the latest updates.
Also Read: US Airlines, Including American, United, Delta, and Southwest, want you to Dress Properly – Aviation A2Z
Join us on Telegram Group for the Latest Aviation Updates. Subsequently, follow us on Google News.