ANCHORAGE- United States' newest carrier, Northern Pacific Airways, is gearing up for its highly anticipated launch as it announces its first commercial flight scheduled for July 14, 2023.
The inaugural flight will transport passengers from Ontario, Canada, to the vibrant city of Las Vegas in the United States. Subsequently marking an exciting milestone for the airline and travelers alike.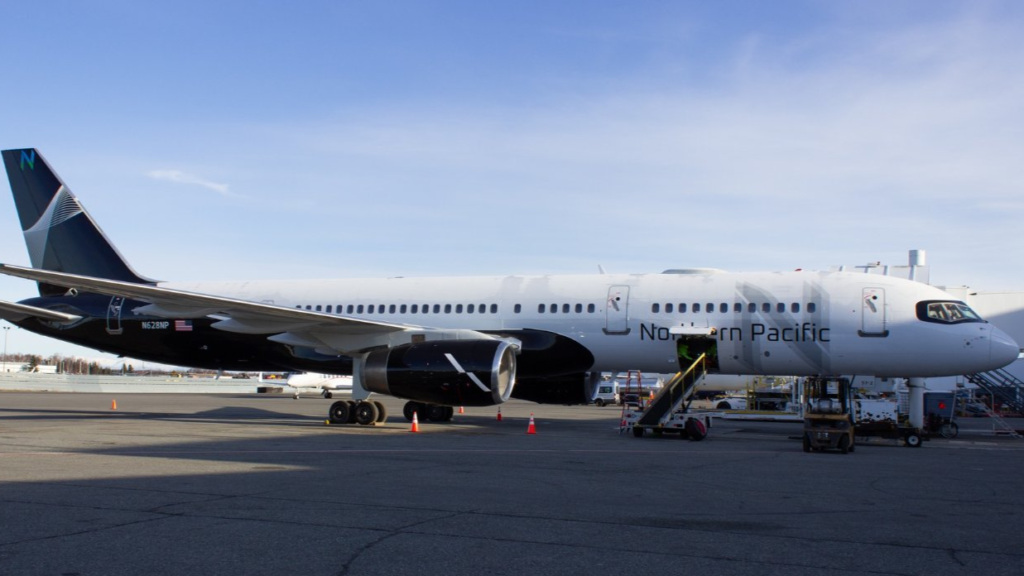 Northern Pacific Airways Prepares for Launch
In preparation for its maiden voyage, the dedicated team at Northern Pacific Airways is currently conducting a series of crucial proving runs.
These runs involve Federal Aviation Authority (FAA) representatives who are on board to assess various aspects of the airline's operations meticulously.
Since June 26, 2023, the Boeing 757-200 airline has completed seven successful flights. Further operating from Grant County International (MWH), Ontario Airport (ONT), and the airline's base at Anchorage Airport (ANC).
These proving flights aim to demonstrate the airline's operational readiness and adherence to strict safety standards.
The excitement surrounding Northern Pacific Airways is growing. Further fueled by captivating footage shared on social media.
The airline proudly showcased its sleek new jet as it taxied at Ontario Airport (ONT) following the completion of a successful proving flight.
The distinct livery was skillfully designed by Edmond Huot of Forward Studio in New York City. Further adds a touch of sophistication to the carrier's visual identity.
Key Certification Process Milestones
Prior to these proving flights, Northern Pacific Airways diligently completed an evacuation test, a crucial Phase 4 requirement in the Federal Aviation Administration's (FAA) Certification Process for scheduled airlines, known as Part 121 carriers in the United States.
As part of Phase 4, FAA team members are carefully documenting their observations during these activities using the Element Performance Assessment (EPA) data collection tool or Custom Data Collection Tools.
The Certification Project Manager (CPM) will analyze the collected data to assess the airline's overall performance. Successful completion of the proving tests marks the end of Phase 4.
Moving forward, Northern Pacific Airways enters Phase 5, which primarily involves administrative functions.
During this phase, the airline aims to obtain a license by satisfying the CPM and Certification Project Team (CPT) that fully complies with all US regulations. Further, ensuring the highest safety and operational standards.
The Birth of Northern Pacific Airways
Northern Pacific Airways is an ambitious venture created by regional airline Ravn Alaska. On September 30, 2021, the carrier acquired its first jet, the Boeing 757-200, signaling its commitment to providing exceptional service and seamless travel experiences to passengers across the region.
With the countdown to its inaugural flight underway, Northern Pacific Airways is poised to bring a new era of travel to the skies. Subsequently, connecting Ontario, Canada, with the vibrant destination of Las Vegas, USA.
Travelers can eagerly anticipate the launch of this innovative carrier and the exciting opportunities it will bring to the aviation industry.
Stay tuned with us. Further, follow us on social media for the latest updates.
Also Read: Indian Students Deported Back to Delhi from USA on Delta Flight – Aviation A2Z
Join us on Telegram Group for the Latest Aviation Updates. Subsequently, follow us on Google News.