MIAMI- United Kingdom flag carrier, British Airways (BA) London to Miami flight operated using Airbus A380 is seen circling randomly over the Atlantic Ocean.
The British Airways MIA bound flight is currently at 31,000 feet. But first, it made a small U-turn, and now it is circling randomly, probably dumping the fuel or burning the fuel over the ocean.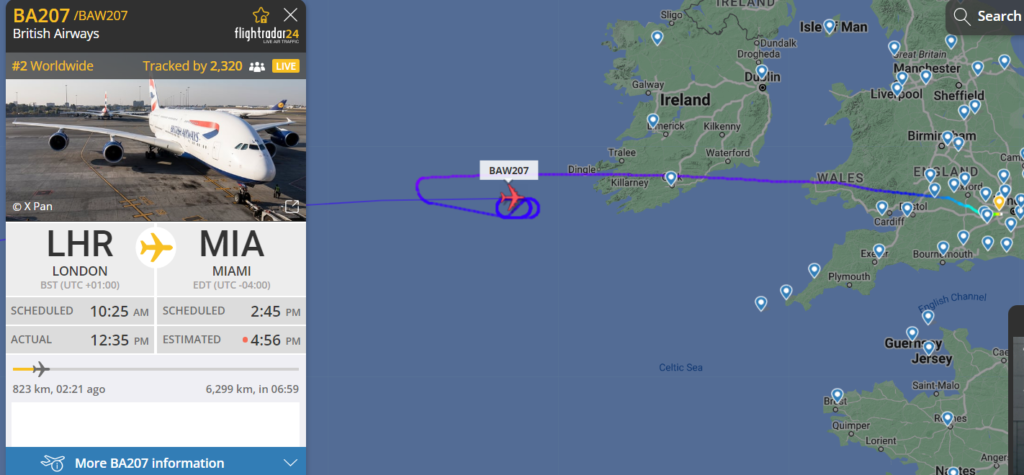 British Airways London to Miami Flight Circling
According to Flight Radar 24, British Airways flight BA207 took off from Heathrow Airport (LHR) in London at 11:35 AM UTC.
The BA207 is a daily scheduled flight from LHR to MIA and is operated using A380. Further, the flight covers a distance of 7,121 km in around nine hours.
On June 22 (Today), the BA flight intentions are different; it is circling over the Atlantic Ocean near Ireland. The reason for this flight dumping maneuver is not known yet.
The flight is now already delayed by more than one hour. Further, the aircraft is circling continuously for around an hour.
The aircraft involved in this incident is British Airways Airbus A380, registered as G-XLEA. Further, it is a 10.6-year-old carrier; BA took delivery of it back in 2013.
This is the developing story; keep checking back for the latest updates.
1st UPDATE: The BA207 is now returning to London and probably making an Emergency landing at LHR.
2nd UPDATE: The flight is again turning back towards Miami; what's going on??
3rd UPDATE: The A380 is again circling over the Atlantic, this time near to UK Coast. It is now the most Tracked flight on Flight Radar 24.
4th UPDATE: The flight is returning and expected to land at LHR in some minutes.
5th UPDATE: The BA207 finally landed at LHR at 5:14 PM UTC.
Check the flight status from here: Flightradar24: Live Flight Tracker – Real-Time Flight Tracker Map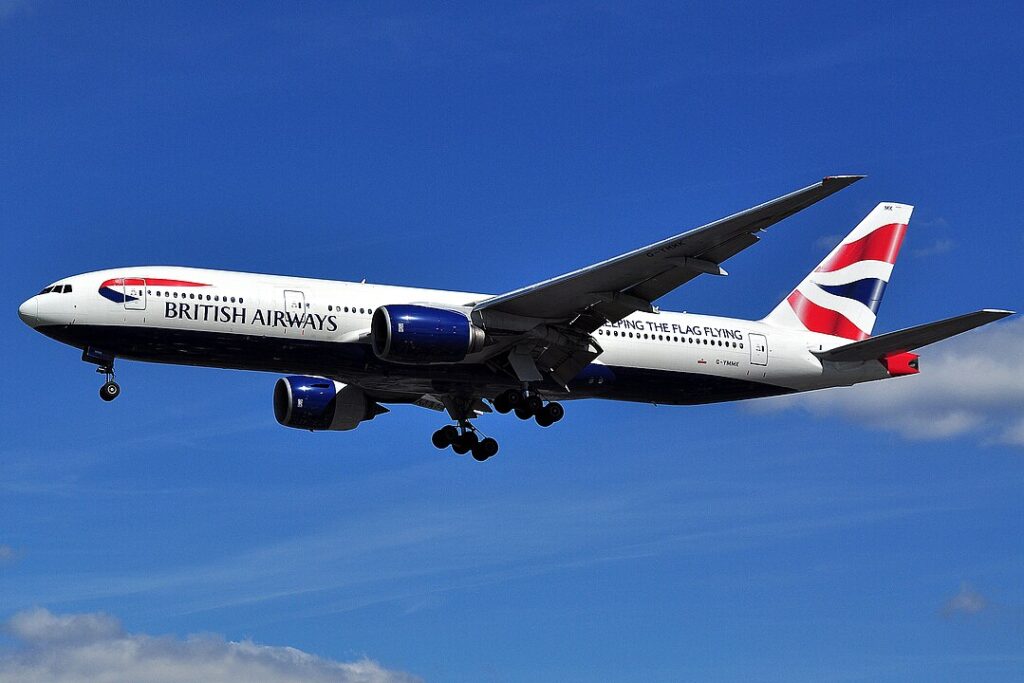 LAX-LHR Flight Declares Emergency
British Airways (BA) flight from Los Angeles (LAX) to London Heathrow (LHR) has declared an emergency. Further, the airline is operating Boeing 777 between this route.
According to Flight Radar 24, the flight tracking website, the British Airways flight BA268 has been showing the squawk 7700, which means an emergency situation.
The BA268 flight took off from Los Angeles International Airport (LAX) at 4:12 AM UTC. Further, the aircraft is airborne for almost 10 hours and covers a distance of 8780 KM.
The aircraft involved in the incident is Boeing 777-300 ER, registered G-STBJ. Further, the London-based carrier delivered G-STBJ in March 2014, and it is now 9.6 years old.
Stay tuned with us. Further, follow us on social media for the latest updates.
Also Read: US Airlines, Including American, United, Delta, and Southwest, want you to Dress Properly – Aviation A2Z
Join us on Telegram Group for the Latest Aviation Updates. Subsequently, follow us on Google News.