MUMBAI- TATA-backed Air India Express (IX) has announced the introduction of Gourmair, the acclaimed in-flight dining brand aimed at providing a delightful culinary experience to passengers.
Gourmair offers a diverse range of hot meals and lite bites to cater to various culinary preferences.
Commencing on June 22, 2023, interested passengers can pre-book Gourmair hot meals in different sections such as MasterChef Specials, World's Finest, Regional Favourites, All-Day Breakfast, Healthy and Diabetic options, Seasonal Fresh Fruits, Lite Bites including Sandwiches and Rolls, and Delectable Desserts, available on the airline's new co-branded menu.
Air India Express New Inflight Menu: Gourmair
Indian LCC Air India Express ensures that passengers have a wide array of food choices, including vegetarian, pescatarian, vegan, Jain, non-vegetarian, and eggetarian meals, to suit their specific dietary requirements and preferences.
Air India Express has collaborated with renowned chefs from reputed flight kitchens in India, the UAE, and Singapore to elevate the dining service.
The airline places great emphasis on maintaining the highest standards of hygiene, quality, and flavor in every meal served on board.
Currently, Gourmair is offered on AirAsia India's domestic flights, and with the integration of the two low-cost carriers, more offerings are being harmonized across both airlines.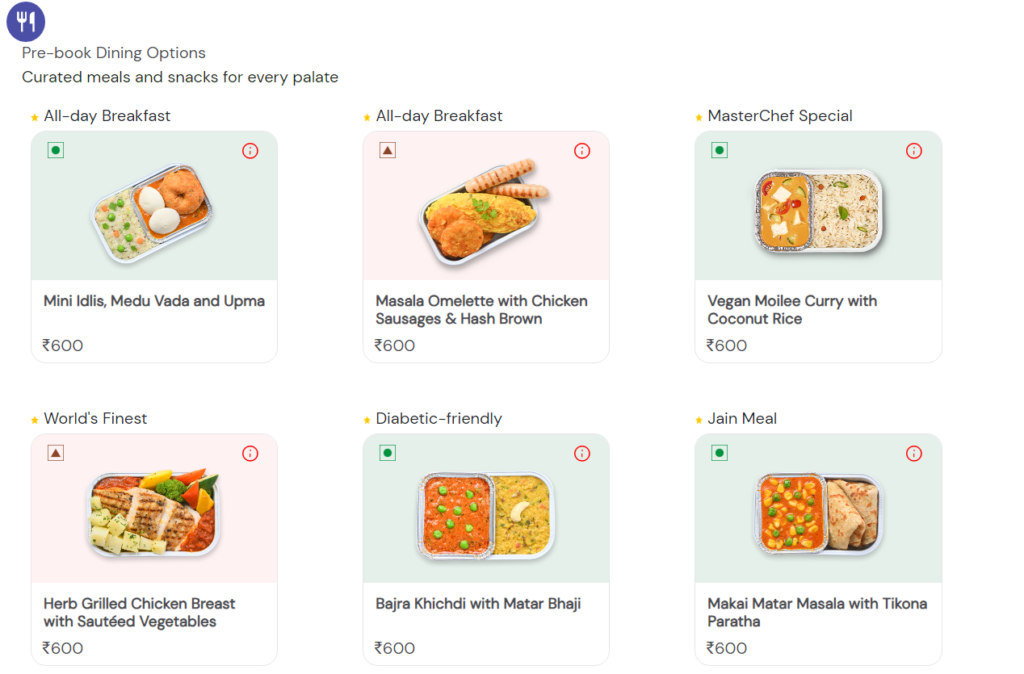 Official Showcase Page
The airline wrote on its official page that,
We have curated an extraordinary culinary experience called Gourmair, inspired by the joy of travel and new discoveries.
This gastronomic journey showcases a delightful blend of MasterChef specials, lite bites, and innovative desserts. Subsequently, the beloved global and regional favorites. All served piping hot at an altitude of 36,000 feet.
With a conscious effort to cater to diverse culinary preferences, our menu offers a wide array of options, including vegetarian, pescetarian, poultry, eggetarian, vegan, Jain, healthy, and diabetic choices.
Further, every meal is meticulously prepared with the utmost attention to hygiene and quality. Subsequently, we are committed to environmental and social responsibility and aspire to set new benchmarks in the dining experience.
Our collaboration with the talented chefs of TajSATS combines a century of hospitality expertise with decades of aviation acumen. Further, it ensures that each dish surpasses expectations. Join us on this remarkable journey of flavors, where the pleasure of discovery awaits.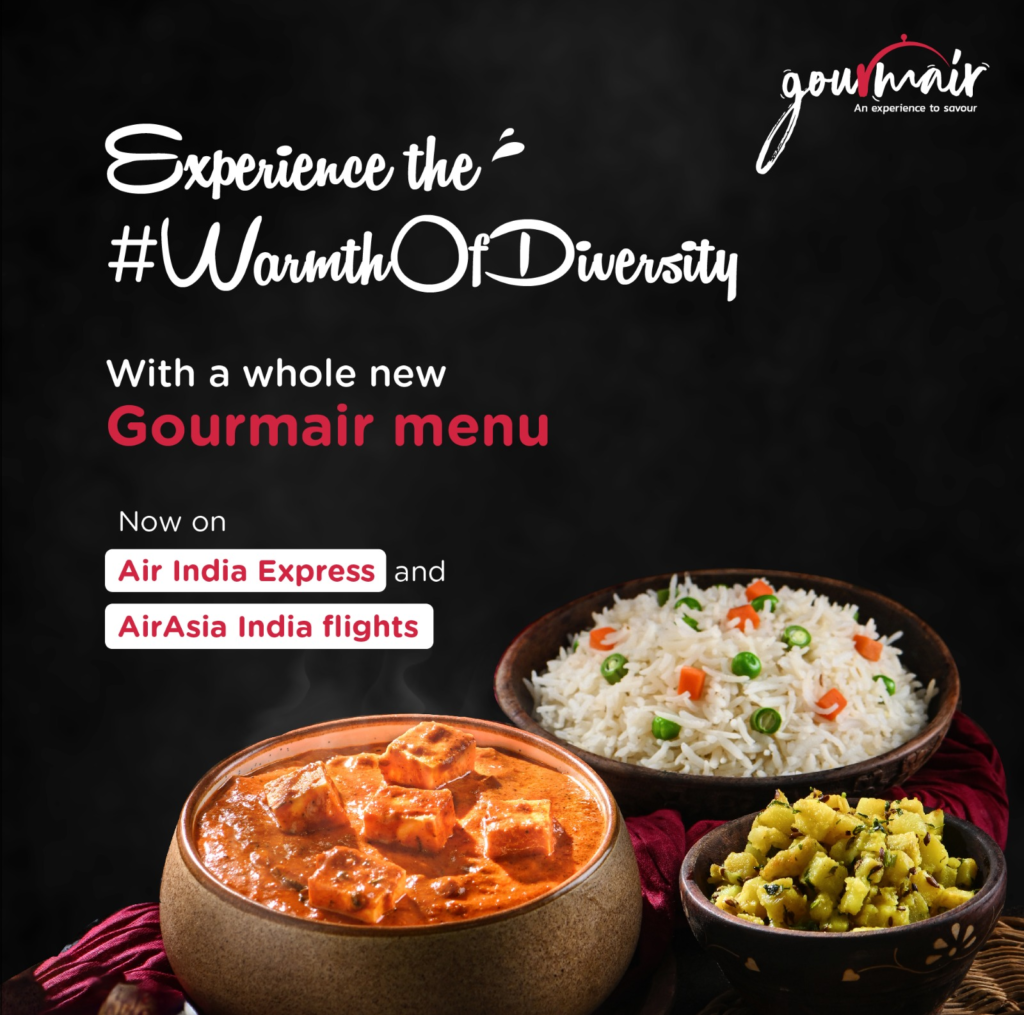 Executive Insights
Aloke Singh, the Managing Director of Air India Express and AirAsia India, expressed his enthusiasm about Gourmair's introduction. He stated, "We strive to set new benchmarks for in-flight dining by delivering an exceptional culinary experience. Which aligns with our commitment to providing our guests with value-for-money services."
He further added, "Gourmair has proved extremely popular onboard AirAsia India domestic flights. We are also pleased to bring this on the Air India Express international routes." Singh cordially invited all guests to savor the distinctive flavors of Gourmair served oven-hot at 36,000 feet in the sky.
Further, Passengers can now look forward to an elevated dining experience with Gourmair on Air India Express flights. Subsequently, combining exceptional flavors and impeccable service to make their journey truly enjoyable.
Stay tuned with us. Further, follow us on social media for the latest updates.
Also Read: US Airlines, Including American, United, Delta, and Southwest, want you to Dress Properly – Aviation A2Z
Join us on Telegram Group for the Latest Aviation Updates. Subsequently, follow us on Google News.