GURUGRAM- India's largest domestic carrier, IndiGo (6E) Airlines, is preparing to introduce a new enhanced onboard menu starting from September 1st.
A representative from the airline has confirmed that these new meals will be available on both domestic and international flights. In contrast to some other airlines, IndiGo has not heavily promoted its in-flight menu.
IndiGo New In-flight Menu
While the airline offers ready-to-eat options like upma, poha, and cup noodles for purchase onboard, passengers also have the option to pre-book fresh meals. As a result, IndiGo's utilization of in-flight catering as a marketing tool has been relatively modest.
IndiGo, which holds a significant market share of nearly 60%, has achieved remarkable success by implementing lower rates for pre-flight food bookings. This strategy encourages customers to purchase food in advance, leading to enhanced food catering planning and waste reduction.
In the upcoming menu update, IndiGo plans to introduce its popular vegetarian and non-vegetarian sandwiches, which were previously only available through pre-booking, alongside some fresh perishable snack options.
The airline's cabin crew is presently undergoing training for these additions. While the airline has not disclosed specific details about the new menu items, sources familiar with the matter have shared this information.
This move coincides with IndiGo's expansion into more domestic and international destinations. As travel continues to surge and passenger preferences evolve, in-flight cuisine has evolved beyond basic ready-to-eat meals.
"The objective is to provide passengers with a broader array of choices, thereby enhancing the overall customer experience," the spokesperson said to Deccan Herald.
Improvement in IndiGo In-flight Menu
Traditionally, comprehensive lunch and dinner menus, welcome drinks, and hot towels were offered exclusively by full-service airlines in India, extending even to domestic economy class passengers.
Some airlines, such as Jet Airways (9W), were renowned for offering complimentary sweet tamarind candies, packets of sugar, salt, and pepper, along with trays of hot meals.
Upon the advent of low-cost carriers (LCCs), Indian passengers were presented with the option to opt out of in-flight meals in exchange for affordable and punctual flights. Interestingly, this model garnered significant success, and a considerable majority embraced it wholeheartedly.
However, in recent years, in-flight meals have regained prominence. Indian airlines continually revamp their menus, including full-service carriers like Air India (AI) and LCCs like IndiGo, SpiceJet (SG), and Akasa Air (QP).
By closely observing consumer preferences and dining trends, airlines strive to replicate them in their in-flight offerings, featuring menus that change with the seasons and incorporate festive dishes.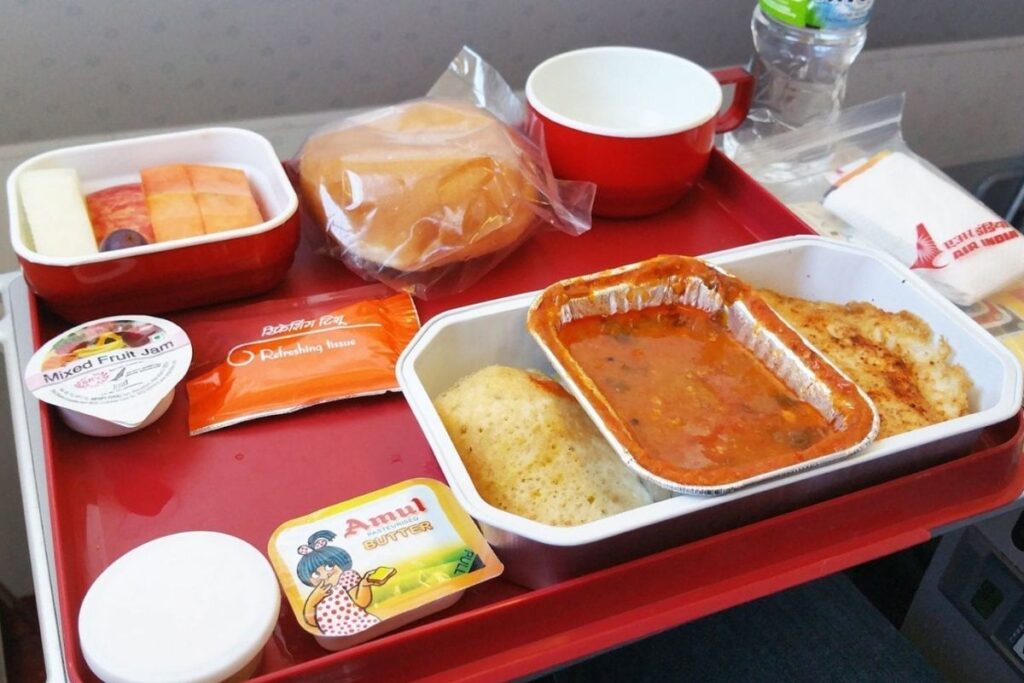 TATA Air India Group Revamp
To provide an illustrative example, the Tata Group upgraded the in-flight menu as one of the initial steps in rebranding Air India.
The airline unveiled a fresh menu for its domestic flights in the past year, featuring locally-sourced ingredients and regional delicacies such as biryanis, curries, and masala potatoes.
In April of this year, the airline introduced revamped food and beverage menus for all cabins on its international flights. These menus included vegan choices like broccoli and millet steak, Thai red curry with tofu and vegetables, subz seekh kebab, and medhu vada.
Vistara has positioned itself as the preferred choice for passengers seeking a comprehensive full-service experience in India.
While passengers in economy class receive complimentary meals, those traveling in premium economy and business class also enjoy the addition of Starbucks coffee. This marketing strategy has proven to be highly effective for the airline.
Several airlines now also accommodate various dietary preferences by offering alternatives that are gluten-free, suitable for diabetics, and low in calories.
SpiceJet Meal curated by Michelin Star Chef
The Indian low-cost carrier SpiceJet (SG) Airlines introduces special onboard meal experiences crafted by acclaimed Michelin-star chef Vikas Khanna with the aim of promoting education for girls.
The SpiceJet shared a Special video featuring Michelin-star chef Vikas Khanna on its social media platform. Furthermore, SG unveiled a new livery featuring Vikas Khanna with in-flight meals.
Aviation Veteran Ajay Singh, led SpiceJet carrier revealed the news about this wonderful collaboration today on June 1, 2023.
Subsequently, the Indian carrier Expressed, "Experience a culinary collaboration between SpiceJet and renowned chef Vikas Khanna, bringing you four exclusive and delectable dishes. Indulge in these limited edition flavors while supporting the Mijwan Welfare Society's mission to empower girls through education in India. Bon appétit!"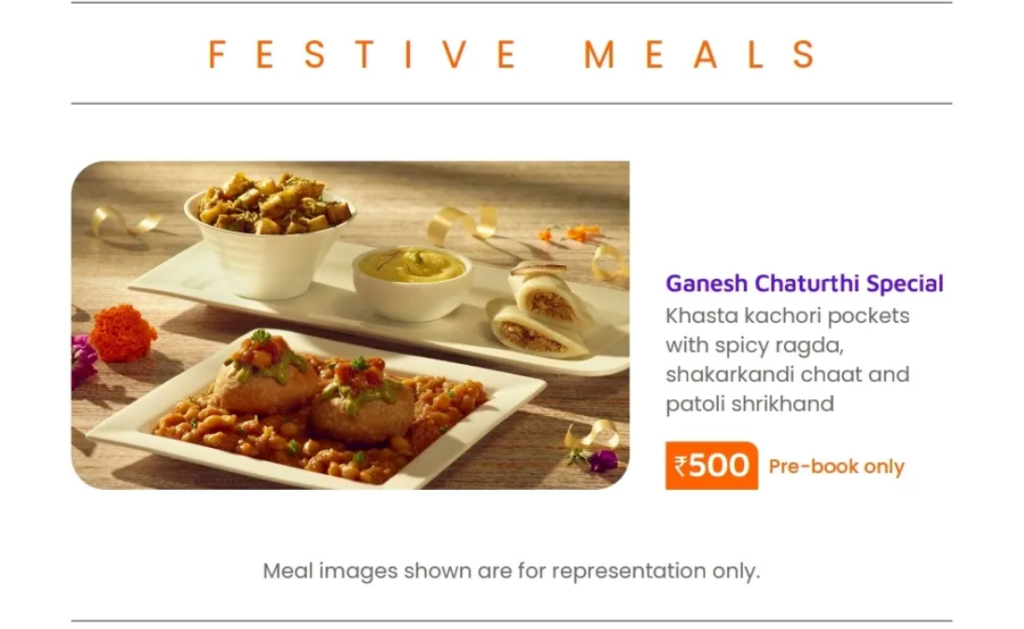 Young Menu with Young Airline
Upon commencing its operations, Akasa Air swiftly introduced its own culinary brand, Cafe Akasa. This brand offers diverse meal choices, encompassing options for health-conscious passengers such as farm-inspired, plant-based nutritious meals.
These culinary offerings are exclusively curated in collaboration with esteemed chefs from various regions of India.
Adhering to this emerging trend, IndiGo launched Indigo 6E Tiffin in August 2022, featuring 22 novel food items.
This assortment includes regional favorites from kitchens and local streets, encompassing items like burgers and samosas alongside more health-conscious selections such as oatmeals and muesli.
Indian airlines are making significant investments in enhancing their food services to captivate customers, and industry experts indicate that both the models—offering premium in-flight meals and buy-on-board options—are anticipated to coexist harmoniously in the foreseeable future.
Stay tuned with us. Further, follow us on social media for the latest updates.
Also Read: Indian Students Deported Back to Delhi from USA on Delta Flight – Aviation A2Z
Join us on Telegram Group for the Latest Aviation Updates. Subsequently, follow us on Google News.