WASHINGTON, US- The United Kingdom-based Virgin Atlantic (VS) flight VS21 from London Heathrow Airport (LHR) to Washington (IAD), United States, has declared an Emergency.
The airline operating Airbus A330-300 is returning back to London Heathrow. Further, the aircraft has the registration G-VKSS.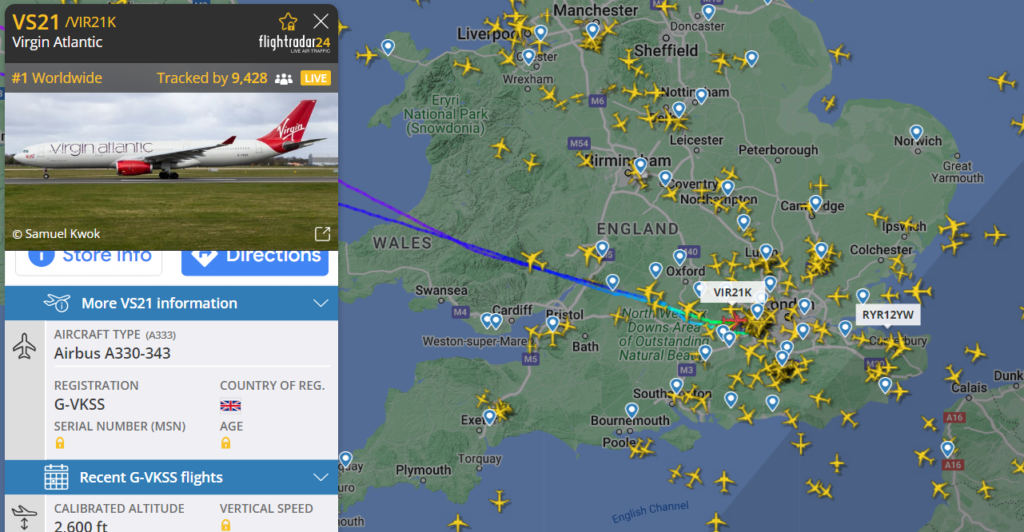 Virgin Atlantic London Washington Flight Emergency
According to Flight Radar 24, the flight tracking website, the Virgin Atlantic flight VS21 took off from Heathrow (LHR) at 6:19 PM UTC.
It is expected to land at Washington Dulles International Airport (IAD) after being airborne for almost seven hours. Further covering the approximately 6,000 km distance between the two important cities.
The VS Airbus A330 is seen returning back to London and is expected to land shortly. Further, the emergency's reason is unclear, but it could be anything from vital system failure to Inflight medical emergency.
The aircraft involved in the incident is Airbus A330-343 G-VKSS. Further, it is 12 years, and four-month-old airliner, VS took delivery of it in February 2011
We will keep you posted once we have the complete information. Keep checking back for the latest updates.
FIRST UPDATE: The flight landed safely at LHR, and passengers are getting disembarked. We will see whether VS will arrange an alternative aircraft or will cancel the flight.
SECOND UPDATE: According to some reports, the plane diverted due to high engine vibration parameters. While some stated that there is a storm ahead of the flight led to this high vibration and, ultimately, the diversion back to London.
British Airways LAX-LHR Flight Declares Emergency
On June 7, 2023, the UK Flag carrier British Airways (BA) flight from Los Angeles (LAX) to London Heathrow (LHR) declared an emergency. Further, the airline is operating Boeing 777 between this route.
According to Flight Radar 24, the flight tracking website, the British Airways flight BA268 has been showing the squawk 7700, which means an emergency situation.
The BA268 flight took off from Los Angeles International Airport (LAX) at 4:12 AM UTC. Further, the aircraft is airborne for almost 10 hours and covers a distance of 8780 KM.
Subsequently, the Flight will land at Heathrow International Airport (LHR) in London at around 3:20 PM UTC.
The aircraft involved in the incident is Boeing 777-300 ER, registered G-STBJ. The London-based carrier delivered G-STBJ in March 2014 and is now 9.6 years old.
Stay tuned with us. Further, follow us on social media for the latest updates.
Also Read: US Airlines, Including American, United, Delta, and Southwest, want you to Dress Properly – Aviation A2Z
Join us on Telegram Group for the Latest Aviation Updates. Subsequently, follow us on Google News.