NEW YORK- The UK-based Virgin Atlantic (VS) flight from New York (JFK) to Manchester (MAN) declared a general emergency by squawking 7700 before its approach to the UK coast.
Virgin Atlantic Airline deploys its Airbus A350 aircraft on this New York-Manchester route. The Richard Branson-owned carrier operates one flight daily between JFK and MAN.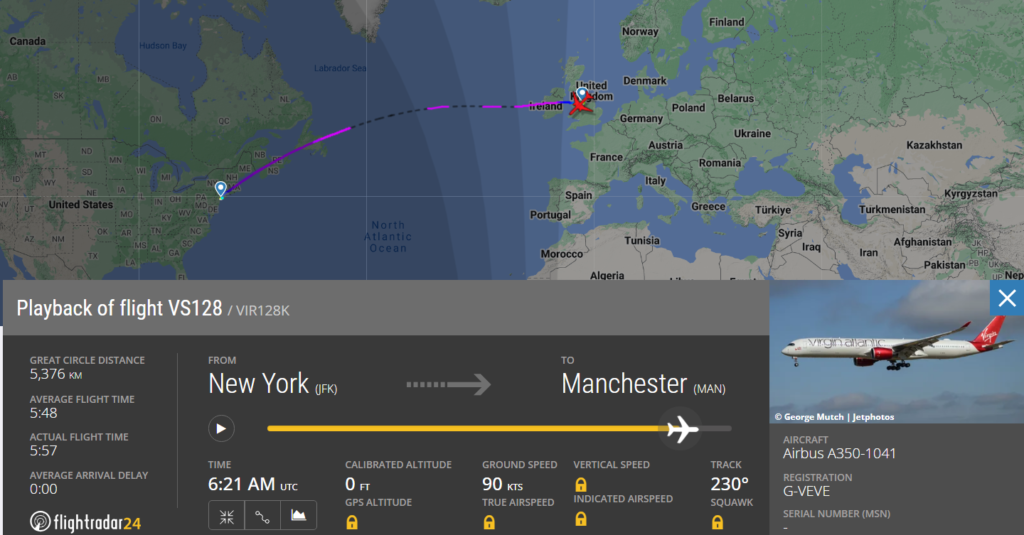 Virgin Atlantic Manchester Flight Emergency
Now, let us establish a flight timeline with the help of data from FlightRadar24 (FR24).
According to FR24, Virgin Atlantic flight VS128 took off from New York (JFK) at around 12:24 AM UTC. After being airborne for almost five hours and 25 minutes, the flight started descent on its approach to the UK Coast.
At around 5:57 AM UTC, the flight declared an emergency and quickly started dropping down to a lower altitude to make a quick landing at Manchester Airport. The flight landed safely at Manchester (MAN) at around 6:21 AM UTC.
The reason for the emergency is not yet known, but it looks like it can be related to some technical issues with one of the aircraft systems. However, this is just a speculation, and we will wait for official airline comments.
Virgin deployed an Airbus A350-1000 to operate the flight, registered as G-VEVE. Further, it is just a 2-year-old aircraft and is powered by two Rolls Royce Trent XWB Engines.
Similar Incident
In late June 2023, Virgin Atlantic (VS) flight VS21 from London Heathrow Airport (LHR) to Washington (IAD), United States, declared an Emergency. The flight operated by Airbus A330-300 returned back to London Heathrow. Further, the aircraft has the registration G-VKSS.
According to some reports, the plane diverted due to high engine vibration parameters. Some stated that a storm ahead of the flight led to this high vibration and, ultimately, the diversion back to London.
The aircraft involved in the incident is Airbus A330-343 G-VKSS. Further, it is 12 years and four-month-old airliner. VS took delivery of it in February 2011.
Stay tuned with us. Further, follow us on social media for the latest updates.
Also Read: US Airlines, Including American, United, Delta, and Southwest, want you to Dress Properly – Aviation A2Z
Join us on Telegram Group for the Latest Aviation Updates. Subsequently, follow us on Google News.