MANCHESTER- UAE Flag carrier Etihad Airways (EY) has been entrusted with transporting the UEFA Champions, Manchester City, back home stylishly.
Following their victory in the UEFA Champions League, Manchester City has become the second English team, after Manchester United in 1999, to achieve the prestigious treble.
Before Manchester City can embark on further accomplishments, it is time for the triumphant team to depart from Istanbul Airport and return to Manchester Airport.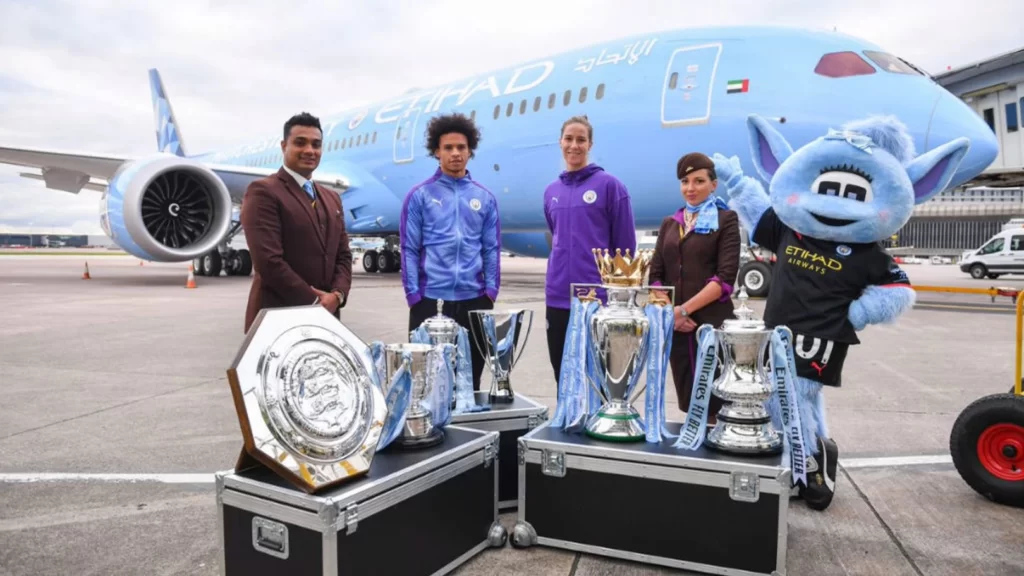 Etihad Manchester City Champions
Despite featuring a special livery, the aircraft with the registration, A6-BND has also been utilized for regular commercial passenger flights.
It frequently operates from Abu Dhabi to various long-haul destinations, including Vienna, Zurich, Brussels, Barcelona, Amsterdam, and Frankfurt.
Additionally, this widebody aircraft is employed to transport Manchester City whenever needed. Further, when bringing the club home after a historic victory in the Champions League.
Operating under flight number EY 8041, the aircraft took off from Istanbul Airport at approximately 14:35 today.
The scheduled arrival time is 16:40. By the time of publication, EY 8041 successfully returned Manchester City to their home base.
With notable passengers on board and the aircraft's distinctive and attention-grabbing livery, it is no surprise that flight EY 8041 has taken the spotlight as the most closely monitored flight globally.
Over 4000 avgeeks are tracking the live movements of this flight. As the aircraft prepares to initiate its approach to Manchester Airport, the number of people following the flight will likely continue to rise.
After the conclusion of flight EY 8041, the responsibilities of A6-BND are far from over. Following its arrival at Manchester Airport, this Boeing widebody aircraft will begin its next task of accommodating regular revenue passengers.
It will operate as flight EY 30, with a scheduled departure time 21:00.
These passengers will be transported to Abu Dhabi International Airport. Further, the aircraft will arrive at approximately 07:00 the following day.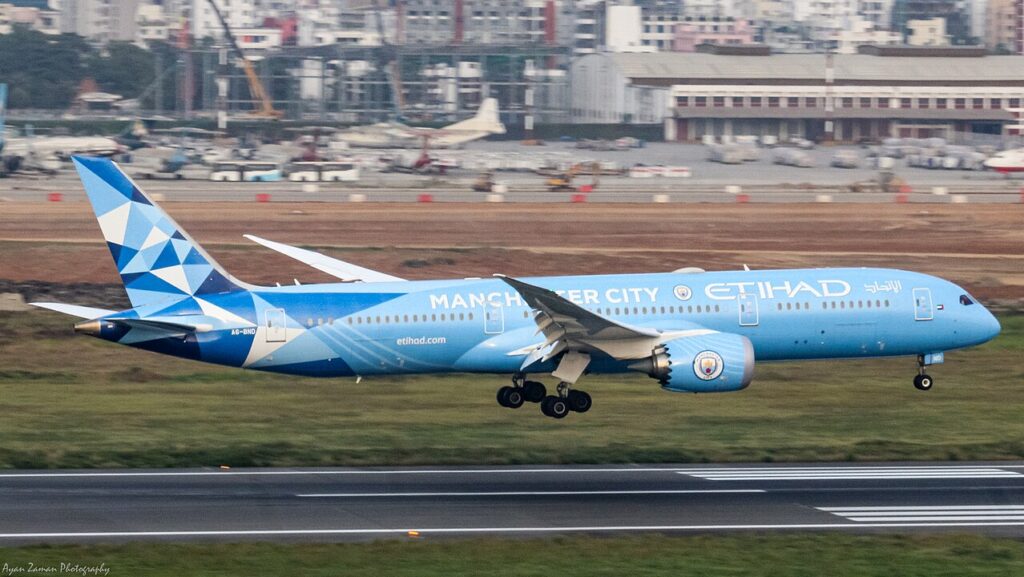 Etihad 'Man City' Livery
In May 2009, an important collaboration was unveiled as Manchester City and Etihad Airways joined forces. As a result, the club's stadium underwent a name change, becoming Etihad Stadium.
This strategic alliance marked the establishment of the Etihad Campus. Subsequently, it encompasses a significant portion of the Sport City site in East Manchester.
Given this enduring partnership, it is clear that the airline based in Abu Dhabi will go the extra mile to transport the team whenever feasible.
This gesture is reminiscent of a previous instance when the airline showcased a similar livery on an older Airbus A330-200. Subsequently, it is retired in 2011. The present aircraft sporting the 'Manchester City FC' special livery is a Boeing 787-9 Dreamliner registered with A6-BND.
The widebody aircraft proudly displays the club's iconic sky-blue color scheme. Further making it a remarkable sight to behold.
Stay tuned with us. Further, follow us on social media for the latest updates.
Also Read: US Airlines, Including American, United, Delta, and Southwest, want you to Dress Properly – Aviation A2Z
Join us on Telegram Group for the Latest Aviation Updates. Subsequently, follow us on Google News.