DUBAI, UAE- The flag carrier of UAE, Emirates (EK), will have the New First and Business Class for its upcoming Fleet. Further, EK has placed orders for Airbus A350s, Boeing 787s, and Boeing 777Xs to enhance its fleet.
Emirates Airlines is entering an intriguing phase in the coming years. As an airline headquartered in Dubai, its existing fleet comprises solely Airbus A380s and Boeing 777s.
However, with the conclusion of A380 production in 2021 and the anticipated retirement of A380s by the mid-2030s, Emirates is reevaluating its fleet approach and making strategic decisions to adapt to the changing landscape.
Emirates to have New First and Business Class
Fleet Update
Middle East carrier currently operates a fleet of approximately 250 aircraft, comprising Airbus A380s and Boeing 777s. Furthermore, the airline has placed orders for nearly 200 additional aircraft, spanning three different types:
EK has 50 Airbus A350-900s on order, with deliveries expected to commence in 2024.
Emirates has 30 Boeing 787-9s on order, with deliveries expected to commence in 2025.
Emirates has 115 Boeing 777-9s on order, with deliveries expected to commence in 2025.
The introduction of the Airbus A350 will mark the next addition to Emirates' fleet. The timeline for the inclusion of the Boeing 787-9 or 777-9 remains uncertain.
Further, the 777-9 delivery has experienced significant setbacks due to certification issues, resulting in a delay of at least five years until 2025. Subsequently, the extended delay of the 777-9 has posed challenges to Emirates' fleet renewal plans, causing disruptions and necessitating adjustments to their strategy.
No First Class on Boeing 777 and A350

Emirates has made the decision not to include a first-class cabin on its new A350-900 and 787-9 aircraft. Further, all 80 of these aircraft are expected to feature a three-cabin configuration comprising business class, premium economy, and economy class.
Furthermore, EK President Tim Clark has stated that these planes will primarily be deployed on medium and long-haul routes where the demand for the first class is insignificant.
This decision is a surprise, considering Emirates currently boasts the largest first-class offering among all airlines. With over 90% of its fleet equipped with first-class cabins. Further, this has been a significant competitive advantage for the airline. Subsequently allowing passengers to experience first-class luxury on nearly any route.
With the absence of a consistent first-class offering, some premium passengers may now encounter mixed cabin itineraries. It is unexpected that the airline has chosen not to incorporate even a small first-class cabin on these aircraft, which would have provided a level of consistency across their fleet.
New First Class on 777Xs
While the A350-900s and 787-9s in Emirates' fleet won't feature first class, the airline has plans to install first-class cabins on its new 777-9 aircraft. Further, With over 100 of these aircraft on order, the 777-9s are set to become Emirates' flagship planes. Especially as the A380s are phased out.
The first-class offering on the Emirates 777-9s is expected to match the excellent product currently available on select 777-300ER aircraft.
Currently, only nine planes feature these first-class seats. So the expanded introduction of the 777-9 will increase this premium cabin's footprint.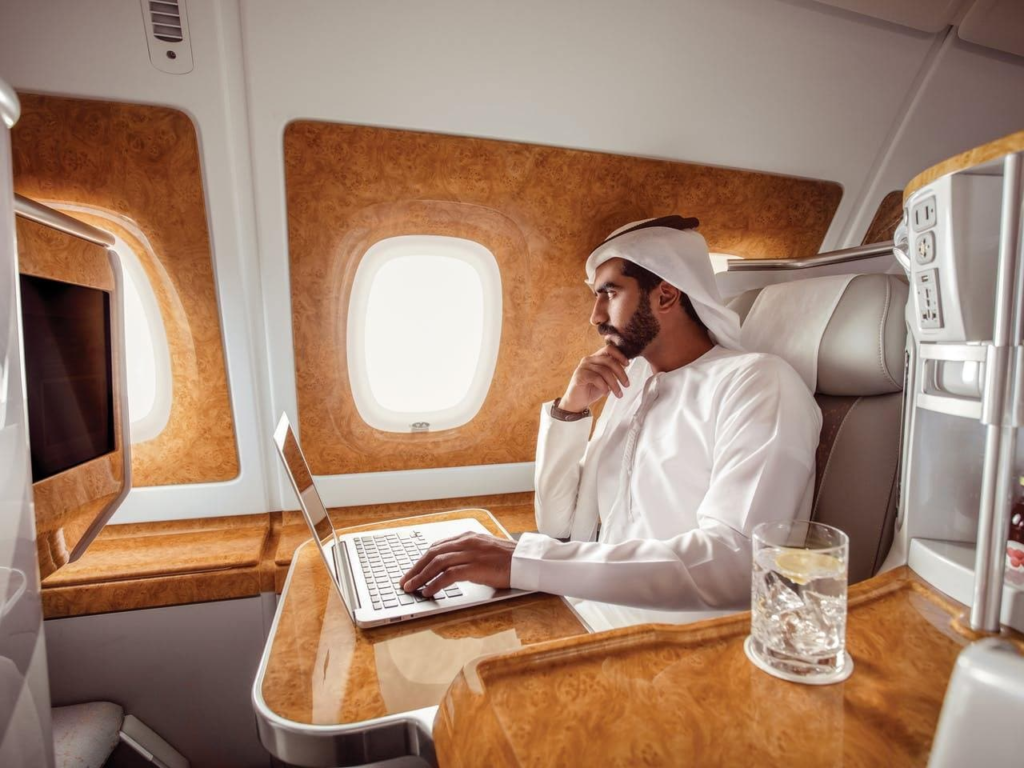 New Business Class
While Emirates has gained a global reputation as a top-tier airline, it is important to note that a significant portion of its prestige comes from its Airbus A380s. Renowned for its luxurious features like the first-class shower spa and business-class lounge.
However, when it comes to the carrier's most frequently used aircraft, the 777, the business class experience is often considered less impressive.
So, what is Emirates' strategy for the business class seats on the A350-900s, 787-9s, and 777-9s? The latest information suggests that Emirates plans to incorporate its Airbus A380 business class seat design into these new aircraft.
While some seats may be adjusted, they are expected to be standard staggered business-class seats. On a positive note, these seats will offer fully flat beds and direct aisle access.
However, it's important to note that this is the most recent official information available. It wouldn't be surprising if the Emirates decides to change its plans or if they have not disclosed further details yet.
Stay tuned with us. Further, follow us on social media for the latest updates.
Also Read: Indian Students Deported Back to Delhi from USA on Delta Flight – Aviation A2Z
Join us on Telegram Group for the Latest Aviation Updates. Subsequently, follow us on Google News.