European Planemaker Airbus has initiated a tour of Southeast Asia, showcasing its newest A220 aircraft. The aircraft arrived at the Langkawi International Airshow (LIMA 2023) in Malaysia on May 23.
During the event, it will be on static display and will also conduct a demonstration flight for industry guests and media representatives.
LIMA 2023, the Official 16th Edition of the Langkawi International Maritime and Aerospace Exhibition, is a prominent biennial event that stands as one of the largest exhibitions in the Asia-Pacific region for both maritime and aerospace industries.
Newest Airbus Model
The A220 is a modern aircraft in its size category, accommodating 100 to 160 passengers on flights covering up to 3,450 nautical miles (6,400km). Its capabilities enable direct non-stop services between various destinations in Malaysia and regional routes to locations like Darwin and Perth in Australia, the Middle East, Tokyo, and Seoul.
Compared to previous-generation aircraft of similar size, the A220 achieves a remarkable 25% reduction in fuel consumption and carbon emissions. This significant improvement aligns with industry objectives to minimize the environmental impact of aviation.
Like other Airbus aircraft, the A220 is designed to operate with up to 50% Sustainable Aviation Fuel (SAF). The planemaker has set a target for all its aircraft to be capable of running on 100% SAF by 2030.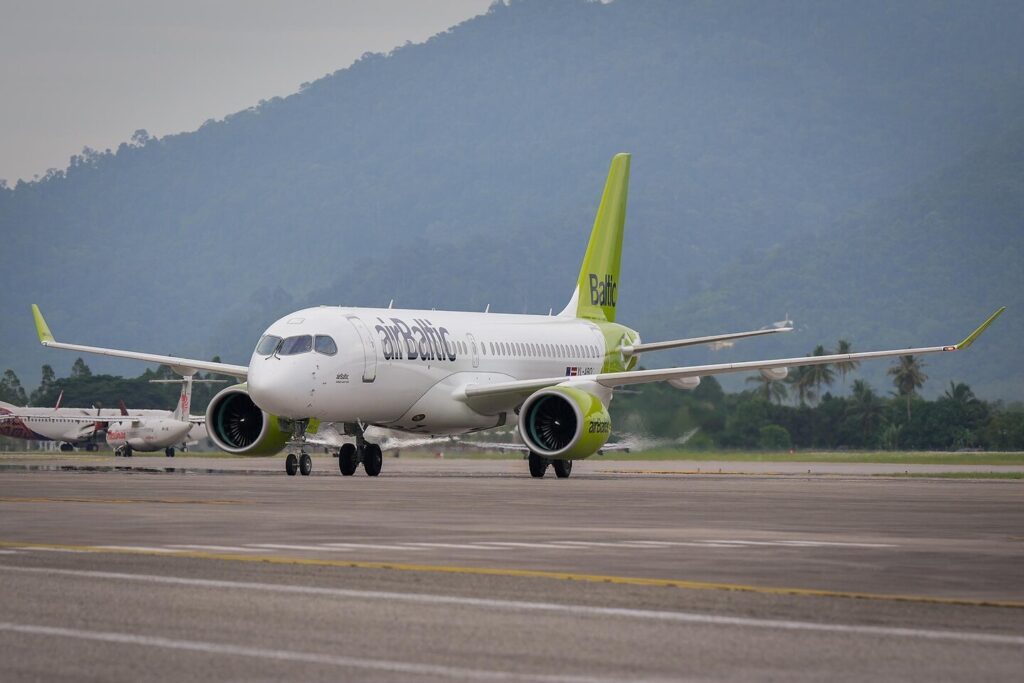 Airbus A220 Southeast Asia Tour

Airbus has leased the aircraft showcased at LIMA 2023 from airBaltic. Further, it boasts a comfortable layout, accommodating 148 seats in a single-class passenger cabin.
Before arriving in Langkawi, the aircraft made a stop in Kuching, Sarawak, where it underwent refuelling using a 10% blend of Sustainable Aviation Fuel (SAF) provided by Neste.
After its display at Langkawi, the aircraft will embark on a tour, visiting Kuala Lumpur, Jakarta, Bangkok, and Koh Samui.
The A220 aircraft is offered in two versions: the -100 variant, which can accommodate between 100 and 130 passengers. Further, the larger -300 variant can seat between 130 and 160 passengers in typical configurations.
With the largest cabin, seats, and windows in its class, the A220 provides passengers with exceptional comfort during their journey. The aircraft is equipped with advanced Pratt & Whitney PW1500G geared turbofan engines.
To this day, Airbus has garnered 785 orders for the A220 and has successfully delivered over 260 aircraft as part of this program.
Stay tuned with us. Further, follow us on social media for the latest updates.
Also Read: Indian Students Deported Back to Delhi from USA on Delta Flight – Aviation A2Z
Join us on Telegram Group for the Latest Aviation Updates. Subsequently, follow us on Google News.