MUMBAI- India's largest carrier, IndiGo (6E) Airlines flight 6E 5278 from Chennai Airport (MAA) to Mumbai Airport (BOM) declared a Full emergency as it experienced a hydraulic failure.
The plane successfully made an emergency landing at Mumbai Airport. Subsequently, a full emergency was declared at the Mumbai airport, and reported our source working at the airport.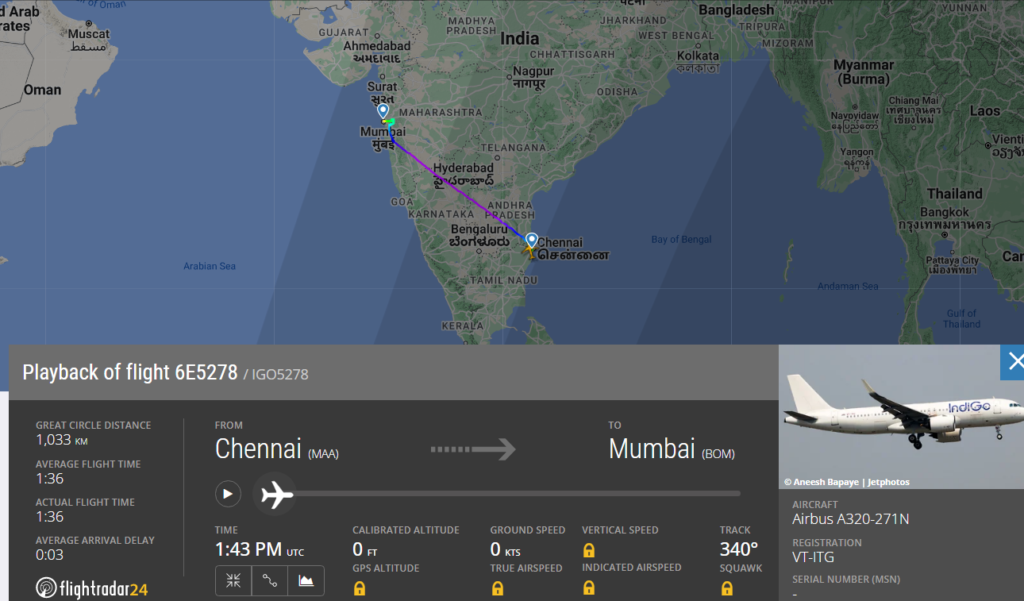 IndiGo Chennai to Mumbai Flight Declares Full Emergency
According to the source requesting anonymity told, the pilot experienced hydraulic failure. Subsequently, they reported it to ATC, declared a full emergency, and landed safely with only a single hydraulic system.
As per Flight Radar 24, Indigo flight 6E5278 took off from Chennai at 7:15 PM. Further, it landed at Mumbai after being airborne for one hour and thirty-six minutes and covering 1033 Km. The plane successfully landed at CSMIA in Mumbai at 9:00 PM (all times are local).
The plane involved in the incident was Airbus A30neo which has the registration VT-ITG. Further, the plane is 7 years old, the airline took delivery in Sep 2016, and it is taken on lease.
After landing plane went to Bay 5 and is getting inspected by the 6E Engineering team. Further, they are finding the cause and will perform the necessary maintenance.
Similar Incident
Air India flight experienced hydraulic failure on its way to Mumbai. According to our source, most likely, the green hydraulic system is the one which experienced the failure.
According to Flight Radar 24, the plane took off from Bengaluru Airport (BLR) at 7:20 PM. The pilot noticed the hydraulic system failure and followed the necessary operational procedures. He further notified Mumbai Air Traffic Control (ATC) Tower about the situation. Following this, ten mins of confession were expected at the airport.
The plane landed on time on a priority basis at Mumbai Airport (BOM) at around 8:45 PM. However, the actual time of arrival was 9:20 PM.
The plane involved in the incident is Airbus A321-211, with the registration VT-PPW. According to Planespotters.net, the fleet tracking and images website, the aircraft is 13 years old and was delivered to Air India in Jan 2010.
Stay tuned with us. Further, follow us on social media for the latest updates.
Also, read FIRST LOOK: Air India Airlines New Possible Branding, Livery, Logo and More | Exclusive – Aviation A2Z
Join us on Telegram Group for Latest Aviation Updates. Subsequently, follow us on Google News.