Emirates has concluded its involvement in the 30th installment of the Arabian Travel Market (ATM) with a successful outcome.
The airline attracted more than 16,000 visitors to its booth, conducted over 300 meetings to enhance business relationships, and formed partnerships with tourism organizations from various locations in its network.
Emirates Concludes Arabian Travel Market 2023
The significant number of visitors who had the chance to experience Emirates' products across all classes clearly indicates the airline's highly coveted offerings as the industry makes a strong comeback.
Emirates showcased its entire range of onboard experiences, including the popular Premium Economy Class. Further, fully enclosed private suites in the Boeing 777-300ER Game-Changer First Class, Business Class seats in the Boeing 777. Subsequently, the latest generation A380 onboard lounge.
Other notable products, such as the First Class Shower Spa and the newest version of its A380 Economy Class seats, were also featured.
The airline also presented its numerous sustainability initiatives taking place throughout the organization. In addition, its AI Gallery generated 800 customized pieces of inspirational travel artwork.
Emirates continued to prioritize its emphasis on building robust relationships and fruitful partnerships with tourism organizations and airlines to expand its services and offer travelers more choices.
As part of this effort, the airline signed deals with eight tourism boards, which included the Ministry of Tourism and Creative Economy of Indonesia, the Moroccan National Tourism Office, and the Tourism Authority of Zimbabwe.
Further, Tourism Seychelles, Mauritius Tourism Promotion Authority (MTPA), the Sri Lanka Tourism Promotion Bureau, the Bahrain Tourism and Exhibition Authority, and Zambia Tourism.
The main objective of these collaborations is to increase the number of tourists arriving in each country and leverage the growing demand for air travel.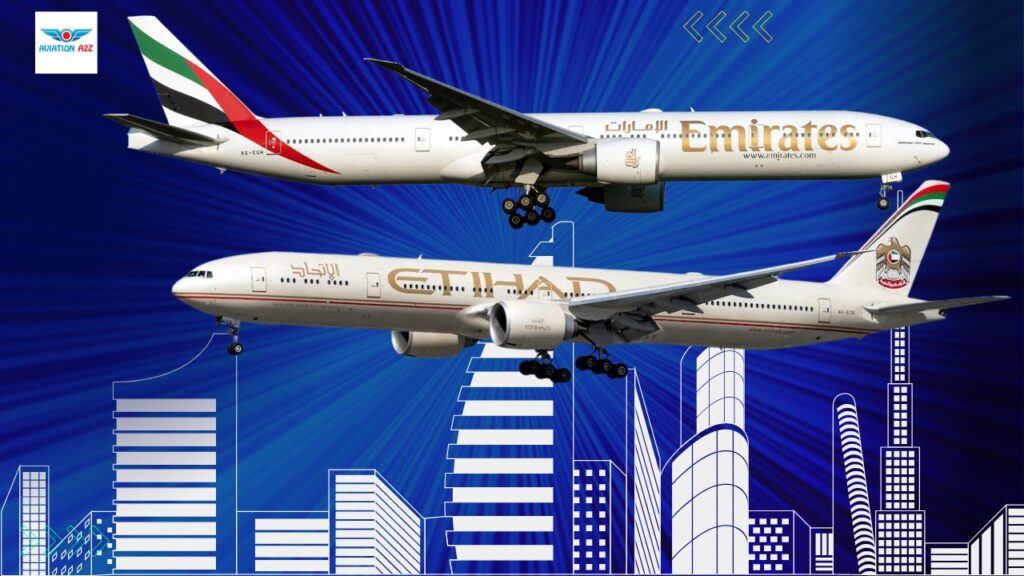 Historical Emirates and Etihad Interline Agreement
Emirates and Etihad Airways signed a Memorandum of Understanding (MoU). To offer tourists a wider range of itinerary options when visiting the UAE. This partnership aims to increase tourism from important source markets. By allowing visitors to explore multiple destinations within a single itinerary.
Emirates' President, Sir Tim Clark, was invited to the conference speaker series reserved for top industry leaders on ATM's second day. He discussed the airline's long-term strategy and business growth. Further, future fleet and network, sustainability efforts, and other challenges faced by the industry.
Emirates expressed its appreciation for the visit of UAE royal dignitaries and VIP guests, who were warmly welcomed at the airline's stand during ATM.
The distinguished guests included His Highness Sheikh Mohammed bin Rashid Al Maktoum and His Highness Sheikh Maktoum bin Mohammed bin Rashid Al Maktoum. Further, His Highness Sheikh Ahmed bin Mohammed bin Rashid Al Maktoum. Subsequently, His Highness Sheikh Mansour bin Mohammed bin Rashid Al Maktoum.
Additionally, Emirates was honored to welcome the Crown Prince of Ajman, Sheikh Ammar bin Humaid Al Nuaimi, on the third day of ATM.
Winning four Awards
At ATM, Emirates won multiple awards. Including the "Best Airline Worldwide" for the 10th consecutive year at the Business Traveller Middle East awards. Along with "Best Premium Economy Class," "Best First Class." Further, "Best Airport Lounge in the Middle East" for Emirates' First Class Lounge.
The 30th edition of the ATM in 2023 is considered the region's largest annual exhibition for travel and trade. Subsequently, attracting over 35,000 attendees from 150 countries.
Stay tuned with us. Further, follow us on social media for the latest updates.
Also, read FIRST LOOK: Air India Airlines New Possible Branding, Livery, Logo and More | Exclusive – Aviation A2Z
Join us on Telegram Group for Latest Aviation Updates. Subsequently, follow us on Google News.