The Indian LCC Spicejet Airlines (SG) flight from Delhi Airport to Srinagar makes an emergency landing. The aircraft landed back in Delhi after detecting smoke in the cargo compartment.
A SpiceJet spokeswoman said there was no evidence of fire or smoke upon landing, and the warning was deemed unfounded.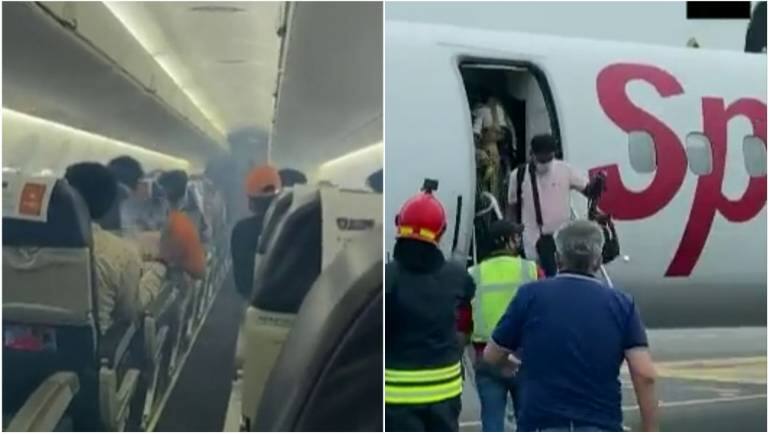 SpiceJet makes Emergency landing in Delhi.
On Tuesday morning, a technical issue forced the fire light to illuminate, signaling a potential fire in the aft cargo (rear) of the aircraft, forcing a SpiceJet flight from Delhi to Srinagar to turn around mid-air and make an emergency landing at Delhi's Indira Gandhi International (IGI) airport.
Around 140 passengers boarded the flight, which made a safe landing at the airport, but no fire or smoke was found later on during an examination.
Delhi to Srinagar
"On April 18, SG-8373 (Delhi-Srinagar) SpiceJet B737 aircraft returned to Delhi airport as the aft cargo fire light activated in the cockpit. The captain's actions caused the light to go out eventually.
All operational metrics were seen to be normal before landing, the aircraft landed safely, and passengers boarded the plane as planned. The alert was later determined to be false after the aft cargo door was opened, and no evidence of fire or smoke was discovered, according to an early evaluation, said a SpiceJet representative. The air traffic control (ATC) tower received the request for a full emergency landing at 10.40 am.
There were about 140 people on board the plane, which was bound for Srinagar. The flight was given a priority landing at 10.46 am, and it landed safely and made it to the parking area for additional inspection, according to the official.
An IndiGo aircraft 6E 6282 made a full emergency landing at the airport on Saturday as well. Further, the flight had originally taken off for Bagdogra.
The airline reported that there had been a technical issue. When the flight was in the air before the flight safely landed at around 3.30 p.m.
Stay tuned with us. Further, follow us on social media for the latest updates.
Also Read: US Airlines, Including American, United, Delta, and Southwest, want you to Dress Properly – Aviation A2Z
Join us on Telegram Group for the Latest Aviation Updates. Subsequently, follow us on Google News.