As per Israel's Airports Authority, all outbound flights from the nation's primary international airport have been suspended as a result of a strike called to oppose the government's proposed judicial reform.
The country's main trade union organisation issued the strike call on Monday, and it has the potential to shut down significant portions of Israel's economy. The flight adjustments are anticipated to have an impact on tens of thousands.
Israeli Airports
At least for the time being, aircraft can still land outside, at Ben-Gurion Airport the sprawling seaside metropolis of Tel Aviv. Israeli society as a whole has come out in unprecedented opposition to Prime Minister Benjamin Netanyahu's judicial reform.
In an unprecedented show of resistance to Prime Minister Benjamin Netanyahu's proposal to restructure the court, Israel's largest trade union group went on strike Monday across a wide range of industries.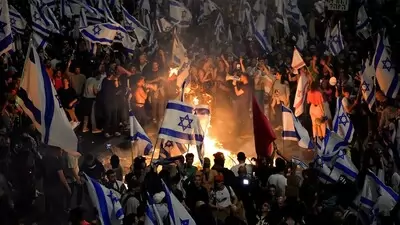 The Histadrut umbrella union, which represents more than 700,000 workers in a variety of industries including banking, transit, and the health care industry, is currently on strike. This could cause significant disruptions to Israel's already fragile economy and increase pressure on Netanyahu to halt the change.
After tens of thousands of Israelis spontaneously took to the streets across the nation to protest Netanyahu's decision to remove his defence minister after he requested a delay in the makeover, there has been an increase in opposition to the plan in recent hours. They ignited bonfires on Tel Aviv's main thoroughfare while yelling "the country is on fire," shutting the road and numerous others for hours.
Israel has entered one of its worst political crises as a result of the makeover, which was spearheaded by Netanyahu, who is currently facing a corruption trial, and his friends in the country's most right-wing administration ever.
It has prompted a persistent, growing protest movement that has permeated practically every sphere of life, including the military, as reservists are increasingly coming forward to publicly declare they would not serve in a nation that is moving towards tyranny.
The demonstrators claim to be defending Israel's basic existence and regard the reform as a direct threat to its democratic ideals. They have been branded anarchists by the government who want to overthrow a democratically elected administration.
The issue has also highlighted Netanyahu, Israel's longest-serving leader, and the extent he might be prepared to take to keep his position of authority, even as he fights the corruption allegations. At a time when security dangers in the West Bank and elsewhere were at an all-time high, the dismissal of his defence minister seemed to be the tipping point for many, sparking a fresh wave of dissent.
"Whither are we directing our cherished Israel?
Arnon Bar-David, the leader of the union group, delivered a stirring statement to thunderous applause. "Today, we are halting everyone's slide into the pit." The organization had avoided the protests for months, but the dismissal of the defense minister seemed to be the catalyst for the dramatic action.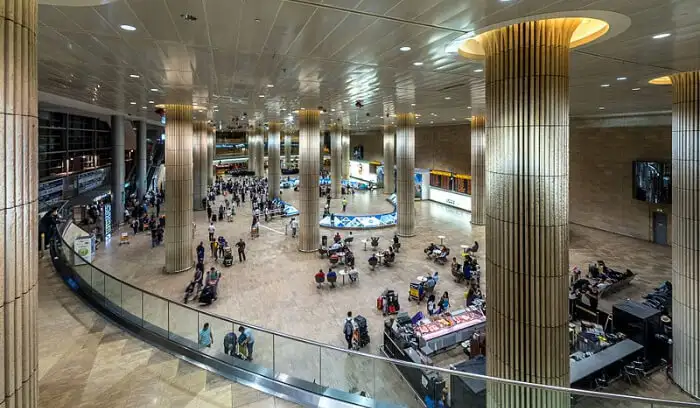 Israel's ceremonial President Isaac Herzog asked Netanyahu to immediately suspend the revamp on Monday as the embers of the highway bonfires were being put out. He encouraged the administration to set aside political considerations for the benefit of the country.
He told Israeli Army Radio,
"We haven't been in such a dangerous situation in 50 years." Universities all throughout the country announced that they would be closing "until further notice." It was anticipated that a trade union umbrella body would declare its support for the demonstrators and purportedly prepare to call a countrywide strike.
According to Israeli media, if the reforms were not put an end to, a lawyer for Netanyahu in his corruption trial threatened to resign. Washington, which is tightly allied with Israel but has been concerned with Netanyahu and the far-right parts of his administration, was keeping an eye on developments.
Also, read
Speaking on behalf of the National Security Council, Adrienne Watson said the recent events in Israel were "deeply concerning" for the United States and "further underscore the urgent need for compromise."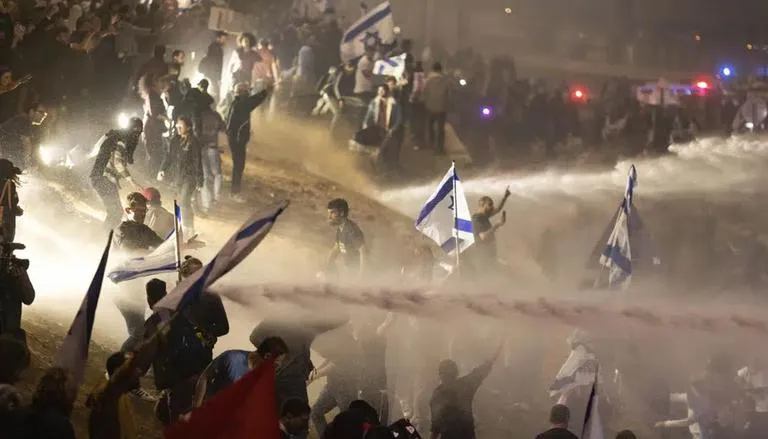 According to Watson's statement, "Democratic values have always been, and must remain, a hallmark of the U.S.-Israel relationship." Netanyahu was scheduled to speak later on Monday after apparently spending the night in discussions. He would stop the law, according to Israeli media, but this claim could not be independently verified.
If Netanyahu does heed calls to halt the reform, some Likud party members said they would back the prime minister, but the overhaul's architect, Justice Minister Yariv Lavin, a well-liked party member, has declared he will step down.
National Security Minister Itamar Ben-Gvir said
Netanyahu was urged to continue by his hard-line allies. National Security Minister Itamar Ben-Gvir stated that "we must not stop the reform in the judicial system and we must not yield to anarchy."
Netanyahu's firing of Defense Minister Yoav Gallant seemed to indicate that he and his allies would push the revamp proposal forward this week, and the committee advancing the legislation was meeting as scheduled on Monday. Gallant was the first senior Likud member to come out against it, warning that the military was in danger of becoming weaker as a result of the profound splits.
The centrepiece of the reform, a measure giving the ruling coalition final authority over all judicial appointments, will be voted on by the parliament this week, Netanyahu's administration promised. Additionally, it aims to limit judicial scrutiny of laws and adopt legislation that would give parliament the power to overrule Supreme Court rulings.
Following a request from the leader of that party, a different revamping proposal that would overturn a Supreme Court decision and permit a crucial coalition ally to serve as a minister was being delayed.
The idea, according to Netanyahu and his backers, will rebalance the judicial and executive institutions and restrain what they see to be an interventionist court with liberal tendencies.
However, detractors claim that the measures will eliminate Israel's checks and balances and consolidate power in the hands of the ruling coalition. Additionally, they claim that Netanyahu's corruption prosecution creates a conflict of interest.
In three different cases involving affluent acquaintances and influential media moguls, Netanyahu is accused of engaging in fraud, breach of trust, and receiving bribes. He has refuted claims that the legal reform is intended to give him a way out of the trial and denies any wrongdoing.
After a protracted political crisis that caused Israelis to vote five times in less than four years, Netanyahu took back office in late last year. Every election served as a test of Netanyahu's suitability to hold office while being investigated for corruption.
Thank you
Stay updated with Aviationa2z.com