The Airbus A350 just avoided the Fukuoka Airport curfew before making a detour to Osaka and then landing at Tokyo Haneda in the middle of the night.
Japan Airlines flight
A recent Japan Airlines flight headed for Fukuoka was twice redirected because it narrowly missed the airport's curfew. On February 19, JL133 was delayed in leaving Tokyo's Haneda Airport due to inclement weather. The flight couldn't take off until 20:18 local time, which was later than the original 18:30 departure time.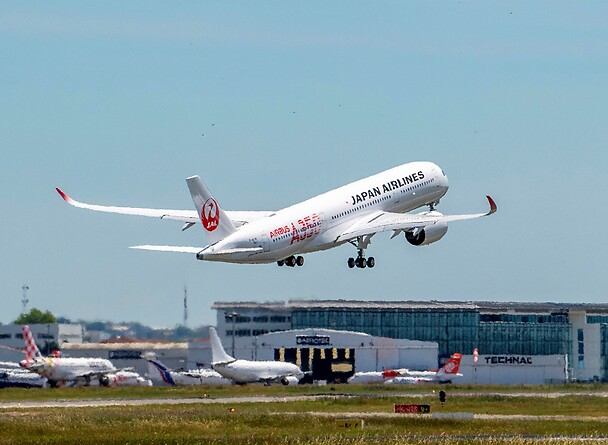 The flight would not arrive before the airport's 22:00 curfew as we got closer to Fukuoka Airport (FUK). Due to its proximity to residential areas and fourth-highest traffic volume in Japan, the airport is subject to noise restrictions from 22:00 to 07:00. Written pre-authorization is required for flights arriving after the curfew.
Also, read
When the plane approached Fukuoka, the jet's altitude decreased to 9,850 feet, according to flight monitoring information. Less than 10 minutes had passed since the curfew began, and the plane was getting close to the city. But, the pilots could not get permission to land at the airport, so they were forced to divert. After then, the airplane continued and changed its course to land at Kansai International Airport (KIX), which is located 45 kilometers south of Osaka.
Tokyo Haneda airport
One of the two airports that serve Osaka, Kansai, is one of Japan Airlines' busiest airports outside of the Tokyo area. It is situated on an artificial island that was created especially for the airport's use. Two hours and forty-five minutes after leaving Toyko Haneda, at 22:56 local time, the aircraft landed.
The airplane had maintenance inspections and was refueled after touching down in Kansai. According to reports, the flight crew was replaced by new personnel since they had used up their allotted amount of time in the air.
The airline subsequently made the decision to return the plane and its passengers to Tokyo Haneda airport, which was their starting point and was an additional hour north and did not have nighttime curfew regulations.
Osaka's Kansai International Airport
At 01:55 on February 20, the Aircraft departed from Osaka's Kansai International Airport with a destination of Tokyo. The passengers returned to Toyko Haneda, where they had left, 49 minutes later at 02:44, more than eight hours after their initial departure time.
On February 19th evening, two other planes to Fukuoka similarly took off considerably after schedule but were permitted to land after the curfew. It's possible that the airline did not submit the necessary papers for an exception because they thought flight JL133 would make up for the delay and land on time.
On the plane's return to Tokyo, the airline reportedly took care of the 335 passengers, according to local reports. The passengers allegedly received 20,000 JPY ($150) in compensation, and Japan Airlines set up a hotel.
Alternative flights were made available to those initially scheduled to travel to Fukuoka, and the airline also organized a unique special flight to take people to the location. On February 20, at 10:20, a replacement flight successfully departed from Haneda and made it to Fukuoka in time for lunch.
The normally scheduled flight on Monday, JL133, left Tokyo with little more than an hour to spare and landed in the southern city well in advance of curfew at 21:09.
Thank you
Stay updated with Avitaiona2z.com