While KLM's latest aircraft is the airline's 6th 787-10, it's also the first Dreamliner delivered in over two years.
On August 31st, KLM Royal Dutch Airlines received its 6th Boeing 787-10 Dreamliner. While being the 6th delivery of this 787 variant is hardly newsworthy, the fact that it was the 1st Dreamliner delivered to KLM in over 2 years is rather notable.
Indeed, before this latest aircraft touched down, KLM's latest 787-10 had come in February 2020. Let's take a look at the details of the new jet in this article.
According to BOE Family Flights, KLM's latest Dreamliner is registered PH-BKH, with Boeing MSN 42489 and Line Number 1008. According to FlightRadar24.com, the aircraft took off from Charleston, South Carolina on August 31st at 18:41 local time and made the transatlantic journey to Amsterdam in about seven and a half hours. On an overnight flight, the aircraft touched down at Amsterdam Schiphol at 08:12 local time.
All in all, PH-BKH had taken 7 flights before its delivery, with a complete test flight time of 17 hours and 15 minutes. The jet's very first flight took place on May 22nd, 2020, with its 5th flight being the last before a long break on the ground. From October 2020 to August 2022, the jet remained on the ground in Charleston.
Also, read
Federal Aviation Administration
The two-year-long pause on KLM Dreamliner deliveries accurately reflects the issues Boeing has had with the Federal Aviation Administration (FAA), which forced the US planemaker to halt all 787 deliveries until production problems could be worked out.
There was a very brief resumption in 2021, but this would be short-lived. Working hard with the US regulator to meet needed standards, it wasn't until August 10th, 2022 that Boeing could give new 787 aircraft to customers. The 1st post-pause delivery went to American Airlines, which received its 1st Boeing 787-8 aircraft in April 2021.
Boeing 787-10 Dreamliner
For KLM, the Dutch airline hadn't received a 787 since February 2020. The carrier had been taking 787-10s every few months prior, receiving three in Fall 2019. The airline's very 1st Boeing 787-10 Dreamliner arrived in June 2019 and was given the nickname "Oranjebloesem" (Orange Blossom) and registered PH-BKA.
The airline should have many more 787-10s by now. Indeed, according to an old report found on its website, KLM states that the airline planned to have 15 Boeing 787-10s in its fleet by 2022.
Hopefully, it won't take too long for Boeing to clear its backlog of deliveries. When it arrives at KLM, there are three to four 787-10s built but not yet delivered. These aircraft have the following registration and serial numbers/line numbers: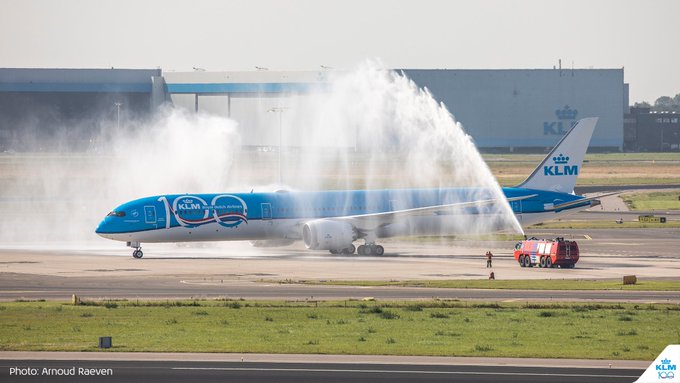 PH-BKI (MSN 42496/1016)
PH-BKK (MSN 42500/1074)
PH-BKL (MSN 42501/1130)
PH-BKM is marked as a leased aircraft by Planespotters.net with MSN information unavailable.
PH-BKI was ferried out of storage last week while BKL had its 4th and most current test flight yesterday. This activity indicates that the KLM fleet could certainly grow by another 2 aircraft in the next few weeks.
Thank you
Join our Telegram group and Stay updated with Aviationa2z.com
Follow us on Google News For Latest Updates