There is a lot of excitement around the world because of United Airlines and Emirates. Emirates was asked if they wanted to "hang (ar) out on September 14" in a vague tweet from United Airlines. In response, Emirates said it would meet United on that day.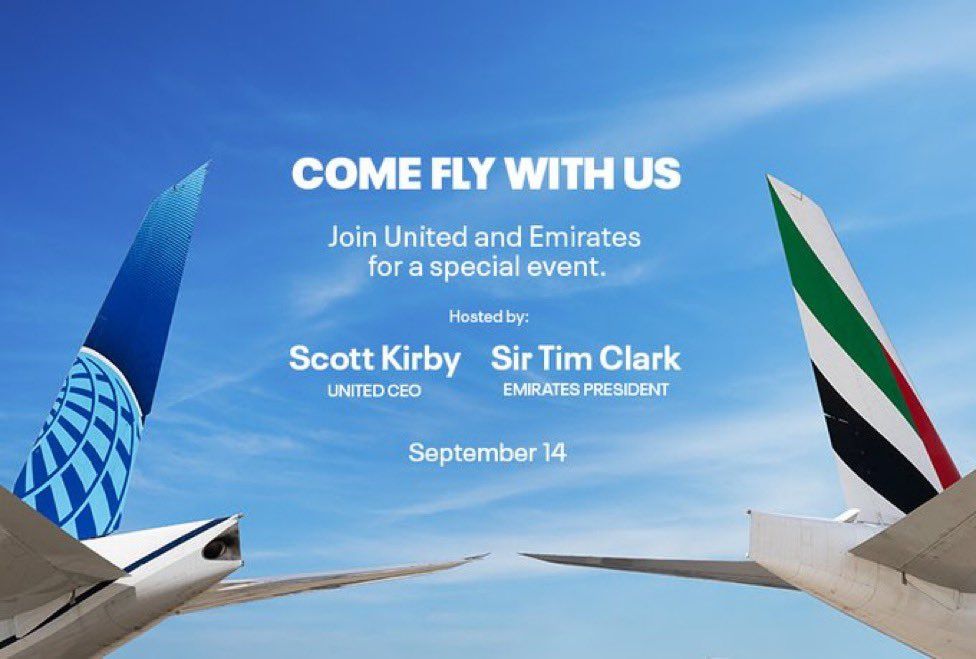 United and Emirates Codeshare Agreement
Before the airlines announced it on social media, The Air Current broke the news. Both airlines intend to announce a codeshare agreement, according to Jon Ostrower of The Air Current. Soon after the airlines' Twitter conversation, a picture of an invitation to a joint event between the two airlines on September 14 appeared on social media.
The airlines will be announcing a codeshare agreement, according to sources. This is a significant change from a few years ago, when American airlines claimed that governments in the Gulf region unfairly subsidised Gulf airlines. In 2017, Oscar Munoz, then-CEO of United Airlines, criticised the Gulf airlines due to the subsidies they received from their respective nations, according to Ethan Klapper of The Points Guy.
Just five years after Munoz's comments, United Airlines, now run by Scott Kirby, is getting ready to make an announcement that some might call revolutionary.
Emirates' second American codeshare would be with United. Emirates and JetBlue currently share codes, and Alaska Airlines previously shared codes with Emirates. After Alaska Airlines joined oneworld and started cooperating more closely with Qatar Airways, the partnership with Alaska Airlines was terminated. The Gulf airline currently flies to twelve American cities, including all United Airlines hubs with the exception of Denver.
The strategic alliance between American Airlines and Qatar Airways, first announced two years ago, has recently been expanded. A new codeshare agreement that covered an additional 16 nations marked the partnership's growth. In June, American also introduced a brand-new nonstop service between Hamad International Airport in Doha, Qatar, and John F. Kennedy International Airport in New York City. American Airlines became the sole American airline to fly to the Gulf region thanks to this new route.
Also read:
Pilot threatens to turn plane around after passenger AirDrops nudes | EXCLUSIVE
Follow us on Google News for latest Aviation Updates
Join us on Telegram group
Stay tuned…