Hawaiian Airlines revealed that it will collaborate with Honolulu Community College (HonCC) to help more local students earn certification as aviation technicians.
Hawaiian Airlines technicians will move from the hangar to the classroom and continue this important task when the new academic semester begins.
Demand for 610,000 new technicians
Boeing estimates that 610,000 new technicians will be required over the next 20 years to maintain the global fleet. That amounts to about 30,000 a year, with demand being temporarily increased by an ageing workforce that is getting ready to retire. In addition to the loss of skilled workers in MRO shops, the related brain drain poses a risk to the educational aspirations of recent entrants.
It's encouraging to see an airline ready to enter the debate and support the recruitment of more qualified technicians into the aerospace sector because this issue has been debated for many years.
Like any airline, Hawaiian Airlines (Hawaiian) has a vested interest in developing tomorrow's technicians given its fleet of 61 aircraft, but it is uncommon for an airline to use its own personnel to aid in the educational process. At Honolulu Daniel K. Inouye International Airport (HNL), the airline's fleet, which consists of 18 Airbus A321-200neos, 24 A330-200s, and 19 Boeing B717-200s with ten B787-9s on order, is based.
It requires a broad range of skills capable of maintaining both legacy and new-generation aircraft and engines because aircraft range in age from three to more than 20 years old.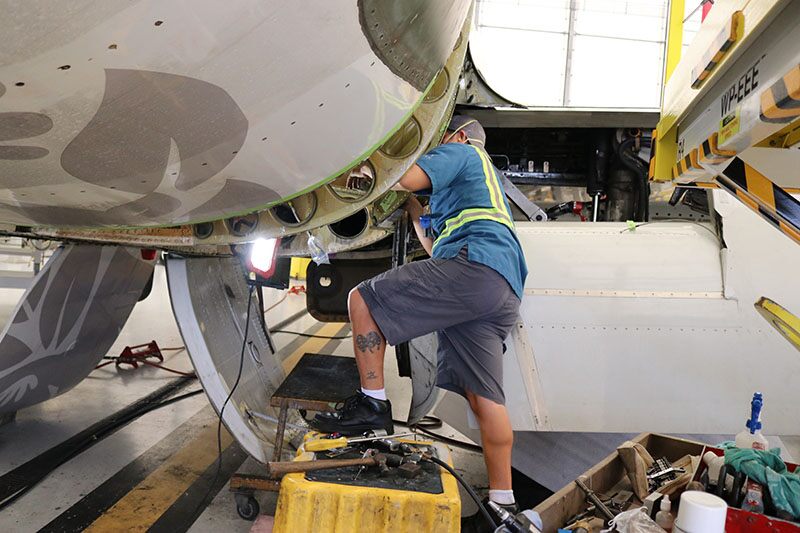 Launch of new Programme
Bill Kinsley and Jason Anderson, two of Hawaiian's technicians, will instruct courses for the college's Aeronautics Maintenance Technology (AERO) programme. By the fall of 2023, Hawaiian's pledge of additional teaching resources will enable the college to double enrollments to 100 students. The program's graduates will be equipped with the theoretical knowledge and practical skills required to obtain the Federal Aviation Administration's (FAA) certification in airframe and power plant maintenance.
Jim Landers, senior vice president of technical operations for Hawaiian, expressed his company's enthusiasm for its staff members' willingness to share their knowledge in order to help Hawaii students become successful pilots.
We also hope HonCC graduates will think about joining our 'ohana [family] as the hometown airline gears up for another growth phase so they can enjoy a fulfilling career right here at home with Hawaii's carrier.
Providing career opportunities
Another aspect highlighting the significance of Hawaiian's involvement outside of the airline's maintenance hangars is the fact that HonCC's AERO programme is the only one of its kind in the Pacific basin.
Bill Kinsley, one of the airline's instructors, added that having the chance to equip the following generation of aircraft mechanics with pertinent, in-demand practical skills and knowledge is an honour.
The new collaboration completes Hawaiian's 2016-launched Aircraft Mechanic Apprenticeship Program. The International Association of Machinists and Aerospace Workers union and HonCC collaborated on this programme. The students work a part-time shift at Hawaiian's maintenance hangar while taking college classes at HonCC during the day. They are compensated as mechanics who carry out practical repairs and routine maintenance.
Also read:
TATA Airlines Trio- Air India, Vistara, Air Asia India's Top Performance in 2022 | Exclusive
2 planes collide in California, killing at least two people | EXCLUSIVE
Join our telegram group for latest Aviation Updates:-
Stay tuned…