Alaska Airlines declared that it had reached a final agreement with biofuel producer Gevo Inc. under which it will buy 185 million gallons of sustainable aviation fuel (SAF) over a five-year period beginning in 2026.
This is the airline's largest SAF offtake commitment to date. Along with other members of the Oneworld alliance, this agreement was formed.
In addition to other members of the Oneworld alliance, Alaska Airlines is dedicated to fostering a more sustainable future for aviation, according to Diana Birkett Rakow, senior vice president of public affairs and sustainability.
"Using sustainable aviation fuel is a significant part of Alaska's five-part path to reach net zero carbon emissions"

Rakow said
SAF is the fastest way we currently have to decarbonize aviation, but we acknowledge that a lot of work needs to be done in the future, including public policy action, to make SAF a scaleable, viable choice.
More Details
Ann Ardizzone, vice president of supply chain at Alaska Airlines, said, "Alaska is happy to play a part in expanding this essential industry for sustainable aviation fuels."
"Strong partners and all-out effort are required to make SAF financially viable at scale. We value the cooperation of vendors like Gevo in meeting this problem."
Alaska announced its intention to become carbon net zero by 2040 in April 2021. The company also outlined a five-step plan to get there. The route comprises fleet renewal, sustainable aviation fuel, long-term use of electric or hybrid aircraft, and only when absolutely necessary—that is, if technology cannot improve quickly enough to overcome the gap—credible carbon offsets. Alaska has been working for more than a decade to the first test and then employ sustainable aviation fuel (SAF), which offers the best possibility to decarbonize in the short and medium terms of this road.
In 2016, Alaska and Gevo created aviation history by operating the first-ever commercial flight fueled by forest residues between Seattle-Tacoma International Airport and Reagan National Airport in Washington, D.C. Alaska currently uses SAF in its operations in California and collaborates with other producers and other partners in order to use and support the future development of further SAF supplies.
The Care Report, Alaska's most current ESG report, goes into further information about the state's objectives and achievements as well as the particular obstacles to advancing SAF.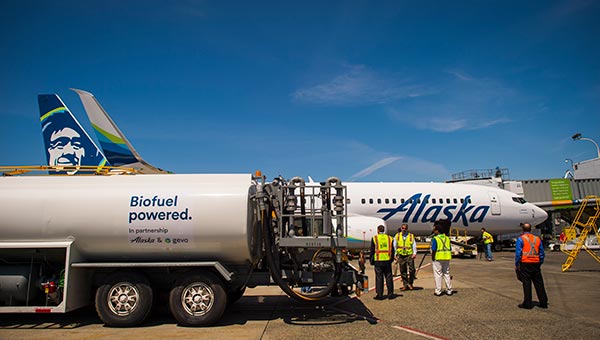 Oneworld announced its commitment to long-term sustainability for the industry by announcing a target of carbon neutrality by 2050 in September 2020, making it the first global airline alliance to do so. After making that pledge, the alliance set an interim objective of having member airlines employ SAF at a rate of 10% by 2030.
Also read:
IndiGo introduces three ramp disembarkation points to reduce waiting time
Join our telegram group for the latest Aviation Updates:-
Stay tuned…