Air India Limited now Owned by the TATA group is increasing the Frequency of Delhi Vancouver Flight to Daily.
On 27th Jan 2022, TATA group officially acquired back Air India from Govt of India.
TATA group is now enhancing its Routes according to Travellers' demands.
Air India Delhi Vancouver Daily Flight Details
Air India is currently having a Monopoly of Non-stop flights to and from Delhi, India, and Vancouver, Canada. But the route is having Huge Demand and fewer Flights.
Currently, Air India is flying Non-stop From Delhi-Vancouver-Delhi Route 3 times a week.
According to our Source, Air India has officially published a new flight schedule across the major Global Distribution Systems (GDS).
The Flight will be Non-stop and Daily DEL-YVR-DEL Effective from 31st August 2022.
The airline is Enjoying a monopoly as its popular VFR-centric market route. Visiting friends and relatives (VFR) is a concept that is defined by the tourism industry companies in order to better understand this sector of the travel and Tourism industry.
According to Flight Radar 24, Air India is operating 3 times weekly flights from Delhi (DEL) to Vancouver (YYR) and Back.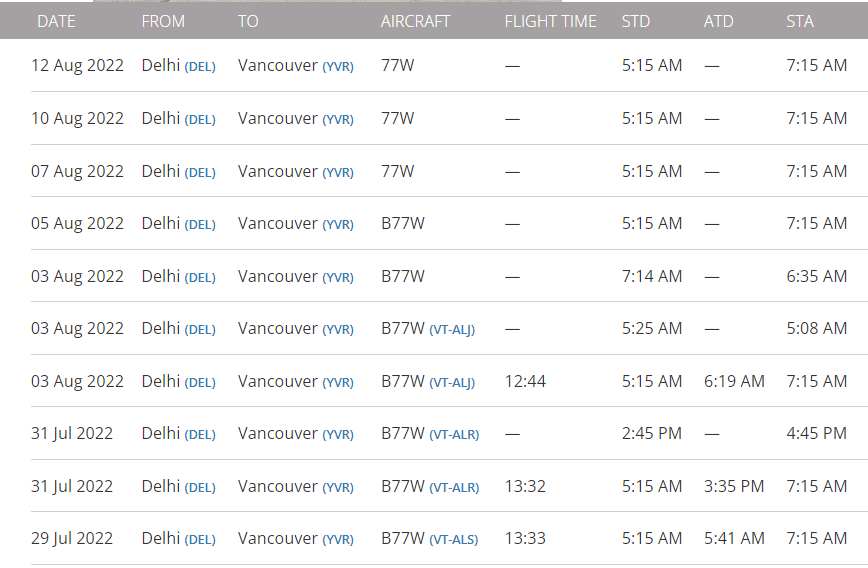 The route has lots of Demand and only Air India flies Non-stop from Delhi-Vancouver for 14 hours, to cope with demand they are increasing the frequency of its Flights.
Air India is using its Boeing 777-300ER, with Registration VT-ALR, VT-ALS, VT-ALJ, and other available 777s.
Other Flight Options
There are other cheap flight options compared to Air India but its Connecting flights with one or two stops.
The ANA, United Airlines has really half the price of Air India but Takes twice the Time of Travellers (31 Hrs with 2 stops).
Asiana airlines and Air Canada also combined to fly on the same route with little lower fares compared to Air India But it also Takes around 32 hrs and 2 stops.
Other Airlines also Operate on this busy route with their Codeshare partners but not Non-stop.
Korean Air, Delta Airlines, and Skywest Airlines are some of the Indirect Options for this route.
The lack of competition from Middle East carriers like Qatar Airways, Emirates, and Etihad has kept Fares high and skyrocketed.
Sometimes Fares reach above 200k INR (2500 USD) and this is not good for passengers travelling Between India and Canada.
It's Pretty obvious that the route will always be in Demand due to the rise in Indian Immigrants to Canadian cities.
But on the Delhi-Toronto route, Air India and Air Canada operate Non-stop and Daily Flights. Hope other airlines also increase their frequencies on this Route.
Hope we see more Non-stop flights between Delhi and Vancouver, especially by Middle East carriers.
Check out: Jet Airways CEO Unveils First Look of New Flight Booking Website | Exclusive – Aviation A2Z
Join Our Telegram Group for Latest Aviation Updates:-https://t.me/aviationa2z