Low-cost airline According to three insiders, Go First has grounded more than a quarter of its fleet as a result of Pratt & Whitney's delayed supply of aircraft engines.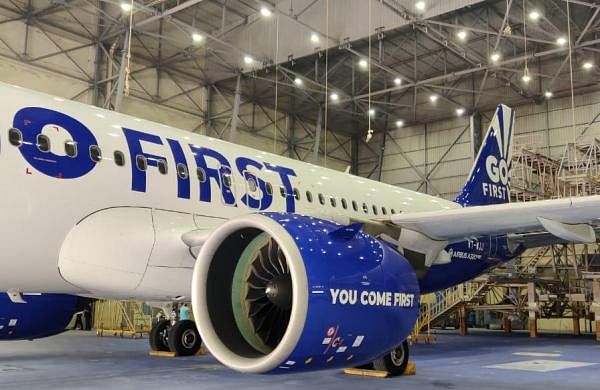 A dozen of the airline's 57 aircraft have been grounded for weeks while it waits for the delivery of upgraded PW1100G geared turbofan engines, which power the A320neo. The airline is considering an IPO.
According to one of the sources, Go First, formerly known as GoAir, had sent the older engines to the American manufacturer in January and was expecting to get the improved versions in five months. Pratt & Whitney was supposed to send backup engines as per the agreement. These were also postponed. According to the airline's new assurance from the engine manufacturer, the new, enhanced engines will arrive this week, he continued.
A Pratt & Whitney spokesman declined to comment. At the time of publication on Monday, Go First had not responded to an email.
Go First's operations have been impacted by the grounding of a sizable number of aircraft at a time when demand for air travel is increasing.
Global demand is also now increasing, and airlines who had reduced their operations and employees due to the epidemic are now struggling to keep up. Due to staff shortages, Western airlines have been cancelling tens of thousands of flights over the past few months, disrupting timetables for international air travel. Airports like Heathrow have been in disarray, unable to accept airline landings, and losing thousands of pieces of passenger luggage.
Due to port and industrial closures, manufacturers all around the world have had problems with their supply chains. According to a global report from March, Pratt & Whitney acknowledged it would need to postpone the delivery of 70 engines to plane manufacturer Airbus.
The delivery of many aircraft, including Boeing's 787 Dreamliners, has been postponed.
In the beginning, the Pratt & Whitney engine experienced significant issues that resulted in aircraft shutdowns at former client IndiGo in 2019. Go First continued to use PW although India's largest airline by market share switched to CFM International.
Go First, owned by the Wadia group, intends to collect Rs 3,600 crore through its first share offering later this year.
Also read:
Air India will receive a passenger service system from Amadeus
Boeing objects to China's big Airbus order
Join our telegram group for latest Aviation updates :-
Stay tuned and updated…