GOA- Çelebi, a globally recognized ground handling service provider, has recently joined forces with Oman Air (WY) at Manohar International Airport (GOX) in Goa. Oman Air became the inaugural foreign airline to land at the rapidly expanding new airport in North Goa.
Oman Air will operate four flights weekly from Mopa Airport to Muscat. On Sunday, November 29, 2023, Çelebi India successfully orchestrated seamless ground-handling services for Oman Air, marking the commencement of a promising partnership.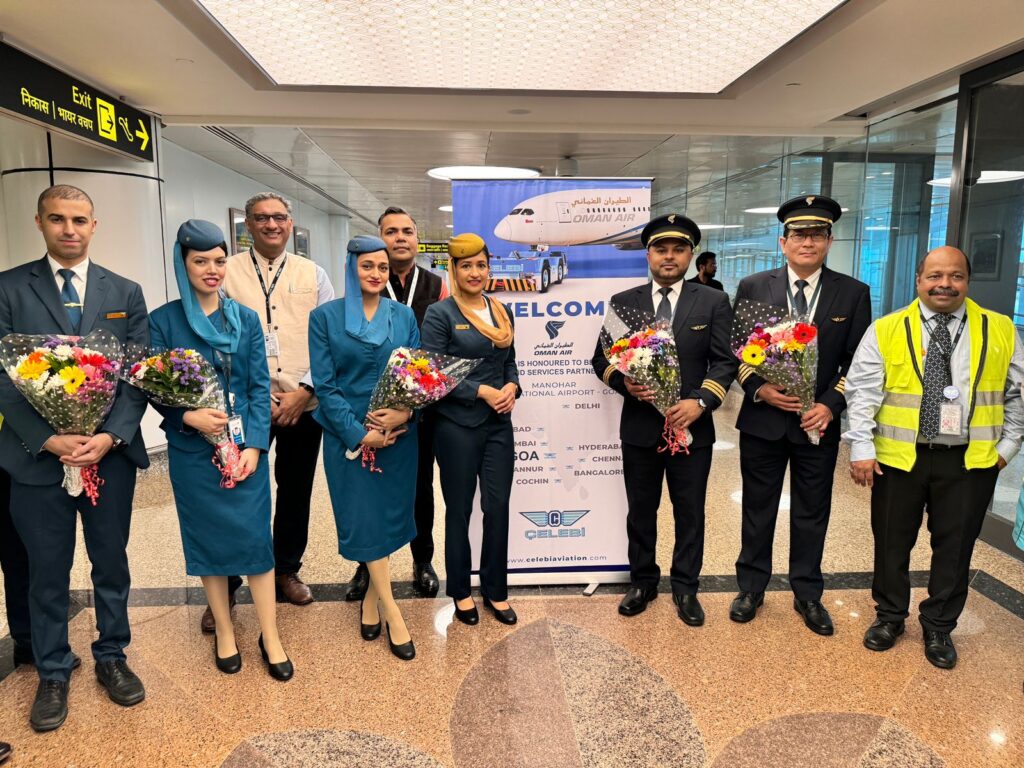 Milestone in Foreign Airline Arrivals
This alliance is poised to redefine industry benchmarks by amalgamating Çelebi's extensive ground-handling expertise with Oman Air's dedication to delivering exceptional service.
Mr. Tauseef Khan, CEO of Çelebi Ground Handling – India, expressed,
"We are thrilled to announce our support for Oman Air's historic inaugural flight at Manohar International Airport in India, marking a significant milestone as the first foreign airline to land at this airport.
As a trusted ground handling services provider, Çelebi is fully equipped to meet the specific needs of international carriers, delivering exceptional services to our partner airlines across India.
Our partnership with Oman Air reflects our steadfast commitment to providing top-tier services and contributing to the growth of India's aviation industry.
Çelebi India has established a modern infrastructure in Mopa to support the rising number of airline operations. With a dedicated team of skilled employees, Çelebi ensures professional assistance to passengers and is prepared to support the gradual growth of passenger traffic by continually enhancing its infrastructure.
Expanding its footprint in the country, Çelebi India has launched new ground handling services at Chennai Airport, in addition to its existing operations at major airports such as Mumbai, Delhi, Bengaluru, Goa, Hyderabad, Cochin, Ahmedabad, and Kannur.
Setting the standard for sustainability in the Indian ground handling industry, Çelebi India is committed to aiding the aviation sector in achieving carbon neutrality.
This commitment is evident through introducing eco-friendly services, including 100% electric, air-conditioned tarmac coaches, electric baggage and cargo towing tugs, taxi-bots, and bridge-mounted equipment services, showcasing the company's dedication to the greener aviation industry.
Oman Air Muscat to Goa Flights
The first flight from Muscat International Airport is scheduled to land at MIA at 07:10 AM and depart from MIA to Muscat International Airport at 10:10 AM on the same day.
This remarkable service will operate four times a week, specifically on Sunday, Wednesday, Thursday, and Saturday throughout October and November 2023.
In December 2023, Oman Air intends to expand this connectivity, increasing the number of flights to six per week to provide travelers with added flexibility and convenience.
Nestled amidst rugged mountain ranges, Muscat, the capital of Oman, remains a timeless gem in the heart of the Middle East. With its deep-rooted history spanning centuries, it boasts a captivating fusion of tradition and modernity.
The city's captivating landscape features Portuguese-built forts, graceful blue-domed mosques, grand palaces, and vibrant markets, each echoing the heritage of a bygone era.
Muscat exudes the enchanting atmosphere of a lost Arabian world, capturing the essence of a rich history and a captivating present.
Stay tuned with us. Further, follow us on social media for the latest updates.
Also Read: US Airlines, Including American, United, Delta, and Southwest, want you to Dress Properly – Aviation A2Z
Join us on Telegram Group for the Latest Aviation Updates. Subsequently, follow us on Google News.