RIYADH- The upcoming Saudi Arabia national airline, Riyadh Air (RX), has unveiled its second livery that will be applied to its upcoming fleet. This new livery, featured on the Boeing 787, serves as Riyadh Air's secondary design.
The introduction of a second livery aligns with the airline's previously outlined plans for diversifying its aircraft liveries.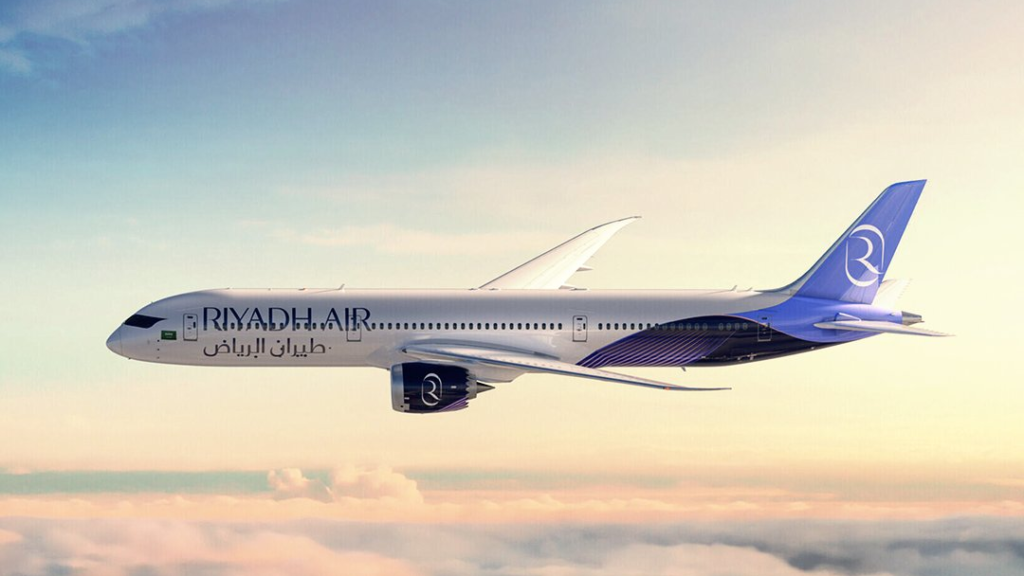 Riyadh Air Second Livery
In comparison to the first livery revealed in June 2023, the second livery adopts a more subdued yet elegant scheme, characterized by a simpler and refined design without a full-body paint scheme.
The focal point of the secondary livery is the sophisticated color scheme employed towards the rear of the aircraft. The rest of the plane features a clean white design with the Riyadh Air logo font prominently displayed at the front.
Notably, Riyadh Air plans to incorporate a stylish mask element into this livery for its fleet, reminiscent of the design seen on Air Canada (AC) aircraft.
It's uncommon for a startup to unveil two liveries before its official launch. However, Riyadh Air garnered global attention years before its anticipated launch thanks to a robust media campaign and ambitious plans.
While two liveries have been showcased, the initial design is applied to a Boeing-owned 787 currently featured at the 2023 Dubai Airshow. The approach Riyadh Air will take in applying these two liveries across its future fleet, likely including the 787 and 737 MAX, remains uncertain.
Launch in 2025
The latest addition to the Middle East's aviation landscape, poised to become the national carrier of Saudi Arabia, is preparing for a launch in 2025.
Despite having orders in place for the 787 and an upcoming addition of the 737 MAX, there remains an element of uncertainty surrounding the airline's business strategy.
Riyadh Air has not specified any routes or other critical aspects of its operations. The company assures that this information will be disclosed in due course. Nevertheless, with the revelation of two distinct liveries, there is heightened curiosity about the airline's plans.
Established to explore opportunities in Saudi Arabia and achieve continued growth by 2030, Riyadh Air is positioned to complement the existing SAUDIA.
Riyadh Air is already under the leadership of key executives who previously held esteemed and respected positions before joining the airline.
Stay tuned with us. Further, follow us on social media for the latest updates.
Also Read: US Airlines, Including American, United, Delta, and Southwest, want you to Dress Properly – Aviation A2Z
Join us on Telegram Group for the Latest Aviation Updates. Subsequently, follow us on Google News.