TEXAS- Upgraded Points conducted a recent study on the best and worst US airports to travel to during festive seasons to avoid Airport chaos.
Seasoned travelers are aware that certain international airports operate at a slower pace during these periods. However, Upgraded Points thoroughly analyzed airport immigration data to illuminate the most and least time-intensive U.S. airports for customs clearance.
Study Methodology Used by Upgraded Points
Information was drawn from the Customs and Border Protection's (CBP) Airport Wait Times dataset, examining average and maximum wait times at all major U.S. international airports during the peak of the 2022 winter holiday season.
The analysis included overall average wait times, differentiated between U.S. and non-U.S. citizens, and identified the proportions of travelers clearing customs in under 15 minutes or exceeding 60 minutes.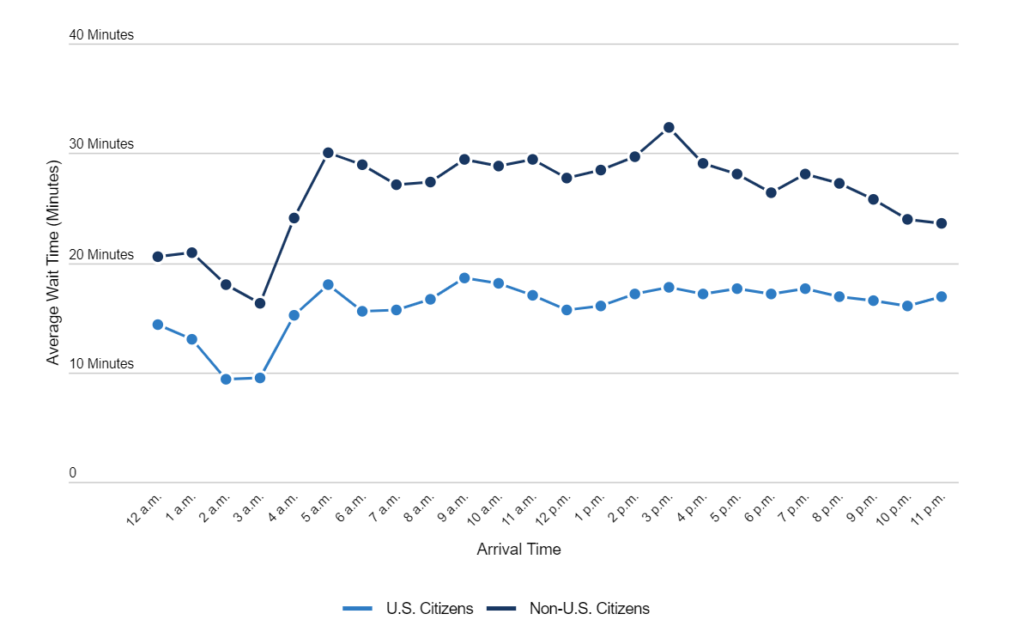 Best and Worst airport data was conveniently segmented into specific averages mentioned below.
Average Wait Times for All Travelers
Average Max Wait Time for All Travelers
Average Wait Time for U.S. Citizens
Average Wait Time for Non-U.S. Citizens
Best US Airports: Less Wait Time
Worst US Airports: Longer Waiting Time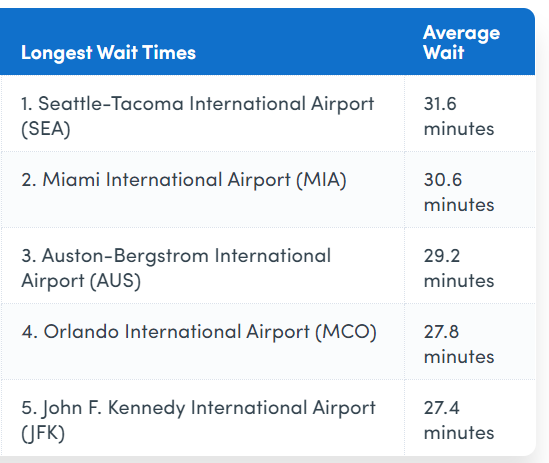 Airport Impact Insights
In considering wait times, the airport you pick stands out as the most crucial factor. Surprisingly, there isn't a strong connection between immigration wait times and the size of the airport. For Example, Among 41 major international airports tracked by the U.S. Customs and Border Protection in the U.S.:
Seattle–Tacoma International Airport (SEA), ranked 14th by total international travel volume, recorded the longest average wait time during the 2022 winter holiday season at 31.6 minutes.
Miami International Airport (MIA) holds the second position for both international travel volume and average wait time.
Austin–Bergstrom International Airport (AUS), ranked 25th by total international travel volume, reported the third longest wait time during the winter holidays at 29.2 minutes.
On the other hand, John Wayne Airport (SNA) had the shortest average winter holiday wait time last year at 4.6 minutes. It's important to note that SNA is one of the nation's smaller international airports in terms of passenger traffic.
Phoenix Sky Harbor International Airport (PHX) efficiently handled a large volume of international passengers. Despite being nearly 10 times busier than SNA, PHX had only a slightly longer average wait time during the holiday season, clocking in at under 6 minutes.
Conclusion
International travel in 2023 saw a significant rebound, surpassing 2019 levels for the first time since the COVID-19 pandemic began. Consequently, experts anticipate a lively winter holiday travel season this year.
Wait times for immigration and customs during the winter holidays usually aren't worse than the rest of the year. Opting for a quieter arrival time can affect your wait, but selecting the right airport makes the most significant difference.
Among the 41 major international airports monitored by U.S. Customs and Border Patrol, immigration and customs wait times vary significantly, from a peak of 31.6 minutes at Seattle–Tacoma International Airport (SEA) to a mere 4.6 minutes at John Wayne Airport (SNA) in Santa Ana, California.
With this wide range of wait times, travelers can significantly enhance their travel experience by making a thoughtful airport selection.
Stay tuned with us. Further, follow us on social media for the latest updates.
Also Read: US Airlines, Including American, United, Delta, and Southwest, want you to Dress Properly – Aviation A2Z
Join us on Telegram Group for the Latest Aviation Updates. Subsequently, follow us on Google News.