MONTREAL- Passengers aboard Air Canada (AC) flight AC692, operated by Fin 451 (C-GITU), were treated to a unique perspective of the take-off on a Saturday, courtesy of newly integrated exterior cameras linked to the aircraft's seatback entertainment system.
This pioneering camera feature, a groundbreaking addition for narrow-body aircraft, is just one of the many innovations introduced with Air Canada's inaugural upgraded Airbus A321, a comprehensive redesign spanning from the aircraft's front end to its tail.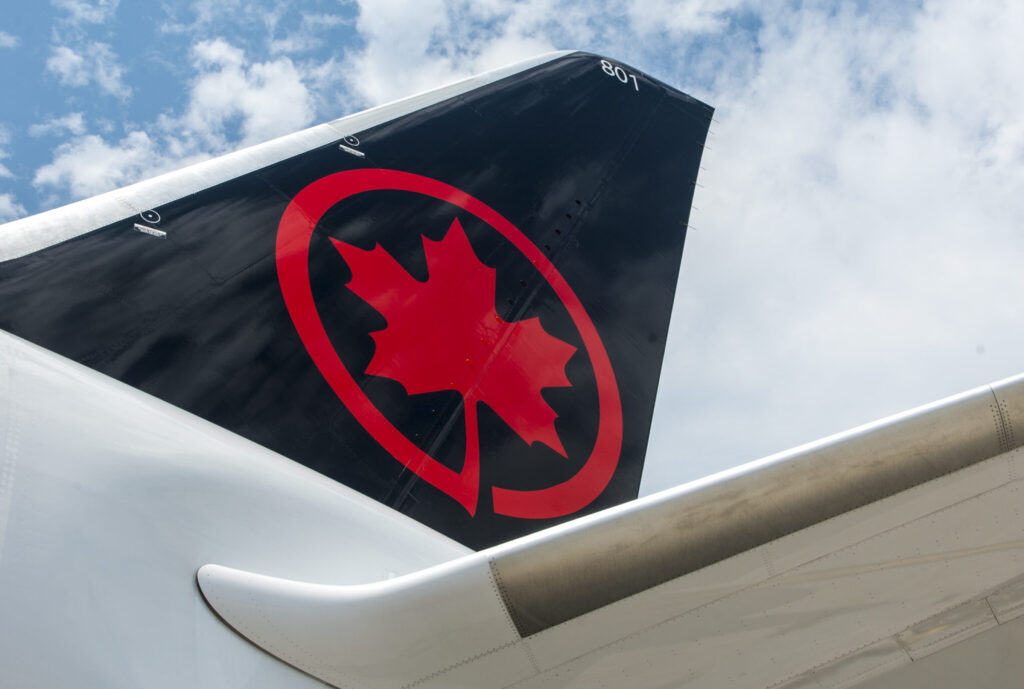 Air Canada A321 Interior
Air Canada's commitment to enhancing passenger comfort extends across its Airbus A321s and A320s fleet.
The improvements encompass an updated cabin interior, cutting-edge technologies, and an array of services, including Bluetooth audio and complimentary high-speed internet, made possible through a partnership with Bell.
Mark Nasr, Executive Vice President of Marketing and Digital and President of Aeroplan, expressed the airline's enthusiasm, stating,
"We take pride in welcoming passengers to enjoy our latest cabins' comfort, convenience, and connectivity. These revamped interiors for our A320s and A321s align them with the well-received A220 experience, further solidifying our position as an industry leader. Moreover, new features like streaming exterior aircraft camera feed through our in-flight entertainment system, Bluetooth connectivity, and fast, free internet access are bound to be highly popular with travelers. We remain dedicated to pioneering in-flight experiences, starting with this A321 and eventually expanding these insights to other aircraft within our fleet."
Key Features
Key Enhancements in the New Cabin Features:
Spacious Overhead Storage – Featuring the latest Airbus Airspace XL design, the largest overhead bins in their class will be integrated into the Airbus A321XLRs.
Enhanced Seating – Air Canada is rolling out standardized seating solutions throughout its narrowbody fleet, encompassing both Business Class and Economy. The redesigned seats are meticulously crafted to optimize passenger personal space, enhance ergonomics, and offer additional storage, elevating overall passenger comfort.
Bluetooth Audio Integration – The latest In-Flight Entertainment (IFE) system by Air Canada will include Bluetooth-enabled seatback monitors. This innovation empowers passengers to connect their personal headsets, enabling them to enjoy video-on-demand, live TV, and podcasts or music. This effort aligns with Air Canada's sustainability goals by reducing the use of single-use headphones.
Live Exterior Cameras – Passengers can now witness their flight in real-time through a groundbreaking exterior camera system situated on the tail and belly of the aircraft, a first-in-class feature for narrowbody planes, providing high-resolution video of the aircraft's surroundings.
Dynamic LED Mood Lighting – The new cabin lighting system offers the flexibility to set different lighting ambiances based on the time of day and phase of the flight.
Swift and Dependable Wi-Fi – The upgraded connectivity relies on satellite-based technology, ensuring passengers can access fast and reliable internet while in the air.
Power Accessibility – All seats are equipped with power outlets, catering to both USB-A and USB-C charging options for passengers' convenience.
Retrofitting A321s and A320s
Air Canada's Airbus A321 and A320 fleets are undergoing a transformative upgrade with the installation of a cutting-edge In-Flight Entertainment (IFE) system.
This system boasts Air Canada's award-winning entertainment available through individual seat screens, offering the most comprehensive content selection of any airline in the Americas.
Additionally, passengers will have the pleasure of watching live TV during their flights, featuring popular channels such as BNN, CTV, LCN, RDS, TSN1, and TSN2 on all flights operated by these aircraft, including when traversing U.S. airspace.
The retrofitting of Air Canada's remaining 14 Airbus A321s and eight A320s is scheduled to commence this fall and extend through 2025.
These upgrades promise an elevated and harmonized narrow-body cabin experience, aligning with the standards set by the Airbus A220 and Boeing 737 MAX aircraft, which constitute most of Air Canada's narrowbody fleet.
Notably, the new cabin design also contributes to the overall weight reduction of the A321 by approximately 240 kilograms.
This reduction is poised to significantly enhance fuel efficiency for the entire fleet, estimated to save more than 2.4 million liters of fuel and reduce greenhouse gas emissions by 6,256 tCO2 equivalent per year. To put this in perspective, it's equivalent to the annual electricity consumption of 4,185 Canadian households.
Stay tuned with us. Further, follow us on social media for the latest updates.
Also Read: US Airlines, Including American, United, Delta, and Southwest, want you to Dress Properly – Aviation A2Z
Join us on Telegram Group for the Latest Aviation Updates. Subsequently, follow us on Google News.