HONOLULU- Hawaiian Airlines (HA) operates three weekly flights from Auckland (AUK), New Zealand, deploying its Airbus A330-300 aircraft for the nine-hour journey.
This service is preferred for New Zealand travelers seeking connections to Hawaiian Airlines' extensive network within the contiguous United States, often combined with leisure stays in sunny Waikiki.
Hawaiian New Zealand Flights
However, this route will experience a suspension during the Northern Hemisphere summer months and is expected to resume in November 2024.
Currently, HA446 departs from Auckland in the late evening at 23:30 on Tuesdays, Thursdays, and Sundays. The northbound flight has a duration of 8 hours and 50 minutes, with arrival at Honolulu Daniel K. Inouye International Airport (HNL) at 09:20.
This schedule conveniently allows passengers to spend a day at Oahu's beaches or connect to various destinations such as Las Vegas, Los Angeles, or New York.
For the southbound journey, HA445 takes off on Mondays, Wednesdays, and Saturdays, leaving Honolulu at 13:10. The flight's duration is approximately 9 hours and 10 minutes, with arrival in New Zealand at 21:20.
Summer Cuts
Upon checking the airline's website, it appears that the last southbound flight is scheduled to depart from Honolulu on April 1st and cross the dateline to land on April 2nd, marking the return journey to Hawaii.
However, Hawaiian Airlines has stated its intention to resume its Auckland service next November.
Hawaiian Airlines introduced this route in March 2013 and has reportedly served over 140,000 passengers in the past decade.
After the temporary suspension of the Auckland route, the airline's sole remaining South Pacific services will include Sydney, Rarotonga, and Papeete. While Brisbane was previously part of their route network before the pandemic, it has not yet been reinstated.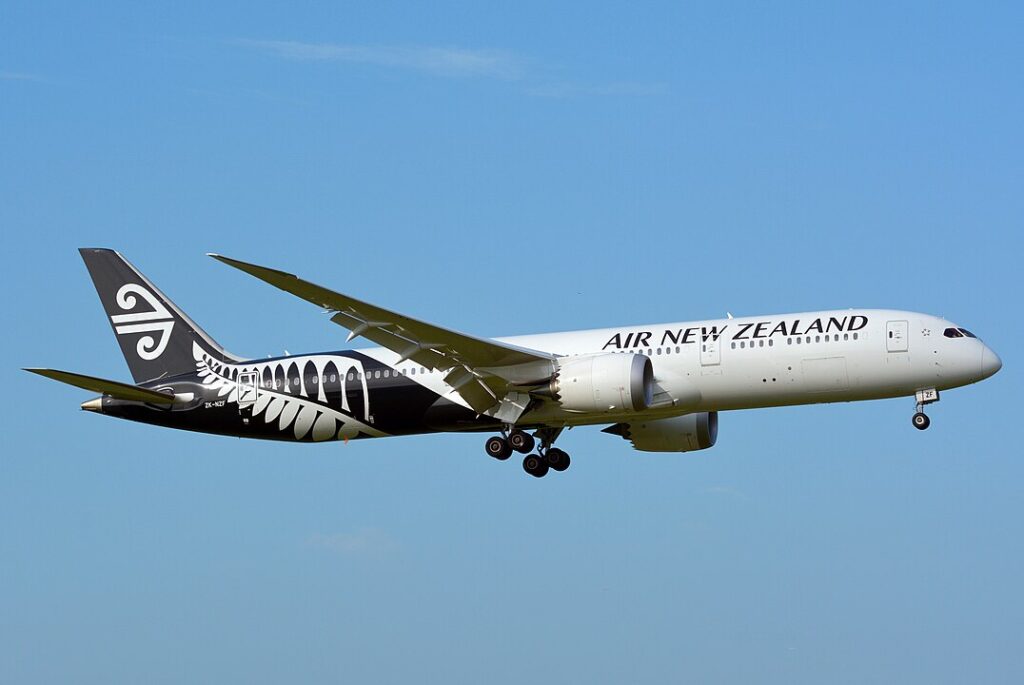 Air NZ Honolulu Flights
Air New Zealand, the national carrier of New Zealand, is committed to maintaining its presence in Honolulu. Honolulu continues to be one of the six gateways for Air New Zealand in the United States, alongside Chicago, Houston, Los Angeles, New York JFK, and San Francisco.
Air New Zealand operates its Boeing 787-9 aircraft on this route three times a week, with northbound flights departing from Auckland on Tuesdays, Fridays, and Sundays. These flights offer Business, Premium, and Economy class options, and passengers can also enjoy the unique SkyCouch feature.
The northbound flight, NZ10, departs from Auckland at 22:40, with a total flight time of 8 hours and 30 minutes.
It arrives in Honolulu at 08:10, and after spending approximately 2 hours and 35 minutes on the ground at Honolulu International Airport (HNL), it returns to Auckland as NZ9, departing at 10:45. This southbound flight completes its journey by arriving in Auckland at 17:45 after a nine-hour flight.
Stay tuned with us. Further, follow us on social media for the latest updates.
Also Read: US Airlines, Including American, United, Delta, and Southwest, want you to Dress Properly – Aviation A2Z
Join us on Telegram Group for the Latest Aviation Updates. Subsequently, follow us on Google News.