LONDON- Following a significant fire that partially collapsed one of its multi-storey car parks, Luton Airport (LTN) in London has temporarily halted all flight operations. The incident resulted in injuries to four firefighters and one airport staff member, all of whom have been transported to the hospital.
The Bedfordshire Fire and Rescue Service declared a major incident at 9:38 pm on Tuesday. At the height of the emergency, the scene was attended by 15 fire engines, three specialized aerial appliances, and over 100 firefighters.
Massive Fire Breaks In Car Parking
The fire service reported that one section of the car park was "fully engulfed in flames," leading to a "significant structural collapse" of the building.
For those with plans to depart from Luton Airport (LTN), here's how the fire is influencing flight operations:
Andrew Hopkinson, the chief fire officer at Bedfordshire Fire and Rescue Service, mentioned that the car park contained approximately 1,500 vehicles at the time of the incident, and it's estimated that up to 1,200 of them sustained damage. To facilitate the removal of undamaged vehicles, a temporary ramp is being installed.
Mr. Hopkinson noted that upon arrival, firefighters encountered a "severe and rapidly spreading fire," which eventually extended to multiple floors.
The cause of the fire is under investigation. However, Mr. Hopkinson mentioned that there is currently "no information to suggest it's anything other than an accidental fire that began in one of the vehicles.
" He also indicated that the fire likely originated in a diesel-powered car before spreading to nearby vehicles, emphasizing that it wasn't an electric vehicle.
Flight operations will remain suspended until at least 3 pm on Wednesday. As a result of cancellations and delays, an estimated 25,000 airline passengers have been affected, according to an analysis by the Press (PA).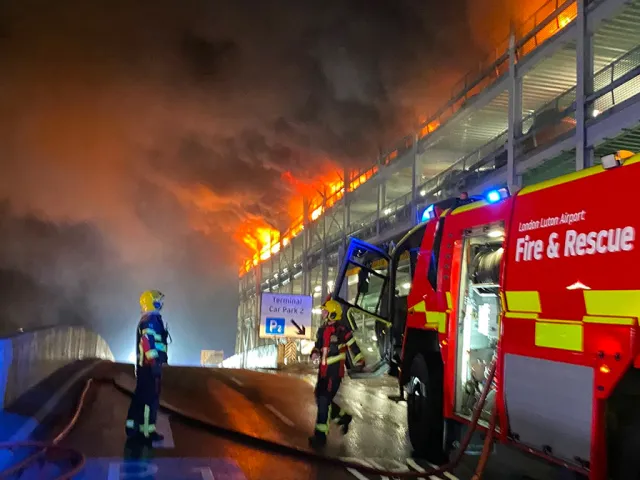 Overnight Efforts to Contain Massive Blaze by Firefighters
Throughout the night, firefighters worked diligently to extinguish the substantial blaze and prevent its spread to nearby structures and vehicles on the airport runway.
An update at 8:45 a.m. on Wednesday revealed that the fire had been "controlled and extinguished" by the fire service. Nevertheless, people were advised to steer clear of the area due to significant traffic delays.
As of the most recent update, four crews and an aerial appliance are still present at the scene. The service emphasized that all flights are suspended until 3 pm, advising passengers with flights before this time not to travel. Furthermore, the public was urged to avoid the area due to the extensive traffic congestion.
The major incident status, previously declared by the fire service, was deactivated on Wednesday morning.
The East England Ambulance Service reported that four firefighters and one airport staff member were transported to Luton and Dunstable Hospital following the fire. One more individual was released at the location.
According to a statement posted on X, Luton Airport stated,
"Emergency services are still present at the site after last night's fire in Terminal Car Park 2. Our primary concern is to continue assisting the emergency services and ensure the safety of our passengers and personnel."
"Consequently, we have opted to suspend all flight operations until Wednesday, 11th October, at 3 pm. Travelers are recommended to postpone their plans to the airport presently, as access is considerably limited."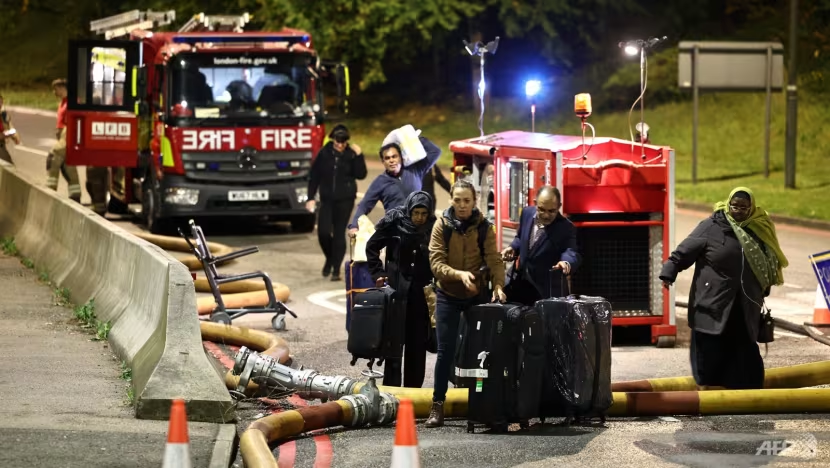 Travellers Who Witnessed Flames
One observer informed Sky News: "You could audibly hear cars exploding."
A traveller at Luton Airport recounted that his vehicle was parked inside the multi-storey car park. He mentioned that he was at the airport when the fire began, and he's certain that his car was affected, noting that "all of Car Park 2 is completely damaged."
Russell Taylor, 41, an account director hailing from Kinross, Scotland, witnessed the flames after arriving at Luton Airport from Edinburgh. He described the situation: "There were a couple of fire engines dealing with a car engulfed in flames on the upper level of the car park shortly after 9 pm. Within a few minutes, a substantial portion of the upper level was on fire, with car alarms blaring and vehicles exploding in flames. The rapidity with which the fire spread was astonishing."
Agnieske Szmit, aged 44, and her family were forced to spend the night sleeping on terminal benches after their flight from Luton to Gdansk, Poland, was cancelled on Tuesday evening due to the fire. She expressed her frustration, saying, "We missed our work today, and the children should be at school."
Stay tuned with us. Further, follow us on social media for the latest updates.
Also Read: US Airlines, Including American, United, Delta, and Southwest, want you to Dress Properly – Aviation A2Z
Join us on Telegram Group for the Latest Aviation Updates. Subsequently, follow us on Google News.