MUMBAI- When you travel with Air India (AI) this December, you'll have multiple reasons to appreciate your journey. The airline's staff, including cabin and cockpit crew as well as ground personnel, will be donning stylish uniforms crafted by the renowned designer Manish Malhotra.
This collaboration between the Tata Group-backed airline and the celebrated couturier is part of Air India's brand identity makeover, which also encompasses a fresh logo known as The Vista.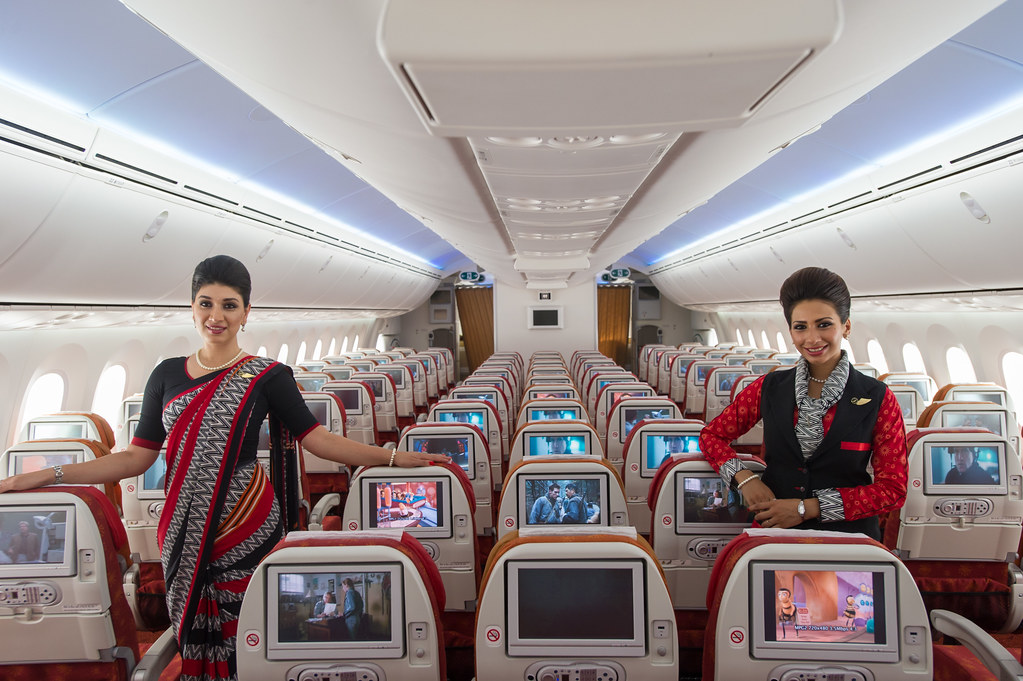 Air India New Crew Uniform
This partnership unites two established entities: Air India, a pioneer in India's aviation sector with a rich history dating back to its inaugural flight on October 15, 1932, and Manish Malhotra, a fashion icon with over three decades of influential presence in the fashion world.
Known for his penchant for experimenting with diverse styles and fusing Indian elements with Western influences, Malhotra boasts a vast and global clientele.
Expressing his enthusiasm, Campbell Wilson, CEO & MD of Air India, commented,
"Air India is thrilled to collaborate with Manish Malhotra to bring to life our joint vision of representing a vibrant, bold, and progressive India on the global stage. We are closely collaborating with Manish and his team to merge elements of our brand, heritage, and culture with the unique requirements of the airline industry, aiming to create a fresh and captivating new appearance that aligns with and symbolizes the new Air India."
The airline also revealed that it anticipates introducing the new uniforms for its staff by the end of 2023.
LuxeBook recently had a conversation with the renowned couturier about the uniform makeover.
He shared his thoughts on this project, highlighting how it differs from his usual work, where he has designed outfits for numerous A-list celebrities such as Naomi Campbell, Nick Jonas, Rekha, Isha Ambani, Deepika Padukone, Kareena Kapoor Khan, Alia Bhatt, Parineeti Chopra, and many others.
Manish Malhotra Comments
Designing new uniforms for Air India, including cabin crew, cockpit crew, ground, and security staff, is an immense honor for me. I take this responsibility very seriously, recognizing that uniforms play a pivotal role in shaping the airline's brand image and the overall passenger experience.
I am enthusiastic about contributing to the creation of a professional and unified appearance that aligns with the airline's identity while ensuring the utmost comfort, functionality, and safety for all employees. Designing uniforms for our national carrier presents a unique creative challenge that I eagerly look forward to.
Indeed, this undertaking presents a creative departure from designing glamorous attire for celebrities. While both endeavors involve elements of creativity, they serve distinct purposes and come with their own set of considerations.
Designing attire for celebrities often allows for greater creative freedom and experimentation, as these outfits are typically meant to make a bold statement on red carpets and in the fashion world. These designs often focus on the latest trends, unique materials, and avant-garde concepts to capture attention and create a visual impact.
Conversely, designing uniforms for airline personnel necessitates a more practical and functional approach. These uniforms must prioritize comfort, safety, and functionality, as they are worn during extended shifts and in diverse work environments. Additionally, they must align with the airline's branding, conveying professionalism and instilling trust in passengers.
Revamping Brand
The fact that the airline is revamping its entire identity to adopt a more modern outlook presents a remarkable opportunity. Such an overhaul allows for the creation of something distinctive that leaves a lasting impression on both passengers and the industry at large.
A modern outlook can rejuvenate an airline's brand, and the uniforms are a vital component of this identity, offering significant potential for innovation and a unique look.
As for the new Air India uniforms, the fashion community is eagerly anticipating a glimpse of what they will entail. Whether or not they will continue to feature saris, which have been the airline's crew attire for six decades, remains to be seen.
Stay tuned with us. Further, follow us on social media for the latest updates.
Also Read: US Airlines, Including American, United, Delta, and Southwest, want you to Dress Properly – Aviation A2Z
Join us on Telegram Group for the Latest Aviation Updates. Subsequently, follow us on Google News.