ARENDAL- In September, Norse Atlantic Airways (N0) delivered a strong operational performance with more flights as it transitioned toward the end of the summer season.
The month witnessed an impressive average load factor of 78%, marking a notable increase of 22 percentage points compared to the previous year.
Norse Atlantic Airways 500+ Flights
Throughout September, Norse Atlantic Airways served 132,556 passengers through 503 flights, with 80% of these flights arriving within 15 minutes of their scheduled times. Additionally, the airline conducted 5 ACMI/charters during the month.
CEO and Founder of Norse Atlantic Airways, Bjorn Tore Larsen, commented, "We observed robust demand at the start of the month, which, as anticipated, gradually tapered off towards the end of September in certain markets as we transitioned to our winter schedule. We successfully executed five ACMI/charters in September, and this segment will continue to expand during the winter, contributing positively to our revenue as we optimize fleet utilization efficiently during this period."
Larsen also noted, "At the beginning of the month, we announced our new Paris to Los Angeles route, scheduled to commence in May 2024. Furthermore, we have extended the availability of our flights across our summer network until October 2024, allowing our customers to plan their travel for the upcoming year and take advantage of the best available prices."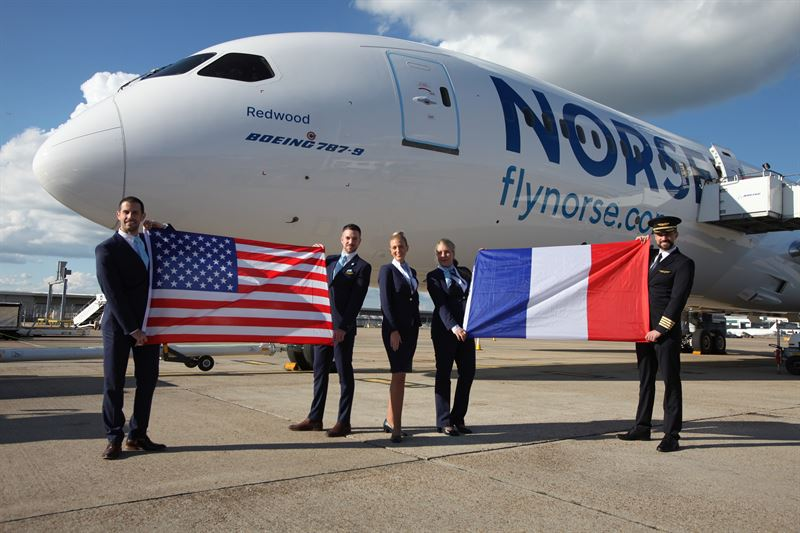 Paris-Los Angeles Flights
Norse Atlantic Airways (N0), the innovative long-haul low-cost airline, is excited to announce the commencement of ticket sales for its new direct route between Paris (CDG) and Los Angeles (LAX).
This new service, operating six times a week, is scheduled to begin on May 1, 2024. It is now open for immediate booking on the website.
Flights will depart from Paris (CDG) at 16:15 and arrive at Los Angeles (LAX) at 19:05. Departures from Los Angeles will be at 21:10, with arrivals in Paris at 17:00 the following day. One-way fares start at €319 in Economy class and €665 in Norse Premium, including all applicable taxes.
"We are delighted to introduce this new direct route, connecting two of the world's most vibrant and culturally rich cities," stated Bjorn Tore Larsen, CEO and Founder of Norse Atlantic Airways.
"Passengers will now have the opportunity to enjoy a seamless and convenient journey while experiencing Norse Atlantic Airways' renowned comfort, exceptional service, and competitive fares," added Larsen.
Norse Atlantic exclusively operates Boeing 787 Dreamliner aircraft, ensuring passengers a comfortable and enjoyable travel experience. Each seat is equipped with a cutting-edge entertainment system for personal entertainment.
Norse Atlantic offers two cabin options: Economy and Premium. Passengers can select from a straightforward range of fare options, including Light, Classic, and Flextra, tailored to their travel preferences and priorities.
Stay tuned with us. Further, follow us on social media for the latest updates.
Also Read: US Airlines, Including American, United, Delta, and Southwest, want you to Dress Properly – Aviation A2Z
Join us on Telegram Group for the Latest Aviation Updates. Subsequently, follow us on Google News.