MONTERREY- Viva Aerobus, one of Monterrey's top airlines, has announced the further strengthening of Nuevo Leon's capital city air connectivity with the launch of six new US nonstop routes connecting to Austin, Denver, Miami, New York (JFK), San Francisco (Oakland), and Orlando.
Additionally, Viva is introducing three new domestic routes out of Monterrey to Durango, Tapachula, and La Paz. The airline will also increase flight frequencies on most of its existing routes operating out of Monterrey.
Viva Aerobus US Routes
This service expansion will result in a total of 13 million seats offered in Monterrey by 2024, representing a 23% increase in capacity, which is nearly 2.5 million more seats than in 2023.
This is the largest capacity increase in Viva's 16-year history, further cementing its position as the city's leading and most prominent airline.
"In Nuevo Leon, our efforts are focused on opening doors to the world and enhancing connectivity. I am delighted that, alongside our government's initiatives, Viva Aerobus continues demonstrating its commitment to connecting our state with the world by adding new routes to key U.S. cities like Denver, Miami, Austin, San Francisco, Orlando, and New York. This expansion means that residents of Nuevo Leon can conveniently travel to these destinations with nonstop flights, and it also welcomes more visitors to our region to explore our culture and engage in business," stated Samuel García Sepúlveda, Governor of Nuevo Leon.
"We are dedicated to providing top-notch infrastructure to ensure that those who visit us can fully enjoy our state. Initiatives like the construction of the new airport highway and the airport's renovation in partnership with OMA reflect our commitment to supporting this economic upturn. Together, we aim to leverage this growth to attract more tourists and business professionals from across the globe, solidifying Nuevo Leon's position as an aviation hub," the Governor further added.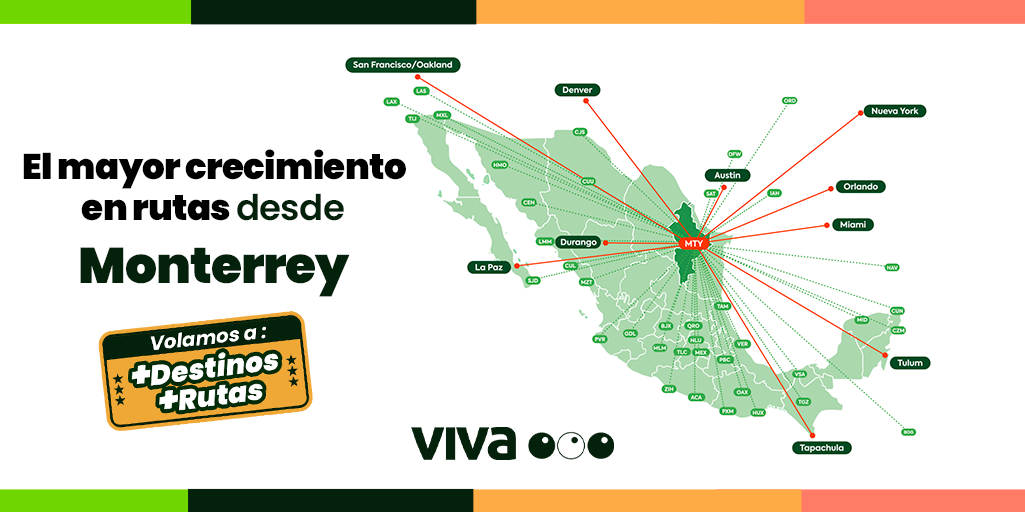 New Flights
The Monterrey to Denver route is set to commence operations on January 25, 2024, offering two weekly flights. For travelers heading to Austin, service begins on March 22 with four weekly flights.
Starting on May 9, the route to Orlando will operate with three weekly flights. Passengers can look forward to services to San Francisco (Oakland) and Miami starting on July 1, with two and three weekly flights, respectively.
Details regarding the Monterrey to New York route will be provided soon. Fares for these newly announced routes will begin at just USD $65 for one-way flights and the Airport Usage Fee (TUA).
This expansion by Viva Aerobus reflects the airline's response to the increasing demand in the world's most dynamic international two-country passenger market. According to Mexico's Secretary of Tourism, U.S. tourists arriving by air constitute 63% of all foreign air arrivals in Mexico.
Domestic Routes
Furthermore, Viva Aerobus is introducing new domestic routes from Monterrey to Tapachula, beginning operations on November 2 with three weekly flights. La Paz will be served starting on December 23 with two weekly flights.
Lastly, flights to Durango are scheduled to commence on April 18, 2024, offering three weekly flights. These additions complement Viva Aerobus's recently announced route to Tulum, which will launch on December 1 with daily flights.
Passengers on all these routes will have the opportunity to travel aboard Mexico's youngest fleet, consisting of 78 Airbus aircraft with an average age of 5.2 years.
Viva Aerobus CEO Juan Carlos Zuazua expressed,
"Viva was founded in Monterrey and holds the distinction of being the sole airline with both an operations base and a connectivity hub in this city. The introduction of these nine new routes represents a significant achievement in our national and international connectivity. Our U.S. routes are strategically designed to serve the world's largest international air travel market by providing cost-effective travel options, making it even more convenient for people to visit loved ones, embark on vacations, or engage in business activities." Zuazua further emphasized, "Through Viva, Monterrey strengthens its connections with the United States and other regions of Mexico, offering an expanded selection of direct and connecting flight possibilities to millions of travelers!"
These new routes have been introduced in a year marked by remarkable growth for Viva Monterrey, a pivotal operating hub for Viva Aerobus. The airline has solidified its position as a leading carrier by significantly expanding its route network, enhancing flight frequencies, and witnessing substantial passenger traffic growth.
In 2023 alone, Viva Aerobus has incorporated 15 routes to and from Monterrey. Consequently, by 2024, Viva Aerobus will operate a total of 49 routes to and from Monterrey, encompassing 12 U.S. destinations, along with routes to Bogotá, Havana, and 35 domestic destinations.
To support this significant expansion, Viva has already allocated 28 aircraft to bolster its operations at the Monterrey hub.
Stay tuned with us. Further, follow us on social media for the latest updates.
Also Read: US Airlines, Including American, United, Delta, and Southwest, want you to Dress Properly – Aviation A2Z
Join us on Telegram Group for the Latest Aviation Updates. Subsequently, follow us on Google News.