NEW YORK- Breeze Airways (MX) is expanding its list of destinations to include Plattsburgh, New York (PBG), and flights to Orlando (MCO).
Breeze operates both regional and transcontinental flights, boasting a fleet of Embraer 190/195 and Airbus A220 aircraft. Notably, the carrier has placed an order for 80 A220s, with an option for 40 more.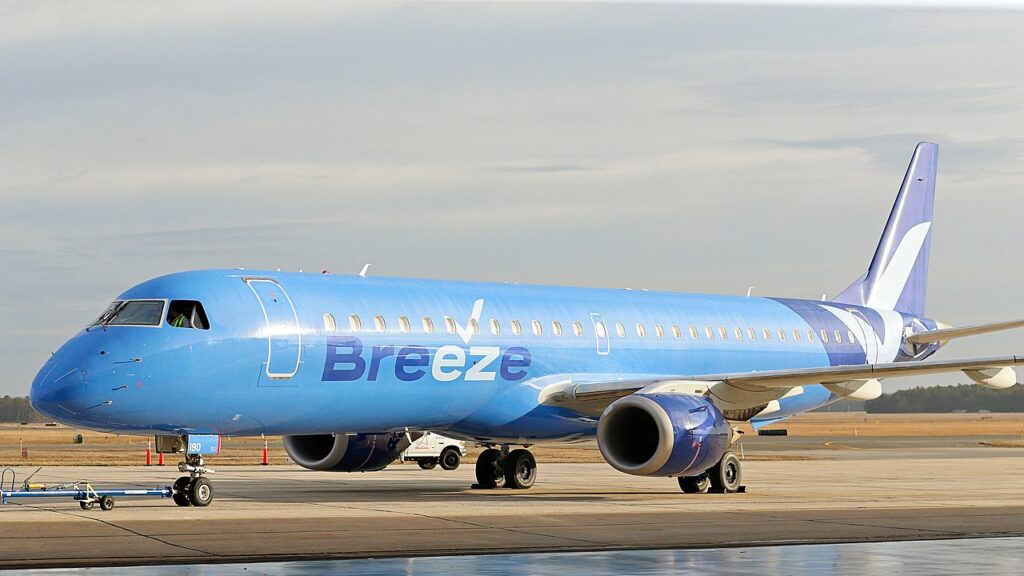 Breeze New York to Orlando Flights
Starting on November 28, Breeze will initiate a new route connecting PBG to Orlando (MCO), offering flights three times a week, flagged Ishrion Aviation.
The flight schedule is as follows:
MX268: Departure from MCO at 8:00 AM, Arrival at PBG at 11:15 AM.
MX269: Departure from PBG at 12:15 PM, Arrival at MCO at 4:40 PM.
Plattsburgh, often referred to as "Montreal's U.S. Airport," attracts a significant number of travelers from Montreal. Breeze intends to promote PBG in both Plattsburgh and Montreal.
While MCO currently lacks service from Plattsburgh, Allegiant operates flights from PBG to Sanford, Florida, in addition to other destinations in Florida.
It's worth noting that PBG is a unique market, and it benefits from federally subsidized service to Philadelphia (PHL) through Contour Airlines, facilitated by the Alternate Essential Air Service program.
Additionally, Breeze is expanding its operations from Fort Myers (RSW) with the introduction of a new route to Portland, Maine (PWM), commencing on November 15.
Mega Expansion in Florida
Connecting Fort Myers, FL, with nine cities, these new routes will link Akron-Canton, OH; Columbus, OH; Louisville, KY; New Orleans, LA; Norfolk, VA; Pittsburgh, PA; Raleigh-Durham, NC; Richmond, VA; and Syracuse, NY, to the popular Florida destination.
Additionally, there will be a new service from Providence, RI, to both Jacksonville and Vero Beach, FL.
Breeze Airways' Founder and CEO, David Neeleman, exclaimed, "Snowbirds take note!" He further highlighted the significance of the announcement.
He stated that Breeze Airways would now offer 58 nonstop routes from 28 cities to seven Florida destinations. Further making it an appealing choice for winter travel.
The airline's attractive "Nice, Nicer, and Nicest" bundles allow guests to customize their flying experience, ensuring a comfortable journey.
Stay tuned with us. Further, follow us on social media for the latest updates.
Also Read: US Airlines, Including American, United, Delta, and Southwest, want you to Dress Properly – Aviation A2Z
Join us on Telegram Group for the Latest Aviation Updates. Subsequently, follow us on Google News.