CHICAGO- United Airlines (UA) unveiled its largest United Club lounge at Denver International Airport (DEN) today (September 13, 2023).
Situated in the B Concourse, this expansive 35,000-square-foot club introduces a contemporary twist to the United Club experience, featuring a unique bar where patrons can enjoy beer flight boards, offering a taste of a rotating selection of top-quality local and craft beers. This establishment marks the second in a series of new venues debuting in Denver this summer.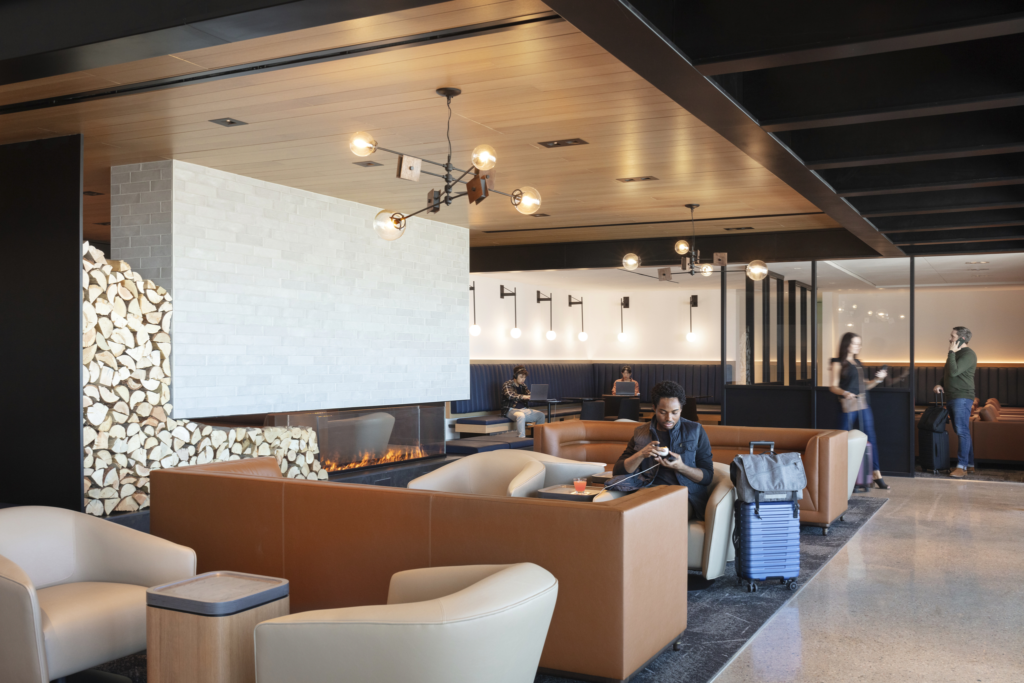 United Airlines Denver Clubs
Last month, a 24,000-square-foot United Club was inaugurated in the A Concourse, boasting a luxurious ski lodge ambiance and incorporating design elements inspired by the scenic beauty of Colorado's outdoors.
In 2025, the airline plans to unveil an additional upgraded club location. When this new space becomes operational, Denver International Airport will boast an impressive total of over 100,000 square feet dedicated to United Club facilities, nearly equivalent to two football fields.
These facilities will be spread across three United Club locations. United Club Fly is an innovative grab-and-go concept offering enhanced food and beverage options for United Club members with tight connecting flights.
Given that more than two-thirds of United's customers have connecting flights in Denver, these new clubs are expected to accommodate more than double the number of travelers compared to the previous setup.
The inauguration of these new clubs follows United's introduction of a novel club concept, United Club FlySM, in Denver last year. This concept is a first-of-its-kind offering among U.S. airlines.
Since its launch, United Club Fly has been frequented by over 100,000 travelers who have appreciated the added convenience of grabbing food or beverages while on their way to their flights.
Alexander Dorow, United's Head of Clubs and lounges, commented, "The new United Club locations are designed and operated to reflect feedback from our customers and align with the evolving nature of travel in recent years. As we expand our presence in the Mile High City, the expansion and renovation of United Club locations underscore our commitment to Colorado and enhancing our customers' travel experience."
B Concourse UA Club
Situated on the eastern side of the B Concourse, adjacent to gate B44, the newly established club location boasts an expansive 35,000 square feet spread across three levels, offering over 600 seats.
This makes it the largest club within United's network. The design of the space draws inspiration from Denver's vibrant beer culture, featuring brewery-themed elements and an enticing beer-tasting experience at the prominent mezzanine-level bar.
At this featured bar, travelers have the opportunity to select from a rotating menu of 10 local and craft beers on tap, hailing from Colorado-based breweries like New Belgium, Great Divide, Denver Beer Company, and Upslope, among others.
These beer options are thoughtfully presented on United-branded tasting boards and beer glasses.
The centerpiece of this area includes five Vestaboards that display personalized messages and menu offerings, accompanied by a captivating custom mural by visual artist Charlo Garcia Walterbach.
This mural artfully explores the excitement and discovery associated with travel, capturing the essence of new experiences in different places.
The interior design takes inspiration from Denver's urban aesthetics, incorporating elements like concrete flooring, meticulously crafted decor, and exposed ceilings to create a sleek and modern ambiance.
Throughout the space, guests can appreciate an array of locally sourced furnishings and artwork, encompassing photography, paintings, sculptures, and murals that authentically represent the Denver community.
The entryway features a remarkable sculpture inspired by the cones of the Colorado Blue Spruce, artistically crafted by Will Schlough using numerous skateboards to resemble colorful pinecones.
Additionally, a striking mural, the creation of local artists Jaime Molina and Pedro Barrios, narrates the story of Denver through visually captivating geometric shapes inspired by street art.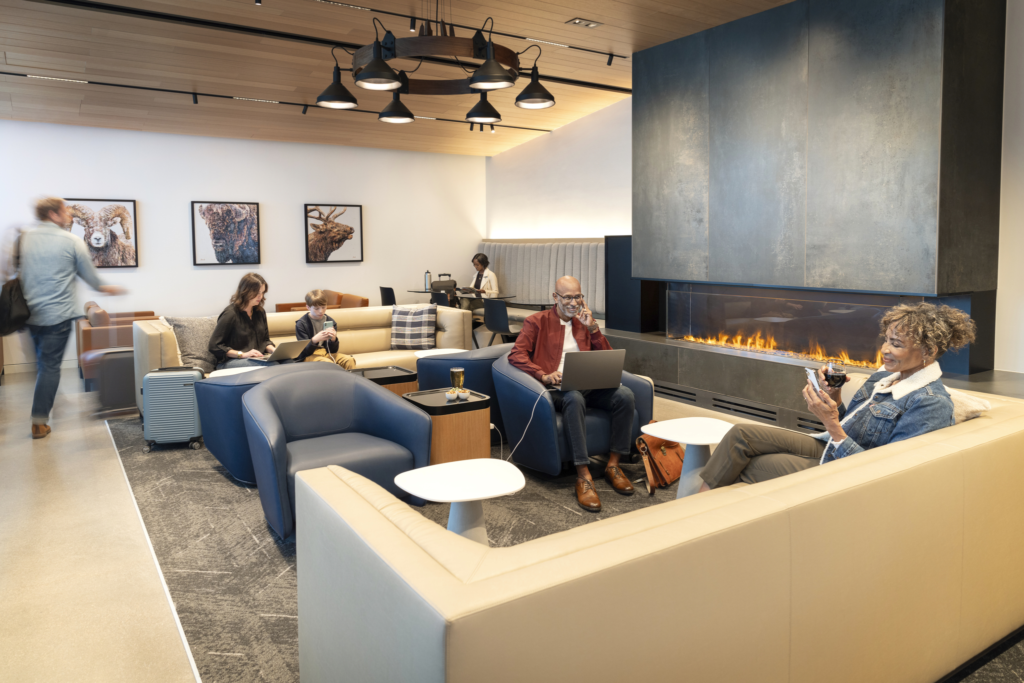 A Concourse UA Club
Drawing inspiration from the majestic Colorado Rocky Mountains, travelers who visit the new club location on the western side of the A Concourse, near gate A26, are treated to an immersive experience that immerses them in the natural beauty of Colorado's outdoor landscapes and adventures.
The interior is thoughtfully adorned with locally sourced furniture and decor that captures the essence of the region.
Designed to evoke the ambiance of a cozy ski lodge, the club features two inviting fireplace lounges, an abundance of stacked wood, cushions patterned with flannel motifs, and vintage ski-themed decor. This setting envelops travelers in the sensation of being nestled deep in the woods, akin to a serene Colorado retreat.
Spanning an impressive 24,000 square feet, this club encompasses two premium bars and offers seating for 400 guests across two levels of club space.
There are ample opportunities to savor food and beverages, engage in a few rounds of shuffleboard in the game lounge, or simply unwind by the warm fireplaces.
The club's design incorporates hand-crafted, custom artwork contributed by local artists. Among these notable pieces is a sculptural installation by Colorado-based artist Amy Hoagland, crafted from glass rods to form a topography-inspired artwork that creates captivating optical illusions from various angles.
A striking 'Come Fly With Us' mural, created by Denver-based multidisciplinary designer Adam Vicarel, takes center stage in the game lounge, featuring a vibrant blend of colors and shapes that encapsulate the spirit of travel and the Colorado landscape.
Additionally, the club showcases an array of local artwork, including a glass sculpture, mixed media collages, photographs, and paintings, all inspired by the beauty of Colorado's natural surroundings.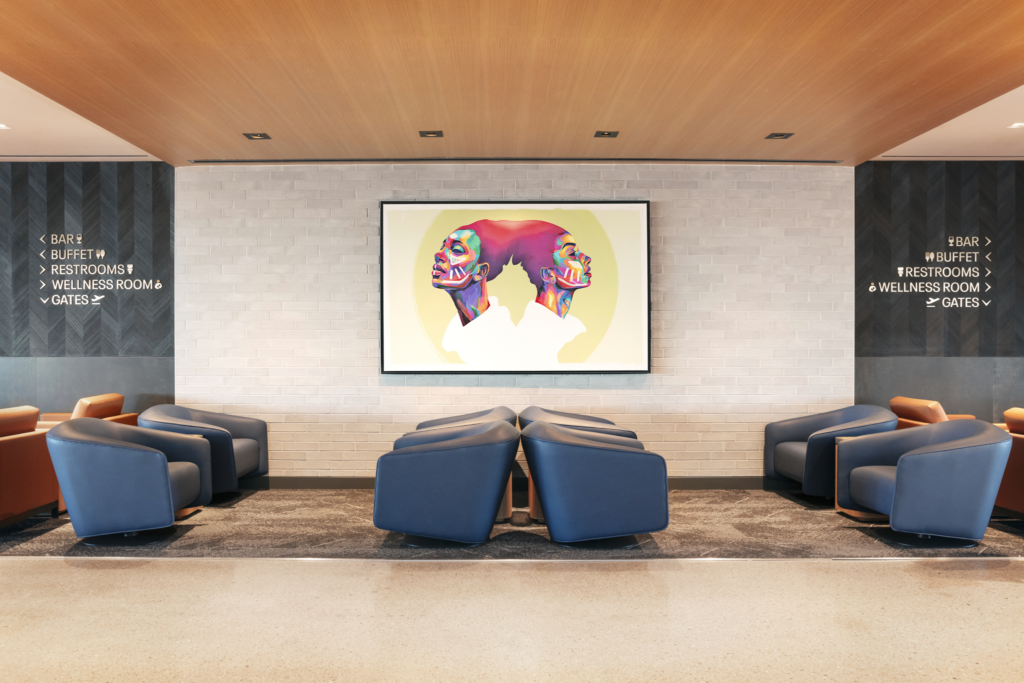 United Luxurious Clubs
Both club locations offer an array of enhanced amenities designed to elevate the traveler's experience.
These amenities include complimentary high-speed Wi-Fi, self-scan entry gates for hassle-free club access, agent on-demand kiosks for any travel-related inquiries, and dedicated wellness rooms for relaxation and respite.
Additionally, both clubs feature a premium culinary selection infused with local flavors, including options such as oatmeal paired with Colorado honey, an egg frittata inspired by the Denver omelet (comprising ham, bell peppers, red onion, spinach, and cheddar cheese), Colorado Club sandwiches, and pork green chili.
This expansion initiative aligns with the airline's substantial investment of nearly $1 billion, aimed at enhancing the overall customer experience in Denver.
Earlier this year, United announced the introduction of new non-stop routes to six destinations, including four not serviced by any other airline in Denver.
Furthermore, local infrastructure enhancements are in progress, with 12 new gates slated to open in the A and B concourses by mid-2024.
This expansion will provide United with a total of 90 gates, solidifying its position as the airline with the most gates at Denver International Airport.
Stay tuned with us. Further, follow us on social media for the latest updates.
Also Read: Indian Students Deported Back to Delhi from USA on Delta Flight – Aviation A2Z
Join us on Telegram Group for the Latest Aviation Updates. Subsequently, follow us on Google News.