MONTREAL- Flag carrier Air Canada (AC) has unveiled its plans for a new year-round route connecting Montreal and Madrid, set to commence in May of the following year. This announcement comes as part of the airline's expanded international summer 2024 flight schedule.
Air Canada intends to operate at full capacity, matching its peak summer 2019 trans-Atlantic flight capacity, capitalizing on the robust recovery observed in its most significant international market.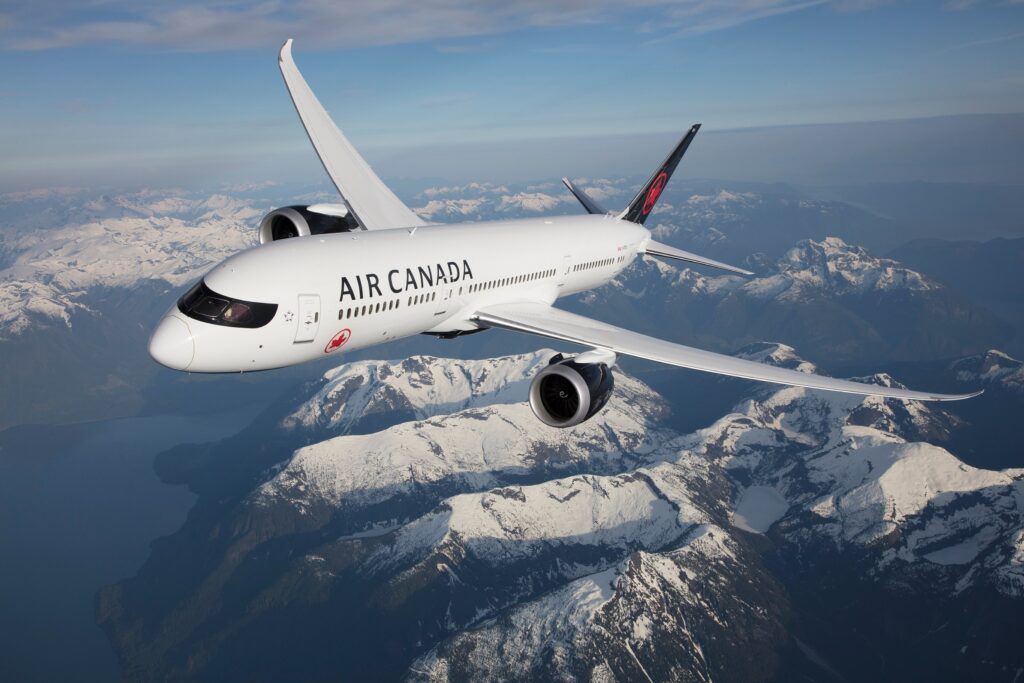 Air Canada European Flights Expansion
Mark Galardo, the Executive Vice President of Revenue and Network Planning at Air Canada, commented, "Air Canada experienced a remarkable resurgence in international travel this past summer, especially on trans-Atlantic routes, and we anticipate that Europe will continue to be a popular destination next year. In anticipation of this trend, we are extending our flight schedule to provide travelers with increased options and flexibility as they make plans for their 2024 vacations."
The highlight of this announcement is the introduction of the new Montreal-Madrid route. It will be the sole year-round service connecting Montreal and the Spanish capital, complementing Air Canada's longstanding Toronto-Madrid flights.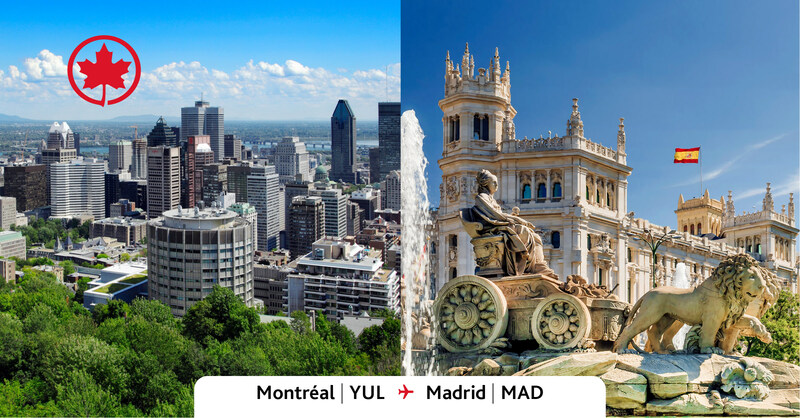 This new route will offer attractive choices for both leisure travelers and returning business passengers.
Air Canada's Montreal-Madrid service will be operated using a Boeing 787-8 Dreamliner aircraft, featuring 255 seats across three service classes: Signature Class with lie-flat seats, Premium Economy, and Economy Class.
All passengers have the opportunity to earn and redeem points through Aeroplan, Canada's premier loyalty program. Eligible passengers will also enjoy priority check-in, access to Maple Leaf Lounges, priority boarding, and other available benefits.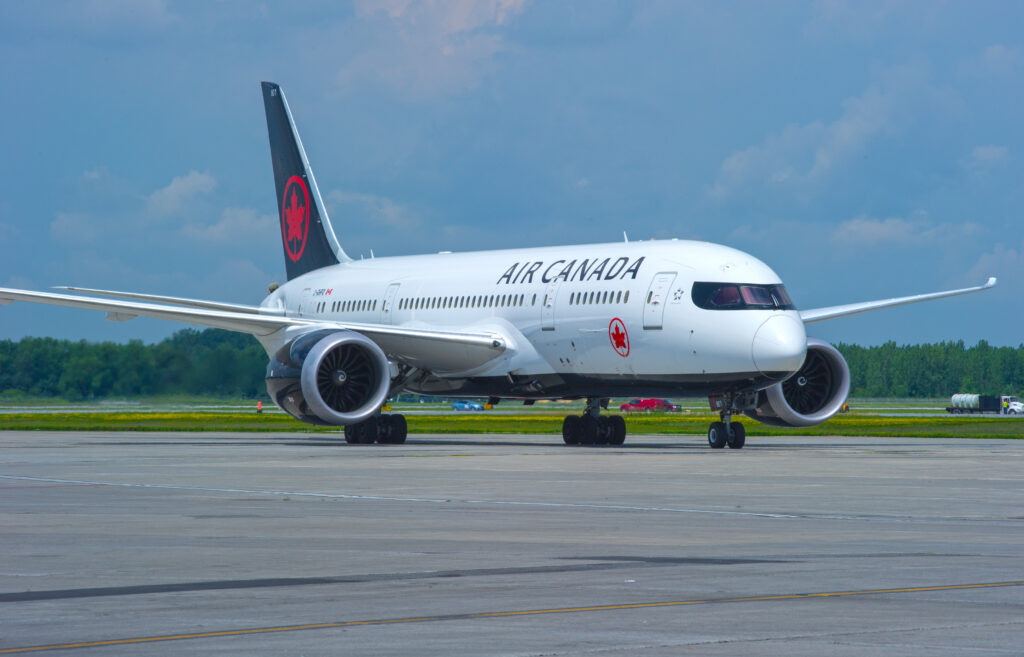 Atlantic Service
With a comprehensive network of 51 routes connecting 30 cities across Europe, Africa, the Middle East, and India, Air Canada is set to become the foremost Canadian carrier operating across the Atlantic in the summer of 2024.
In terms of average daily trans-Atlantic seats, Air Canada's hubs in Toronto and Montreal will rank as the third and fifth largest in North America, respectively. The airline is fully committed to further expanding both hubs' trans-Atlantic presence in the upcoming years.
"We are thrilled to announce a substantial expansion of our services to Italy, featuring a total of three daily flights connecting Toronto and Montreal to Rome, in addition to daily flights to Milan and Venice.
This underscores the significance of Italy within Air Canada's global network, as we proudly hold the title of the largest carrier linking Canada and Italy and the only one offering year-round connectivity between the two countries," noted Mr. Galardo.
In anticipation of a robust surge in leisure travel demand, Air Canada plans to increase the frequency of flights to popular Mediterranean destinations and advance the launch of several seasonal European services for the upcoming summer. Key enhancements to Air Canada's trans-Atlantic services for the summer of 2024 include: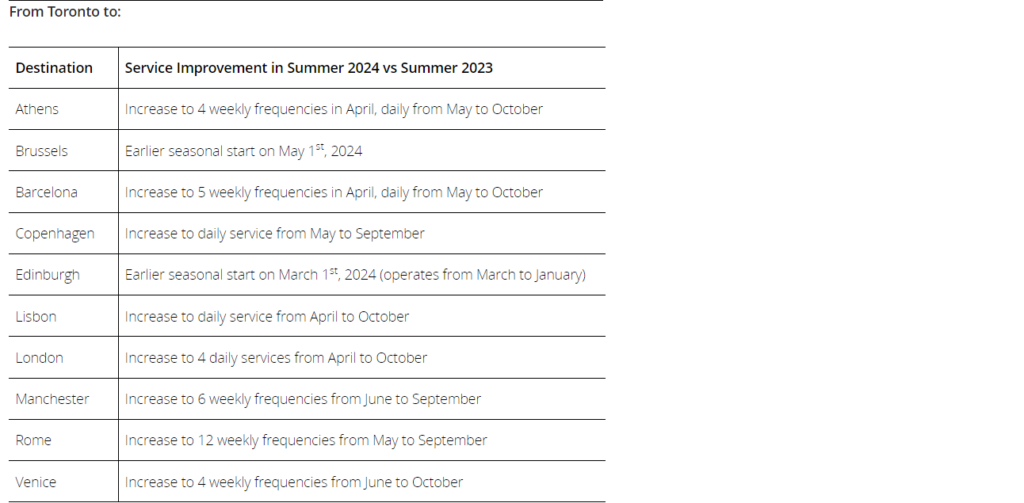 Air Canada's in-flight international services proudly feature the culinary expertise of some of Canada's most renowned chefs. These celebrated chefs include the Vancouver-based, award-winning talents of David Hawksworth and Vikram Vij, alongside the esteemed Montreal chef Jérôme Ferrer. Enhancing this gastronomic experience is a curated collection of premium wines personally selected by the prominent Canadian sommelier Véronique Rivest.
Stay tuned with us. Further, follow us on social media for the latest updates.
Also Read: US Airlines, Including American, United, Delta, and Southwest, want you to Dress Properly – Aviation A2Z
Join us on Telegram Group for the Latest Aviation Updates. Subsequently, follow us on Google News.