NEW YORK- After a federal district court judge ruled in favor of the Biden administration regarding an anti-trust case, ordering the dissolution of the JetBlue (B6)–American Airlines (AA) "Northeast Alliance," which had previously received approval from the Department of Transportation.
The critical question revolved around whether they would choose to pursue an appeal.
JetBlue Spirit Merger
Notably, JetBlue was also in the process of attempting to acquire Spirit Airlines (NK), a move that had encountered regulatory hurdles. However, this unfavorable outcome in the anti-trust ruling potentially presented JetBlue with a bargaining chip.
The prospect of an adverse anti-trust ruling allowed JetBlue to avoid a substantial breakup fee owed to American Airlines for terminating their partnership.
In this context, it appeared that JetBlue was leaning towards prioritizing its acquisition of Spirit Airlines over its collaboration with American Airlines.
The pivotal consideration hinged on whether JetBlue would be willing to forgo the option of appealing the court ruling in exchange for receiving assurances from the federal government that they could proceed with the Spirit merger.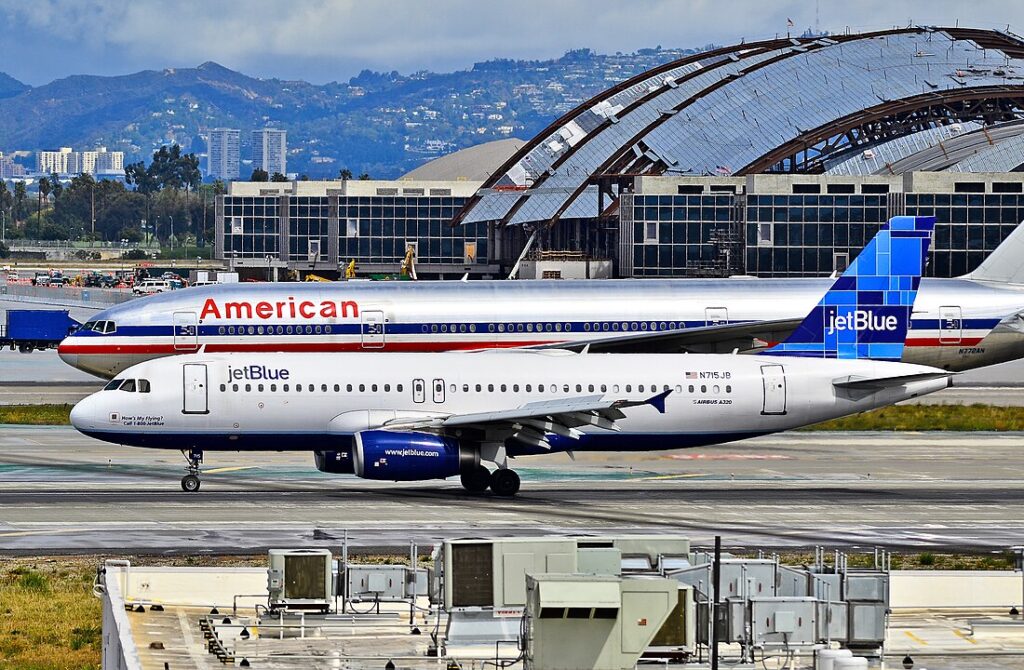 Anti-Trust Ruling
American Airlines made a public statement indicating their intention to challenge the anti-trust ruling through an appeal. However, JetBlue opted not to pursue an appeal and communicated its decision to prioritize the Spirit acquisition.
This choice implies that JetBlue might have secured something in return for this decision, as they could have continued with the appeal otherwise. Proceeding with an appeal would have incurred legal expenses, but it could have yielded potential benefits.
The underlying question remains why JetBlue would willingly relinquish a bargaining tool the government desires unless they anticipate gaining something valuable in return.
T.D. Cowen, an investment banking firm, suggests that, given JetBlue's decision not to appeal the anti-trust ruling affecting their partnership with American Airlines, a potential anti-trust resolution could be on the horizon.
This resolution might pave the way for their acquisition of Spirit Airlines to proceed, with speculations indicating this could happen after Labor Day or before the scheduled trial set for October.
Key Takeaways
The Biden administration must portray this situation as a victory against the airlines. While they've achieved a 'win' by challenging the American-JetBlue deal, they need JetBlue's consent for changes that can be presented as consumer-friendly. Interestingly:
From the start, it was evident that the JetBlue-American partnership encouraged both airlines to intensify competition against United and Delta, the dominant carriers in New York. As the partnership concludes, their effectiveness as competitors, particularly Americans, diminishes.
Thus, the anti-trust ruling is diminishing competition in New York, not enhancing it. Comparatively, the JetBlue-Spirit acquisition was destined to be less conducive to competition.
The American partnership mandated an increase in total seats in the New York market to retain slots. This augmented seat capacity translates to lower fares due to increased supply, not just heightened competition.
On the flip side, JetBlue intends to transform Spirit's business model by reconfiguring planes and raising fares. Although JetBlue portrays itself as an industry disruptor, this notion is reminiscent of a bygone era over a decade ago. Their product differentiation is minimal, and their fares surpass the rival's.
It would be disheartening if, in the event, only one of the two deals could proceed, the more anti-competitive option, which could escalate prices, gains approval from the Biden administration.
Certainly, the Department of Justice may find it challenging to endorse the deal as JetBlue anticipates, especially when leaks suggest potential fare increases of up to 40%.
Stay tuned with us. Further, follow us on social media for the latest updates.
Also Read: US Airlines, Including American, United, Delta, and Southwest, want you to Dress Properly – Aviation A2Z
Join us on Telegram Group for the Latest Aviation Updates. Subsequently, follow us on Google News.