BENGALURU- In collaboration with domestic computer vision company Industry.ai and American technology company Nvidia Corp, Bengaluru International Airport Ltd (BLR) revealed a new development on Wednesday.
They announced the successful incorporation of the airport's computer vision-driven artificial intelligence (AI) platform into its operational framework. This collaborative effort aims to enhance operations at Bengaluru Airport's Terminal 2.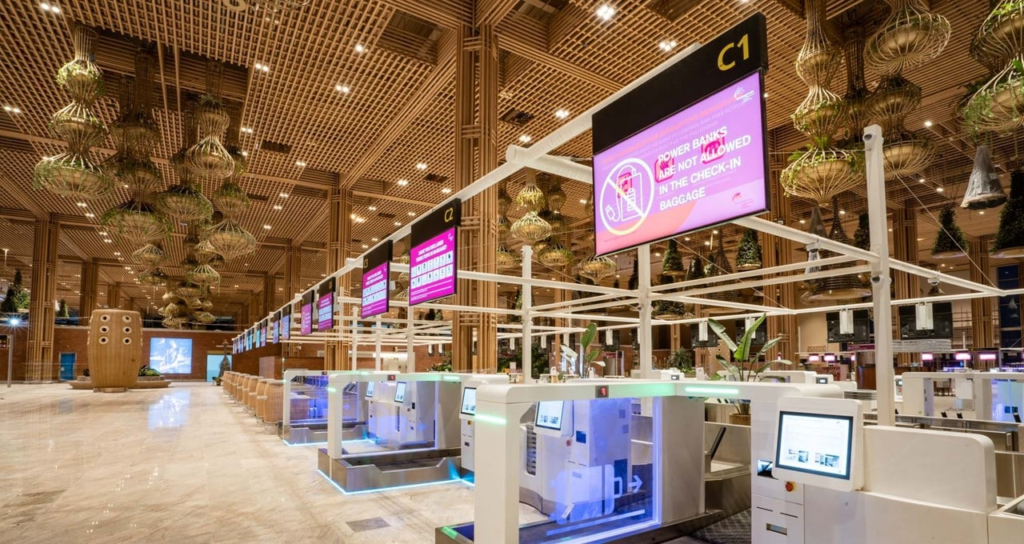 Bengaluru Airport Artificial Intelligence (AI)
Annually, approximately 32 million travelers pass through Bengaluru Airport (BLR), one of the world's busiest airports, in the densely populated city.
To enhance the safety and efficiency of this substantial influx of passengers, the airport in the city formerly known as Bangalore is harnessing the capabilities of vision AI technologies provided by Industry.AI.
As a participant in the NVIDIA Metropolis vision AI partner ecosystem, Industry.AI has successfully integrated its vision AI platform into BLR's newest terminal, T2, which is recognized as the Garden Terminal due to its incorporation of green spaces, indoor gardens, and waterfalls.
This marks one of the initial instances of large-scale intelligent video analytics deployment in an Indian airport.
Industry.AI significantly enhances the safety and operational efficiency of the terminal through the application of vision AI and object detection.
This technology is employed to monitor various aspects, including tracking abandoned baggage, identifying lengthy passenger queues, and notifying security personnel about potential issues. These applications are just a few examples of how Industry.AI contributes to the optimization of terminal operations.
Through the utilization of vision AI, congestion points are recognized, and potential delays are anticipated. This proactive approach enables staff to redirect passengers to less crowded areas or prompt the opening of additional checkpoints, resulting in reduced waiting times and an improved passenger journey.
George Fanthome, the Chief Information Officer of the parent company overseeing BLR, commented on the significance of this deployment, stating,
"Adopting advanced deep learning technologies of this magnitude aligns with our goal to become one of the world's premier airports, offering our customers a top-notch experience."
For Safer Operations
The Industry.AI platform seamlessly integrates over 500 live camera feeds spread across the BLR terminal with advanced vision AI technologies, enabling the accomplishment of a multitude of tasks in real time.
One of its functionalities involves the detection of unattended luggage or bags, ensuring heightened security within the terminal.
The platform also plays a crucial role in managing passenger queues at various points throughout the terminal, such as terminal entrances, check-in counters, and security checkpoints. By utilizing historical passenger movement data collected by the AI platform, airport staff can proactively address tasks.
Tejpreet Chopra, the CEO of Industry.AI, emphasized the platform's role in optimizing passenger flow during peak hours by notifying airport staff about queues exceeding the optimal length. This is facilitated through a real-time dashboard that provides both visual and sensor data, allowing rapid responses to such situations.
Furthermore, the platform's capabilities extend to the real-time tracking and alerting of unauthorized individuals and vehicles within the airport premises, bolstering security measures.
Additionally, Industry.AI is equipped to detect instances of speeding violations by vehicles outside the terminal, contributing to the safe transportation environment around the travel hub.
Stay tuned with us. Further, follow us on social media for the latest updates.
Also Read: Indian Students Deported Back to Delhi from USA on Delta Flight – Aviation A2Z
Join us on Telegram Group for the Latest Aviation Updates. Subsequently, follow us on Google News.