OHIO- The F-35 Lightning II, produced by Lockheed Martin, is a cutting-edge fighter aircraft that boasts supersonic capabilities and is renowned for its stealth technology.
It has earned nicknames like "a computer that happens to fly" from the Air Force's chief of staff and "quarterbacks in the sky" from squadron commanders. While its speed and stealth are remarkable, what truly distinguishes the F-35 are its advanced electronic systems.
GE Computers Fly F-35 Jet
Designed to replace the aging fighter fleet of the United States, the F-35 is equipped with an array of sensors and avionics that provide an exceptionally detailed overview of the aircraft's surroundings and conditions.
GE Aerospace contributes eight critical systems to this technological marvel, encompassing functions such as electrical power management, aircraft memory, remote interface units for the fuselage and missiles, and engine monitoring technology.
In the spring, GE Aerospace formalized a four-year performance-based logistics (PBL) contract with Lockheed Martin to maintain and repair these systems on F-35 aircraft worldwide.
A performance-based logistics (PBL) contract offers clear advantages to Lockheed Martin, the Air Force, the Navy, and the Marine Corps, primarily ensuring a consistent level of aircraft availability at a predetermined cost.
In exchange, GE takes on the responsibility of overseeing operations to meet the customer's requirements.
Focus on Repairs
Chris Newman, GE's F-35 senior program manager based in Cheltenham, England, explains that Lockheed Martin can concentrate on its most critical priorities. At the same time, GE focuses on handling system repairs.
The Cheltenham team serves as the coordination hub for F-35 services, collaborating with GE's other F-35 facilities, including those in Long Island, New York, and Grand Rapids, Michigan, as well as repair and maintenance depots in California, Georgia, and Utah.
When a GE electronic component requires repairs, the analysts at Cheltenham determine the most suitable location based on factors like capacity, proximity, and expertise.
According to Newman, building strong relationships has been essential, as the team has worked diligently to foster collaboration with their customer over the past five years, resulting in a robust partnership.
Newman and his team are seizing the opportunity presented by PBLs to enhance efficiency. He emphasizes that this agreement compels them to optimize operations, improve repair performance, reduce turnaround times, and deliver precisely what the customer requires.
This challenge aligns perfectly with lean principles, which lie at the core of GE's transformation strategy. Lean methodology's primary objective is waste elimination through practices such as action workouts and intensive week-long gatherings dedicated to operational improvements.
Newman and his team have conducted action workouts at the Long Island and Cheltenham facilities to prepare.
"When you critically assess your processes, you realize they are not flawless," he notes. "Ultimately, the focus is on delivering better outcomes for the customer, which encapsulates the essence of PBL."
GE Aerospace in the UK was recently honored as one of Lockheed Martin Aeronautics' top-performing suppliers for 2022, receiving the Mission-Focused Award.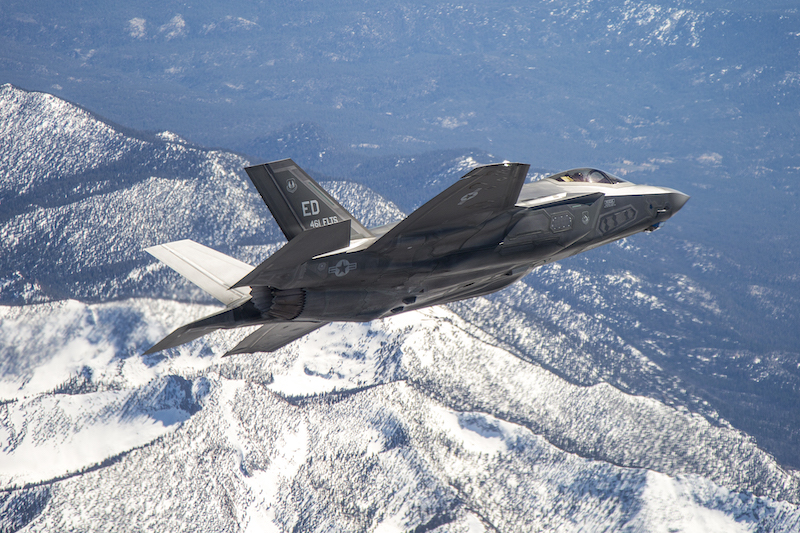 Operational in 10 Nations
Newman and his colleagues recognize the immense scale of maintaining the global F-35 fleet.
With over 900 F-35s operational in the militaries of ten nations and plans to procure an additional 2,500 over the next two decades, replacing most crewed fighters in the U.S. Air Force, Navy, and Marines, it's a substantial undertaking.
Leveraging predictive algorithms to estimate repair frequency, Newman's team is fortifying its supply chain and providing training to meet the impending demands. "I believe Lockheed is experiencing the improvements we've implemented," Newman remarks.
"We're swiftly turning around the product and ensuring it promptly returns to where it's needed, enabling pilots worldwide to get back into their aircraft, anytime and anywhere."
Stay tuned with us. Further, follow us on social media for the latest updates.
Also Read: US Airlines, Including American, United, Delta, and Southwest, want you to Dress Properly – Aviation A2Z
Join us on Telegram Group for the Latest Aviation Updates. Subsequently, follow us on Google News.