BENGALURU- India's regional carrier, Star Air (S5), has added the third brand-new Embraer E175 and is planning to enhance its network with new routes.
With the incorporation of this fresh aircraft, Star Air now attains the status of being the foremost privately-owned regional airline in India, bolstering its fleet to encompass 8+ aircraft.
This substantial expansion signifies a pivotal achievement in Star Air's ongoing endeavor to augment connectivity and provide an unmatched travel experience to its esteemed passengers.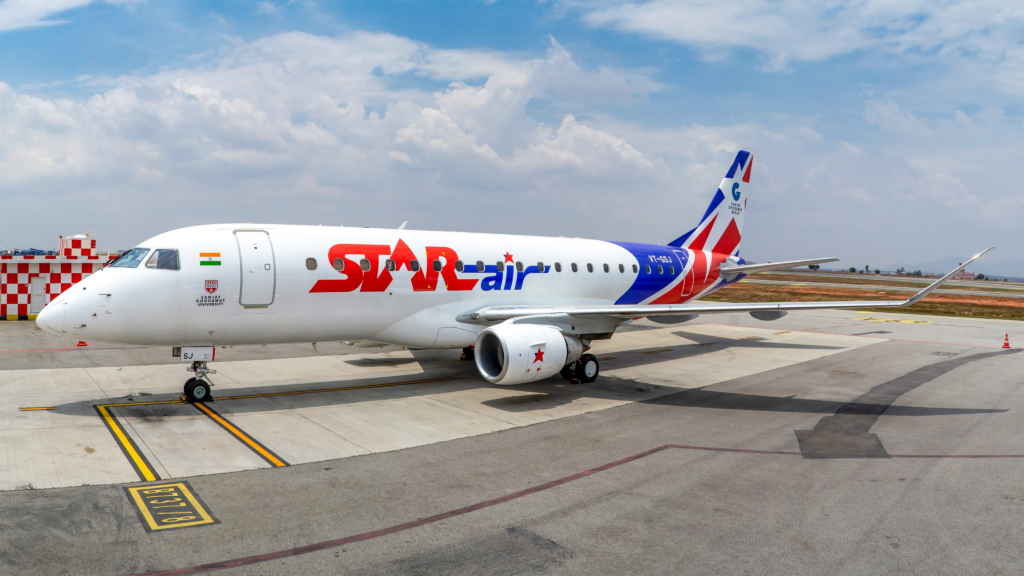 S5 Welcomes Third Embraer E175
The Embraer E175 stands as a cutting-edge regional jet renowned for its minimal noise levels, cutting-edge technology, and impeccable safety track record.
The advanced environmental performance of the Embraer E175LR underscores Star Air's firm commitment to sustainability.
Inside, the aircraft features contemporary enhancements and ergonomically designed seats that guarantee generous legroom and reclining space. Moreover, a unique feature of this design is the absence of a middle seat, ensuring an unmatched level of comfort.
The configuration comprises 12 Business Class seats in a 1 – 2 arrangement, characterized by a lavish 36" seat pitch. Complementing this. There are 64 Economy Class seats in a 2 – 2 layout, offering a roomy 31" seat pitch.
"We take great pleasure in welcoming our third Embraer E175LR aircraft to our ever-expanding fleet," stated Mr. Sanjay Ghodawat, Chairman of Star Air.
"I extend my heartfelt congratulations to every member of the Star Air team for their remarkable dedication and the swift pace of our growth, all geared towards Connecting Real India. With the network expansion facilitated by this aircraft, I am confident that we will connect with more regional towns across India."

Mr. Sanjay Ghodawat, Chairman of Star Air
Subsequently, the inclusion of the third E175 aircraft positions Star Air to broaden its network. Further encompassing new and enticing destinations presents travelers with an array of options to explore and enjoy.
Further, this milestone serves as a testament to Star Air's unswerving commitment to delivering excellence across all facets of its operations.

Star Air New Routes
The airline plans to start a direct flight between Bengaluru (BLR) and Tirupati (TIR) on August 24, 2023. Further, the airline will operate 5X weekly flights using its Embraer ERJ 145.
The fare for this flight is 4,500 INR and can go to 5445 for star comfort.
Timings for flights from BLR to TIR are as follows
S5192 BLR1830 – 1920TIR
S5192 BLR1910 – 2000TIR
Further, the timings for flights from TIR to BLR are as follows
S5193 TIR1945 – 2035BLR
S5193 TIR2025 – 2115BLR
Recently, the airline has inaugurated Hyderabad (HYD)- Pune (PNQ) flight with its Embraer E175.
With the addition of a third E175, they are likely to add more capacity and can launch new destinations and routes in the coming months.
Stay tuned with us. Further, follow us on social media for the latest updates.
Also Read: US Airlines, Including American, United, Delta, and Southwest, want you to Dress Properly – Aviation A2Z
Join us on Telegram Group for the Latest Aviation Updates. Subsequently, follow us on Google News.