AMSTERDAM- On August 17, 2023, a Qatar Airways (QF) Boeing 777F Cargo aircraft encountered damage from the ground vehicle at Schiphol Airport (AMS) in Amsterdam.
An informed source indicated that the incident might have occurred during the unloading process, with the aircraft's lower deck reportedly getting struck by a loader moving in front.
Qatar Airways 777F Damaged at Schiphol
Qatar Airways has confirmed the damage to the cargo plane. The flight, identified as QR8156, had recently landed at Schiphol following a journey from Panama. It was originally scheduled to proceed from Schiphol to Doha; however, this flight had to be canceled as a result of the collision.
Qatar Airways has reported that no individuals were harmed during the incident. Further, an inquiry has been initiated to probe into the situation.
The duration for which the more than three-year-old Boeing 777F, registered as A7-BFV, will remain out of service remains uncertain.
As per the Schiphol source, the damage is substantial, indicating that the aircraft will be grounded temporarily. Qatar Airways, however, refrains from making definitive statements about the situation while the investigation is ongoing.
The cause of the incident, whether it's attributed to human error or equipment malfunction, is also yet to be determined.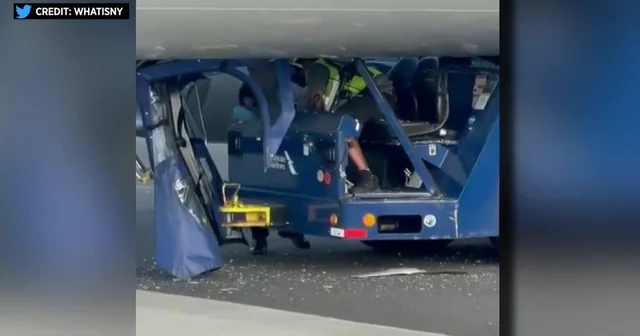 Similar Incident
In April, a devastating incident at Austin Bergstrom International Airport (AUS) involving an American Airlines (AA) employee shocked the aviation community.
The tragedy occurred when a tug, known for its history of mechanical problems, crashed into a jet bridge, resulting in the death of the employee.
The incident has sparked investigations into the cause of the accident and has brought to light concerns about maintenance practices.
In the aftermath of the fatal accident, American Airlines suggested to authorities that it may have been a suicide, raising eyebrows among investigators and colleagues.
However, the police report has now revealed a different perspective. Subsequently, pointing towards poor maintenance by a contractor as the primary cause, reported View from the Wing.
The tug involved in the accident had been plagued by "several mechanical issues." including brake failure. It had even been involved in a collision with a guardrail just ten days prior.
On the day of the incident, as the employee began pushing back an aircraft, the tug unexpectedly accelerated and veered off course. Ultimately, crashed near gate 24, tragically pinning the man between the vehicle and the jet bridge.
Stay tuned with us. Further, follow us on social media for the latest updates.
Also Read: Indian Students Deported Back to Delhi from USA on Delta Flight – Aviation A2Z
Join us on Telegram Group for the Latest Aviation Updates. Subsequently, follow us on Google News.