CALIFORNIA- US Aerospace giant, Boeing, has transported an MD-90 aircraft to the designated location where it will undergo modifications for testing the Transonic Truss-Braced Wing (TTBW) configuration as a pivotal element of NASA's Sustainable Flight Demonstrator initiative.
In a gathering attended by Boeing, NASA representatives, and local leaders at the company's facility, a significant step in the development of the experimental X-66A aircraft was celebrated.
Alongside this event, Boeing unveiled images capturing the aircraft's journey from Victorville, California, to Palmdale.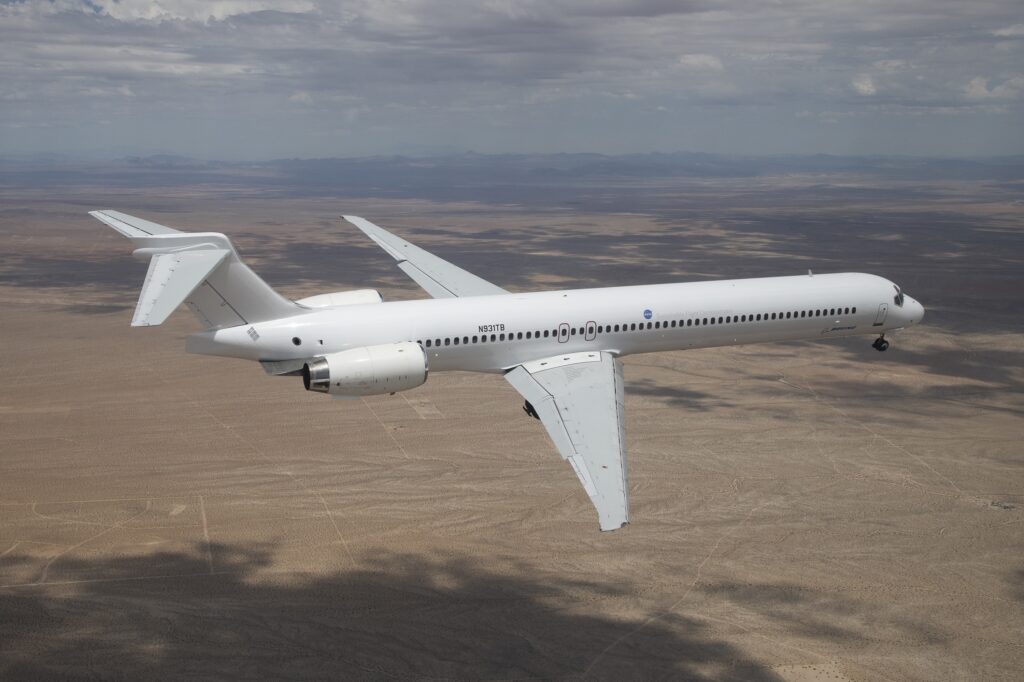 Boeing MD-90 X-66A Truss-Braced Wing
The X-66A marks NASA's inaugural experimental aircraft designed to contribute to the United States' objective of achieving aviation greenhouse gas emissions neutrality.
The upcoming phase of modifications is set to commence shortly, followed by ground and flight testing, slated for initiation in 2028.
Todd Citron, Chief Technology Officer at Boeing, stated,
"This signifies a significant stride within the framework of the Sustainable Flight Demonstrator initiative, underlining Boeing's resolute dedication to sustainability and propelling us closer to the forthcoming stages of testing and validating the Transonic Truss-Braced Wing (TTBW) design."
The TTBW configuration involves ultrathin wings that are reinforced by struts featuring extended spans and higher-aspect ratios.
This innovative design, combined with anticipated technological advancements, has the potential to usher in fuel consumption and emissions reductions of up to 30%.
The collaborative efforts of Boeing and NASA, which have spanned over a decade through the Subsonic Ultra Green Aircraft Research (SUGAR) Program, have laid the foundation for this breakthrough.
Remarks by Administrator and Congressman
Ed Waggoner, Deputy Associate Administrator for Programs within the NASA Aeronautics Research Mission Directorate, expressed enthusiasm about the partnership, stating,
"At NASA, we are thrilled to collaborate with Boeing on the X-66A Sustainable Flight Demonstrator, a vital endeavor that will play a crucial role in hastening aviation's progress toward achieving its net-zero greenhouse gas emission target by 2050."
Congressman Mike Garcia (CA-27) emphasized the historical significance of this initiative within the Aerospace Valley, acknowledging its longstanding role as an epicenter for aerospace innovation.
He underscored the appropriateness of Palmdale as the project's hub due to its proficient workforce and well-equipped infrastructure, making it an ideal locale for this pivotal endeavor.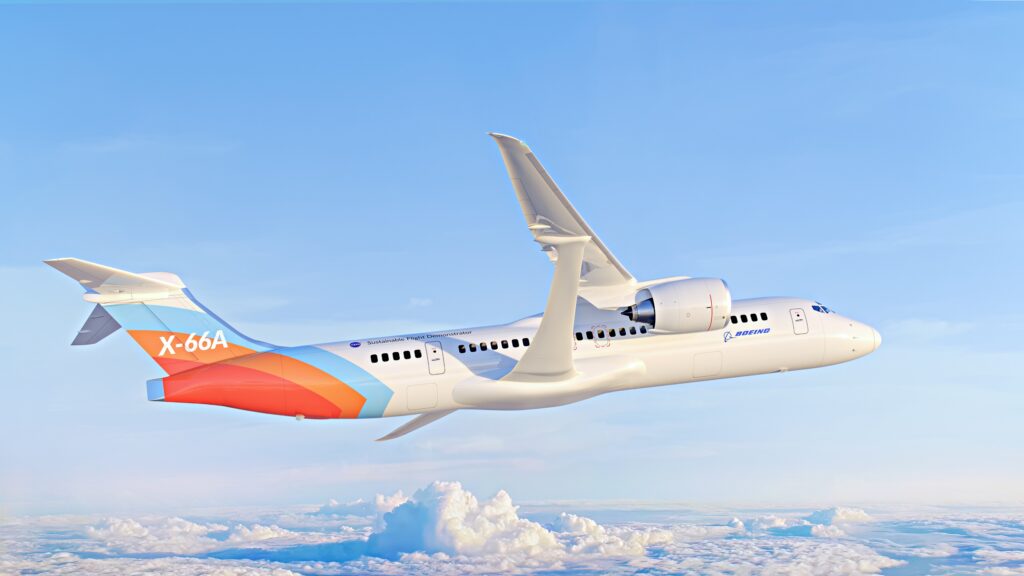 US Airlines to Support this Initiative
US Aerospace giant Boeing and leading space research organization NASA have joined forces with major US airlines to work on the Sustainable Flight Demonstrator (SFD) project and the development of the revolutionary X-66A research aircraft.
In an effort to advance aviation sustainability, Alaska Airlines (AS), American Airlines (AA), Delta Air Lines (DL), Southwest Airlines (WN), and United Airlines (UA) will actively participate in providing valuable insights.
This includes services and insights on operational efficiencies, maintenance, handling characteristics, and airport compatibility for the new X-66A aircraft.
NASA and Boeing took the opportunity at the EAA AirVenture Oshkosh to unveil the impressive new livery for the X-66A aircraft. Subsequently, marking a significant step towards achieving net-zero aviation greenhouse gas emissions.
This innovative project aims to reduce fuel consumption and emissions significantly. Further, it has the potential to reduce it by up to 30% compared to the current domestic fleet of airplanes.
With the combined advancements in propulsion systems, materials, and systems architecture, the X-66A will pave the way toward a greener future for aviation.
Stay tuned with us. Further, follow us on social media for the latest updates.
Also Read: Indian Students Deported Back to Delhi from USA on Delta Flight – Aviation A2Z
Join us on Telegram Group for the Latest Aviation Updates. Subsequently, follow us on Google News.