MUMBAI- On August 7, 2022, Akasa Air (QP), India's youngest and most cost-effective airline, marked the completion of its first year of commercial operations in the Indian aviation sector.
The airline commenced its inaugural commercial flight between Mumbai (BOM) and Ahmedabad (AMD), introducing a service culture characterized by empathy, enhanced affordability options, and improved connectivity for the Indian populace.
This milestone signals the initiation of a fresh chapter in the expansion of Indian aviation.
Akasa Air Celebrates First Anniversary
Within just one year of launching its commercial operations, Akasa Air has achieved an extraordinary feat by becoming one of the fastest-growing airlines in the 120-year history of global aviation.
This achievement is attributed to their remarkable strategy of introducing a new aircraft every 15 days, resulting in a fleet expansion of 20 brand-new aircraft within the initial 12 months of operation.
A significant milestone was reached on August 1, 2023, when Akasa Air added its 20th aircraft, thereby making history as the first Asian airline to integrate the Boeing 737-8-200 variant of the Boeing 737 MAX into its rapidly expanding fleet.
The airline's order book encompasses a total of 76 jets, including 23 737-8s and 53 737-8-200 airplanes. Furthermore, Akasa Air is committed to placing an order for a three-digit number of aircraft by the conclusion of 2023.
This momentous addition of the 20th aircraft marks the dawn of a new phase in Akasa Air's growth journey, facilitating the airline's entry into international airspace.
This move allows Akasa to showcase its distinctive and transformative service on the global stage. With this momentum propelling its expansion plans, Akasa is set to embark on international operations by December 2023.
Impressive Growth
In its inaugural year of commercial activity, Akasa Air has already served a remarkable 4.3 million passengers and accomplished over 900 weekly flights across 35 distinct routes encompassing 16 destinations.
The airline has also effectively transported more than 25,000 tonnes of cargo across its network during this timeframe.
Within a short span, Akasa Air has increased its market share from 0% to an impressive 4.9%, maintaining a passenger load factor exceeding 84% since its inception. The current financial year showcases a steady growth trend, with a passenger load factor nearing 90%.
Alongside its operational expansion, the airline remains steadfast in its commitment to becoming India's most dependable carrier, evident through its leading on-time performance in the aviation industry throughout several consecutive months in 2023.
CEO Insights
Vinay Dube, the Founder and CEO of Akasa Air, shared his thoughts on this significant achievement, stating,
"We take immense pride in having effectively executed our ambitious and unparalleled expansion strategy over the past year. As we have progressed and met our objectives, Akasa Air has emerged as the preferred choice for an expanding number of travelers throughout the nation. The journey of Akasa reflects India's ongoing economic evolution and the country's rapidly evolving civil aviation landscape. What makes us even prouder is the manner in which we have achieved this growth. Our disciplined approach and values-driven culture have played a pivotal role in establishing us as one of the nation's most dependable, employee-focused, customer-centric, and sustainable enterprises. Our unwavering commitment to safety has been the cornerstone of all our operations thus far. Our inaugural year has provided us with a robust operational and financial foundation, enabling us to pursue our ongoing growth aspirations."
Dube continued, expressing gratitude to those who have contributed to this journey of planning and execution.
"Firstly, I would like to extend my heartfelt gratitude to every member of the Akasa family, whose vast global aviation experience and dedication to our shared vision have made our collective success possible. The trust and devotion exhibited by the individuals at Akasa have made each day of the past 12 months a reality."
He went on to acknowledge the invaluable support of partners who have put their trust in Akasa's plans and aided in their seamless execution.
He also expressed gratitude for the unwavering support of the Directorate General of Civil Aviation (DGCA), which has consistently provided necessary regulatory guidance, and the Ministry of Civil Aviation's steadfast commitment to driving industry growth.
Dube took a moment to acknowledge the late Mr. Jhunjhunwala, acknowledging his pivotal role in enabling the realization of their ambitious roadmap. "We cannot express our gratitude enough for his early belief in us and for entrusting us with the task of building a world-class airline," Dube added.
Concluding his remarks, Dube highlighted how the foundation established during its inaugural year will shape its long-term future. He expressed optimism about their continuous investments in a future that aims to serve generations of Indians for years to come.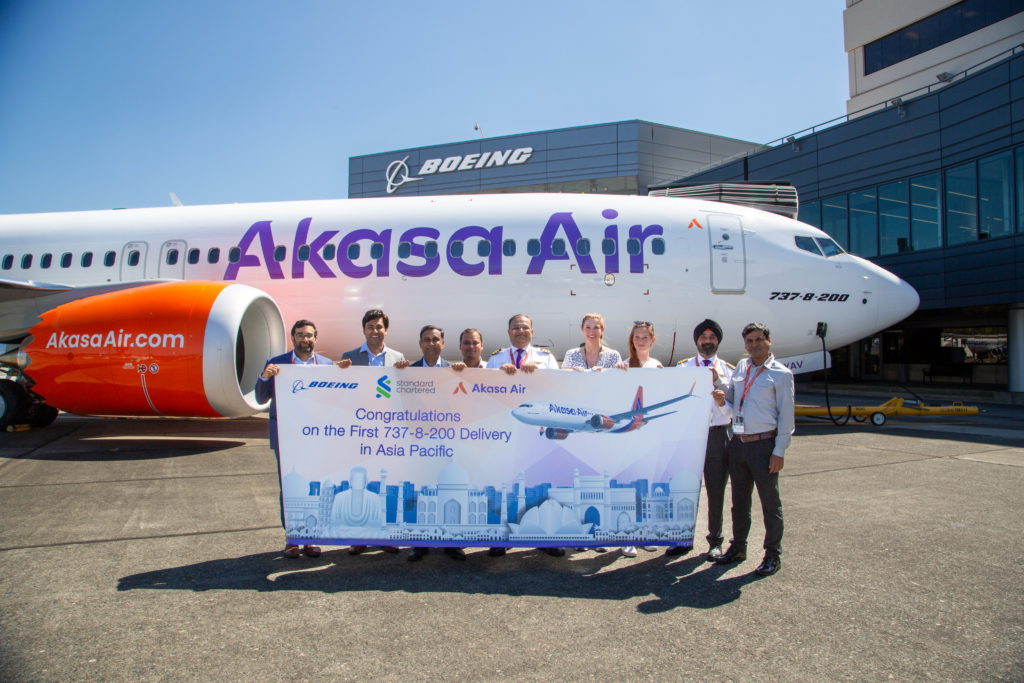 So What's Next?
Akasa Air is considering the expansion of its network into the states of Karnataka, Maharashtra, Goa, and Kerala, according to sources familiar with the airline's strategy told Moneycontrol.
It is anticipated that Akasa Air could capitalize on certain advantageous time slots in these regions, as Go First (G8) might potentially release them, even if Go First recommences operations later.
After taking the 20th aircraft, the airline is now eligible to start international operations.
Akasa has announced its intention to increase its fleet to 28 aircraft by March 2024. Further, the airline will have around 48 737 MAX on Orders at that time.
However, the CEO has said they will likely place larger, three-digit orders in 2023. The order is possibly placed during the Dubai Air Show in November 2023. More Updates are likely to follow in the coming days.
Stay tuned with us. Further, follow us on social media for the latest updates.
Also Read: Indian Students Deported Back to Delhi from USA on Delta Flight – Aviation A2Z
Join us on Telegram Group for the Latest Aviation Updates. Subsequently, follow us on Google News.