OSHKOSH- While we couldn't attend EAA AirVenture 2023 in person, like many of our readers, we were avidly following the daily highlights and important events on our screens.
EAA AirVenture Oshkosh, commonly called Oshkosh, is a yearly aviation exhibition and assembly of aviation enthusiasts during the summer at Wittman Regional Airport and the nearby Pioneer Airport in Oshkosh, Wisconsin, USA.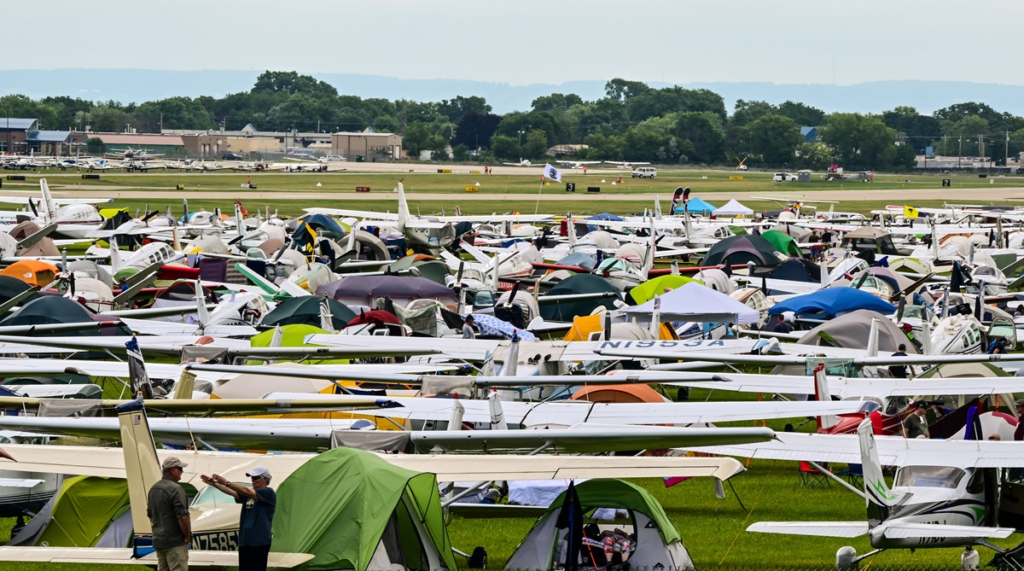 EAA AirVenture 2023 Highlights
Jack Pelton, CEO of EAA, shared his thoughts on the conclusion of the show, stating,
"Oshkosh once again served as the nexus of the aviation community. Despite the challenges posed by weather, logistics, and other factors, I'm particularly proud of the dedication displayed by our volunteers and staff in orchestrating such an exceptional event."
Let's delve into some of the notable highlights of the event shared by Canadian Aviator, particularly focusing on several key statistics:
This year's AirVenture witnessed a remarkable attendance of 677,000 individuals, surpassing the previous year's record of 650,000 attendees.
An impressive fleet of over 10,000 aircraft made their way to Wittman Field (KOSH) and nearby airports. The activity at KOSH averaged around 148 takeoffs and landings per hour of the airport's operation, totaling 21,883 aircraft operations.
Approximately 40,000 visitors found accommodations in approximately 13,000 aircraft and drive-in camping sites. A substantial amount of time, totaling over 250,000 hours, was generously volunteered by more than 5,500 dedicated individuals.
A record-breaking count of 848 commercial exhibitors were present.
The exhibition featured a diverse array of 3,365 aircraft, encompassing 1,497 in the vintage section, 1,067 homebuilt planes, 380 warbirds, 194 ultralights, 134 seaplanes and amphibians, 52 aerobatic airplanes, and 41 rotor-wing aircraft.
Further, the international tent welcomed 2,372 registered visitors representing 93 countries. The EAA suggests numerous individuals might not have formally registered, indicating that the number could be notably higher.
Unfortunate Crash
During EAA AirVenture at Wittman Regional Airport in Oshkosh, Wisconsin, a collision between a Rotorway 162F helicopter and an ELA Eclipse 10 gyrocopter occurred mid-air on Saturday, as reported by officials.
The incident took place shortly before 12:30 p.m. local time. The National Transportation Safety Board (NTSB) is leading the investigation into the crash.
According to the Federal Aviation Administration (FAA), each aircraft had two people on board at the time of the collision. The initial report did not provide further details about the cause and potential injuries.
Regrettably, a somber incident unfolded as four individuals associated with AirVenture met a tragic fate due to two distinct aircraft accidents occurring within a short span of time, involving three different aircraft.
See you Next Year
The EAA has already provided the date for next year's air show. Subsequently, it will take place from 22 to 28 July 2024.
Among all associations, EAA stands unique in providing an enjoyable experience and a strong sense of companionship derived from engaging in activities like flying, constructing, and revitalizing recreational aircraft.
This is fostered by a community of aviation enthusiasts characterized by their unparalleled passion.
Stay tuned with us. Further, follow us on social media for the latest updates.
Also Read: US Airlines, Including American, United, Delta, and Southwest, want you to Dress Properly – Aviation A2Z
Join us on Telegram Group for the Latest Aviation Updates. Subsequently, follow us on Google News.