MEMPHIS- Fort Worth-based American Airlines (AA) flight from Memphis International Airport (MEM) to Charlotte Douglas International Airport (CLT) return back to MEM due to radio equipment failure.
The flight is operated using American Airlines Airbus A321-200, registered as N559UW. Further, as per planespotters.net data, the aircraft is 10.9 years old, and Airbus delivered it to US Airways in 2012.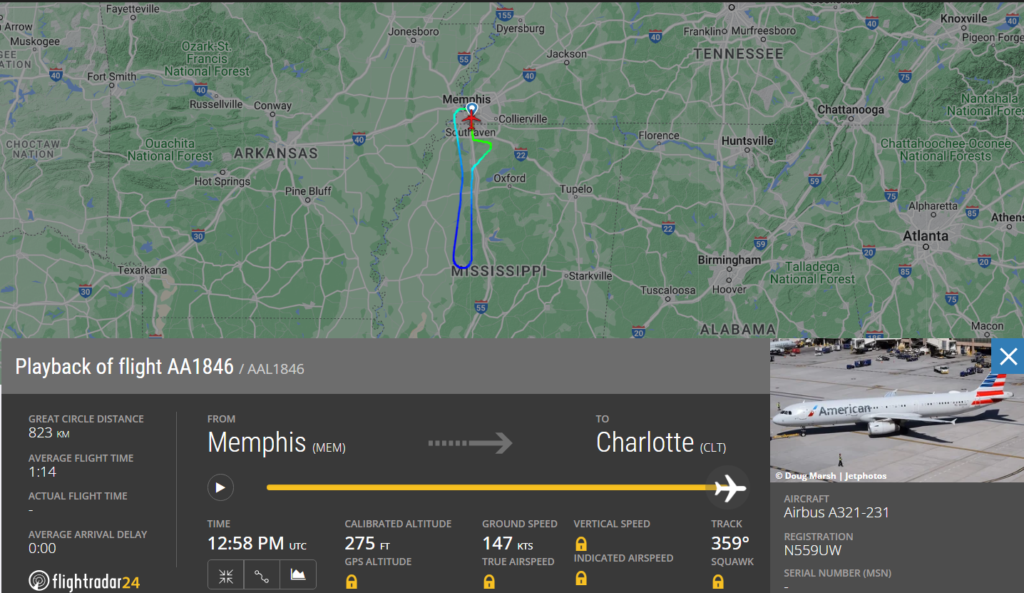 American Memphis to Charlotte Flight
According to FlightRada24 (FR24) data, the flight squawk 7600 code. Now those who don't know it, here's a brief about it.
The squawk code 7600 is utilized to signal to air traffic control (ATC) that the aircraft has encountered a loss of verbal communication. This scenario might involve the aircraft still being able to receive ATC instructions without being able to respond. In such cases, ATC would guide the pilot to use the Ident button for communication.
According to FR24, American Airlines flight AA1846 took off from Memphis (MEM) at around 12:18 PM UTC. Shortly after Takeoff, the flight crew lost contact with ATC; they used the Ident button to ask to land back at MEM.
After getting permission, they returned to MEM without burning the extra fuel needed to carry them to CLT. At around 12:59 PM UTC, the flight landed safely at MEM.
FAA is likely to investigate this incident and will soon submit a preliminary report.
Similar Incident
Today, Tata-owned Air India (AI) flight from CSMIA Mumbai (BOM) to London Heathrow (LHR) made a U-turn after experiencing a left engine failure.
According to FlightRadar24 (FR24) data, the flight made a U-Turn immediately after takeoff and landed safely.
Immediately after takeoff, at around 2:45 PM, the pilot witnessed the issue with the left engine. The flight crew contacted Mumbai ATC, and it turned back towards BOM.
The aircraft landed heavily at BOM at 3:30 PM IST without burning extra fuel. The flight remained airborne for 53 minutes. All passengers and flight crew are safe.
The aircraft involved in the incident is Boeing 787-8, registered as VT-ANW. Further, the aircraft is 6.8 years old; Boeing delivered it to AI in 2016.
Stay tuned with us. Further, follow us on social media for the latest updates.
Also Read: US Airlines, Including American, United, Delta, and Southwest, want you to Dress Properly – Aviation A2Z
Join us on Telegram Group for the Latest Aviation Updates. Subsequently, follow us on Google News.