ATLANTA- Dan Lavker and Anthony Grant collectively boast over fifty years of dedicated service at Delta Air Lines (DL). As valued members of the Elite Services team, they meticulously curate remarkable and premium experiences for passengers at Hartsfield-Jackson Atlanta International Airport (ATL).
Frequently, you can spot them steering a Porsche Cayenne, efficiently shuttling travelers between their connecting flights.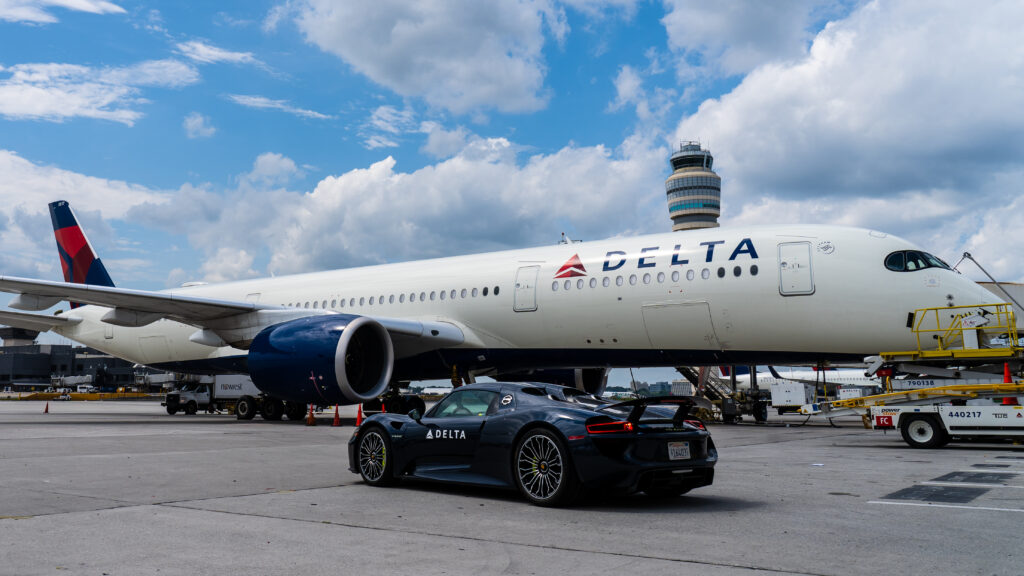 Delta Porche Celebrate Partnership with 918 Spyder
Most often, fortunate and unsuspecting passengers discover an Elite Service Ambassador awaiting them right at the boarding door of their aircraft, holding a personalized sign with their name upon arrival.
This "surprise and delight" approach ensures that the Elite Services team remains active throughout the day, dedicated to enhancing customer experiences.
"It's truly wonderful," Lavker enthusiastically expressed. "I get the chance to establish more personalized interactions with the customers. The service has undoubtedly taken on a more intimate touch."
During this summer, Delta and Porsche commemorated their 12-year partnership. They marked its renewal with a remarkable display of one of the automaker's most cherished creations: the 918 Spyder, temporarily on loan to the Elite Services team.
With a mere 918 units (which also inspired its name) of this hybrid-powered supercar ever produced globally, encountering one of these vehicles on the roads or at a racetrack would be a rarity. But what's even more exceptional? Witnessing one gracefully gliding amidst the aircraft at the airport.
Exclusive Prototype
Porsche generously provided a pre-production prototype of the 918 Spyder from their corporate assortment to Delta's Elite Services team for a span of two weeks. Following this period, the exceptional supercar was returned to Porsche's collection.
Typically, Porsche utilizes this car for marketing and promotional endeavors.
Beyond exemplifying the shared principles of excellence and top-notch offerings upheld by both brands, the appearance of the 918 Spyder also serves as an acknowledgment of their mutual aspirations for a more sustainable future.
The 918 Spyder stands as a hybrid vehicle, often gliding across the tarmac at ATL while operating solely on electric power.
This environmentally-conscious approach aligns with Delta's expanding electric Ground Service Equipment array. This progressive initiative is a source of pride for the individuals associated with both the car manufacturer and the airline.
Surprise for Delta Passengers
Across the day, Lavker, Grant, and their fellow Elite Services team members meticulously assess the roster of Delta passengers navigating the airport. Among those listed, they can select fortunate travelers to forgo the usual stroll through the concourses.
Instead, they extend an exclusive offer for a ride, often facilitated by a Porsche Cayenne, that efficiently transports these selected customers to their connecting flights.
Although Porsche's 918 Spyder graced ATL's ramp for a brief period of a couple of weeks, Lavker, Grant, and their team persist, eagerly anticipating chances to surprise customers on a daily basis pleasantly.
As your flight nears the gate, don't forget to keep those window shades up, as there's a possibility that the 918 Spyder might make a guest appearance at another Delta hub later this year.
Stay tuned with us. Further, follow us on social media for the latest updates.
Also Read: Indian Students Deported Back to Delhi from USA on Delta Flight – Aviation A2Z
Join us on Telegram Group for the Latest Aviation Updates. Subsequently, follow us on Google News.