According to an official from the CAA, a Qatar Airways (QR) flight travelling from Doha to Manila make an Emergency landing at Karachi's Jinnah International Airport due to a passenger giving birth to a baby boy during the flight.
Furthermore, the incident is reported on Tuesday, as per ARY news. However, after checking the Qatar Airways flight history, we discovered that the incident occurred on May 29 (Sunday). Furthermore, the flag carrier of Qatar operated flight QR934 using the Boeing 777-300 ER.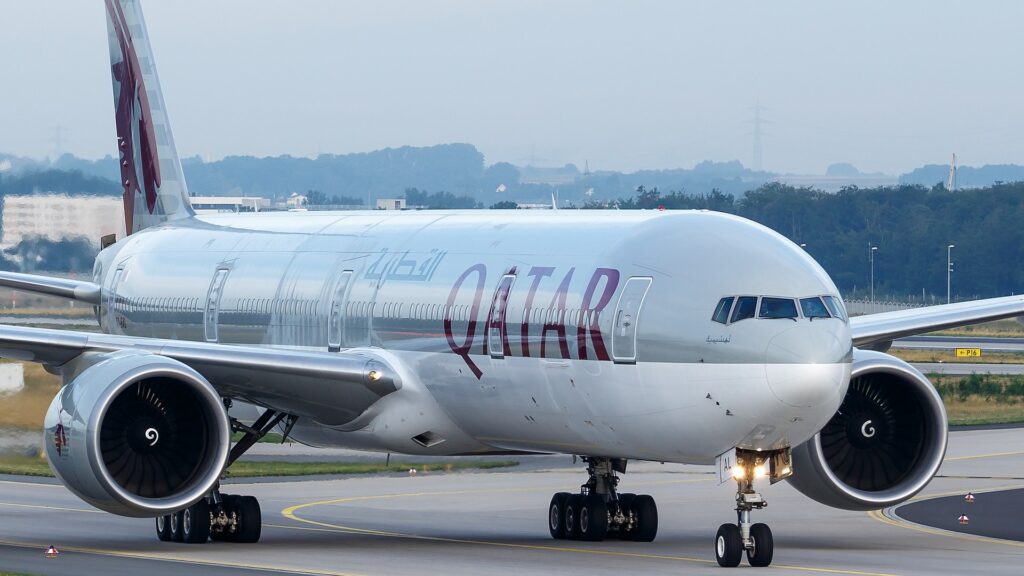 Qatar Airways Baby Born Onboard Incident
The baby's birth occurred a few hours after the Qatar Airways flight departed from Manila on Monday evening. Subsequently, before the pilot could arrange the emergency landing in Karachi.
According to an official from the CAA, the pilot of the flight contacted the Air Traffic Controller in Karachi. Further pilot requested permission for an emergency landing at Karachi airport.
The spokesperson from the CAA mentioned that both the mother and the newborn baby were transported to a hospital to receive necessary medical assistance.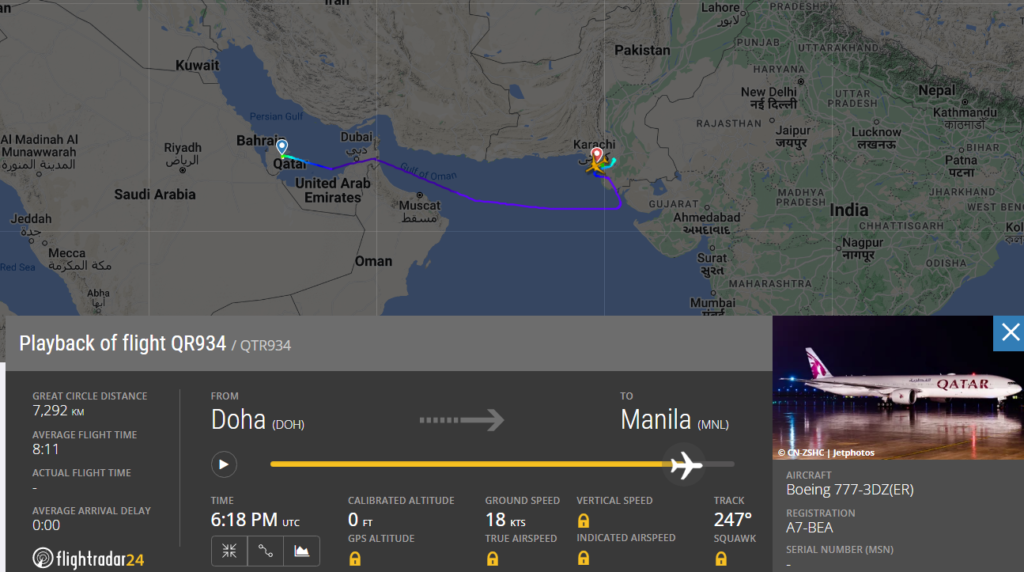 Flight Details
According to Flight Radar 24, the Qatar Airways flight QR934 operating the Boeing 777 having the registration A7-BEA took off from Doha International Airport at 3:28 PM UTC.
After being airborne for few hours, the plane made an emergency landing at Jinnah International Airport (KHI) in Karachi, Pakistan. The aircraft touch down at KHI at 6:18 PM UTC.
After, the passenger who gave birth to baby boy transferred to hospital, the plane took off again after two hours. Further, the QR flight took off again from KHI at 8:18 PM UTC and landed at the Ninoy Aquino International Airport in Manila, Philippines at 3:16 AM UTC.
Similar Incident
In the preceding month, an international flight was compelled to make an unscheduled landing at Karachi's Jinnah International Airport. Due to the deteriorating health of a passenger while in the air.
The flight, originating from Muscat and bound for Bangladesh, encountered a deterioration in the health condition of a Bangladeshi passenger. In response, the pilot of the aircraft requested permission from the Air Traffic Control (ATC) for an emergency landing at Karachi Airport.
Following the receipt of clearance, the flight performed an emergency landing at Karachi Airport. Unfortunately, the unwell passenger passed away during the course of the landing procedure.
Stay tuned with us. Further, follow us on social media for the latest updates.
Also Read: US Airlines, Including American, United, Delta, and Southwest, want you to Dress Properly – Aviation A2Z
Join us on Telegram Group for the Latest Aviation Updates. Subsequently, follow us on Google News.