DELHI- Since 2014, the NDA government's most significant achievement in aviation is the construction of "74 airports in seven years" under the UDAN RCS Scheme, surpassing the total number built in the seven decades following Independence.
However, upon closer examination, it becomes evident that only 11 of these airports were entirely new constructions.
In contrast, 15 airports have become inactive during this period due to the discontinuation of nearly half of the routes launched under the regional connectivity scheme (RCS).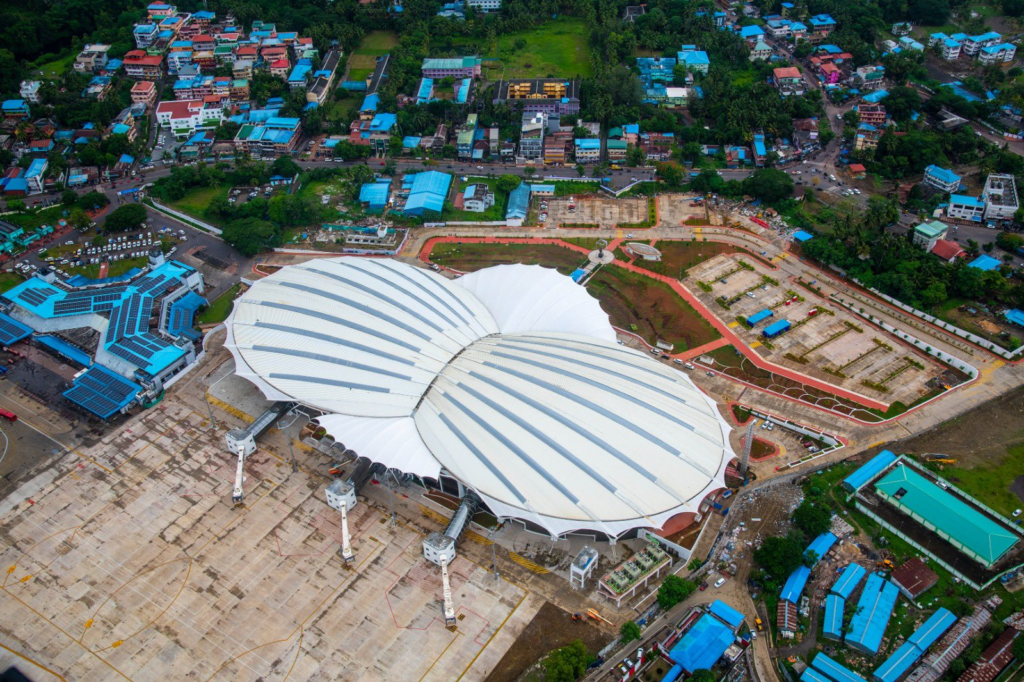 50% of UDAN Routes Failed
Airport development in the recent past has predominantly focused on the regional connectivity scheme (RCS), initiated in 2017 with the aim of enhancing air connectivity for smaller cities and revitalizing under-utilized airports.
This effort primarily involved the rejuvenation of old airstrips that were either unused or had limited usage.
To achieve this, the government launched a total of 479 routes to reactivate these airports. However, the Ministry of Civil Aviation's response to inquiries from The Hindu revealed that 225 of these UDAN routes have now failed.
According to Minister of State for Civil Aviation V.K. Singh's response in the Rajya Sabha on July 24, only 11 greenfield airports have been operational since May 2014.
These airports are located in Mopa (Goa), Shirdi and Sindhudurg (Maharashtra), Kalaburagi and Shivamogga (Karnataka), Kushinagar (Uttar Pradesh), Orvakal (Kurnool) in Andhra Pradesh, Durgapur (West Bengal), Pakyong (Sikkim), Kannur (Kerala), and Donyi Polo (Arunachal Pradesh).
The frequently cited figure of 74 new airports, mentioned by Prime Minister Narendra Modi and Civil Aviation Minister Jyotiraditya Scindia, includes nine heliports and two waterdromes.
The two waterdromes, constructed for seaplanes between Gujarat's Gandhinagar and the Statue of Unity in Kevadia, were closed down shortly after the launch in October 2020.
A senior government official has reported that 15 airports, including Pakyong in Sikkim and Adampur, Pathankot, and Ludhiana in Punjab, no longer have any flight operations.
Regional Connectivity Scheme
The UDAN RCS Scheme, also known as the Ude Desh Ka Aam Nagrik Regional Connectivity Scheme, was introduced to enhance air connectivity for tier-2 and tier-3 cities and make air travel more accessible to the masses through subsidies.
Airlines bid for the routes, and the winning carriers receive incentives. Further viability gap funding (a subsidy) is equivalent to 50% of their aircraft's seating capacity.
In exchange, these airlines offer 50% of their seats at a fixed rate of ₹2,500 per hour of flight to ensure affordable air travel.
The subsidy's cost is covered by Indian airlines operating on non-RCS routes, which pay an RCS levy of ₹15,000 per departure, implemented in April 2023.
This levy is then passed on to passengers on non-RCS flights. To date, a total of ₹2,038 crore has been collected as RCS levy.
The scheme allocated ₹4,500 crores for the revitalization of existing airports through initiatives like runway recarpeting and terminal building construction.
Out of this amount, the Airports Authority of India redeveloped 46 airports, while State governments and Public Sector Units undertook the rest.
Up to this point, the government has utilized ₹3,490 crore for these airport redevelopment projects. Additionally, in May of this year, the Finance Ministry sanctioned an additional ₹1,000 crore for this purpose, to be utilized over the span of three years.
Fewer Passenger Demands
Out of the 225 routes that have ceased operations under the scheme, 128 routes closed down before completing the mandatory three-year period.
Among these, 70 routes were deemed commercially unviable by the airlines despite the subsidy. At the same time, the remaining 58 were canceled due to reasons such as "non-compliance" by the airline operator, route surrender, or airline shutdowns, as seen with Air Deccan and Air Odisha.
After the completion of the three-year support period provided by the government, 97 routes shut down.
The scheme's objective was for airlines to sustain operations independently after this period, but out of the 155 routes that completed three years, only 58 have managed to survive.
SpiceJet Failed to Capitalize
The Indian carrier SpiceJet (SG), which secured 74 routes (one in five routes awarded under the scheme), currently operates on only 20 of them.
Consequently, the Airports Authority of India (AAI) has issued multiple show-cause notices to SG, warning about the possibility of forfeiting its security deposit.
The airline cited various reasons for its inability to operate 12 routes, stating that airports like Thanjavur, Moradabad, Saharanpur, and Ayodhya were not ready for operations.
SpiceJet (SG) Airlines discontinued its flights to these locations due to a "change in technical requirements," as stated by the airline in response to The Hindu's questionnaire.
The airline explained that it faced significant challenges in establishing these markets for the remaining routes due to persistently low passenger demand.
Stay tuned with us. Further, follow us on social media for the latest updates.
Also Read: US Airlines, Including American, United, Delta, and Southwest, want you to Dress Properly – Aviation A2Z
Join us on Telegram Group for the Latest Aviation Updates. Subsequently, follow us on Google News.