LONDON- European low-cost and leisure airline easyJet UK (U2) flight from London Gatwick (LGW) to Dubrovnik (DBV) made an emergency landing at LGW due to issues with the aircraft's hydraulic system.
Some unconfirmed reports suggest that the EasyJet Airbus A320, amid hydraulic issues, might damage the landing gear during takeoff. However, the plane landed safely a few minutes ago and will undergo complete inspection at LGW.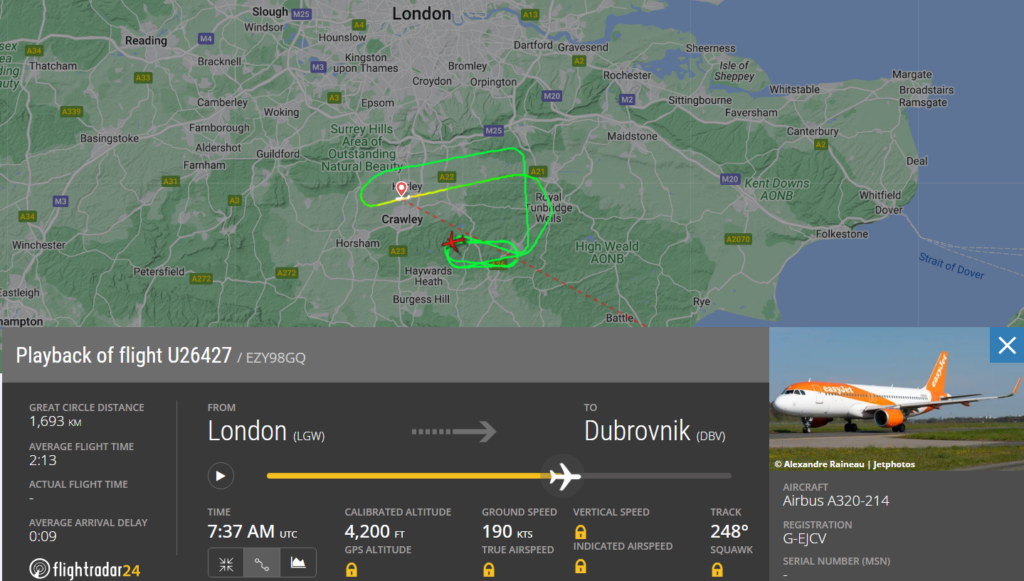 EasyJet Flight makes Emergency landing at Gatwick
The flight tracking site Flight Radar 24 data suggests that the easyJet (U2) flight U26427 took off from Gatwick Airport (LGW) with around 25 minutes delay at 8:12 AM local time.
Shortly after takeoff, the flight started circling near the LGW. Subsequently, the easyJet flight crew squawked 7700 a few minutes later, meaning some emergency.
After burning the extra fuel needed to reach Dubrovnik Airport (DBV), the flight started its approach towards LGW. The flight landed safely at 8:50 AM local time.
The flight remained airborne for almost 40 minutes. The aircraft involved in the incident is an easyJet classic 8.1-year-old Airbus A320, registered as G-EJCV.
More details regarding the incident are awaited. We will keep you posted, so stay tuned.
Fire Alarm Incident
This morning (July 28, 2023), a fire alarm activation led to the evacuation of hundreds of passengers at London's Gatwick Airport (LGW). Crowds gathered outside the airport's north terminal, and a fire crew was observed ascending an escalator.
On Twitter, a traveler expressed frustration about the staff's "lack of guidance" during the evacuation. The tweet read, "Evacuated at Gatwick due to a fire alarm! Not great for the staff here as there is no guidance. Poor operations!"
By 7:30 am, passengers were permitted to re-enter the airport. A Gatwick spokeswoman expressed apologies for any inconvenience caused, clarifying that the evacuation was of short duration.
Speaking to the Mirror, she stated, "London Gatwick's North Terminal was evacuated for a short time this morning due to a fire alarm being activated. As always, safety and security are our number one priority. We apologize to passengers for any inconvenience."
Stay tuned with us. Further, follow us on social media for the latest updates.
Also Read: US Airlines, Including American, United, Delta, and Southwest, want you to Dress Properly – Aviation A2Z
Join us on Telegram Group for the Latest Aviation Updates. Subsequently, follow us on Google News.