PARIS- ZeroAvia, a pioneering company in green aviation, has stated that the confirmation of a new agreement with Monte Aircraft allows it to progress to the subsequent phase of production. Further, commence the construction of hydrogen-electric engines.
ZeroAvia recently disclosed that it has finalized a deal with Monte Aircraft Leasing to provide up to 100 of its zero-emission engines. However, the financial specifics of the agreement are not revealed.
ZeroAvia and Monte Aircraft Collaboration
ZeroAvia said the agreement – financial details for which were not disclosed – represents "an important commercial milestone." Which will see the first build slots secured for its ZA600 zero-emission engines.
Hydro-electric technology uses fuel cells to turn onboard hydrogen fuel into electricity. Which then powers the aircraft's electric motors. Further enabling a "truly clean flight."
As ZeroAvia plans its production facilities, it declares that this agreement ensures a substantial portion of the initial manufacturing capacity is now committed.
Monte aircraft leasing said it is now "well positioned" to seize a significant market share in the emerging market for leasing zero-emissions regional aircraft.
The new partners will focus on retrofitting aircraft with nine to 19 seats using the new ZA600 powertrain engines to initiate zero-emission airline operations by 2025.
ZeroAvia continues to work on certifying the ZA600, a 600kW powertrain engine designed to support aircraft with up to 19 seats. Further, the Cessna Grand Caravan is intended as the initial aircraft model.
With the first phase of prototype flight testing nearly completed, ZeroAvia assures that it is on track to obtain technology certification by 2025.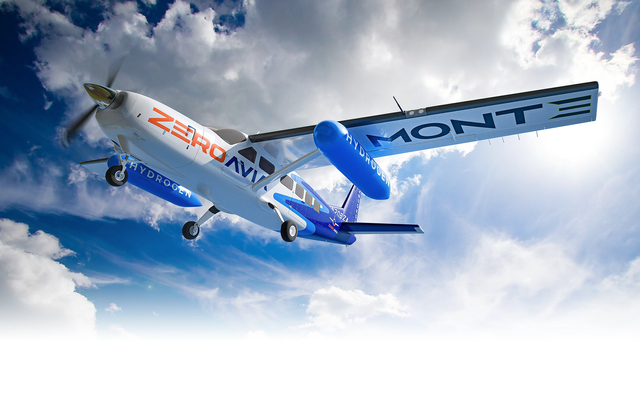 Executive Insights
James Peck, Chief Customer Officer at ZeroAvia, stated that in addition to achieving significant technical and design milestones, we are also making substantial progress on the commercial front.
This progress will enable operators to fly lower-cost and environmentally friendly aircraft much sooner.
Timothy Eyre, chief operating officer at Monte, expressed his enthusiasm for the new partnership, highlighting ZeroAvia's remarkable progress with the ZA600 powertrain.
He believes that Monte is an ideal partner with its strong focus on decarbonization. Subsequently, poised to lead the way in facilitating the early adoption of green operations in a growing market.
Paris Air Show
Eyre welcomed the deal, which he described as "incredible." As it bolsters Monte's position in the zero-emission regional turboprop market. Further, enhances their ability to offer operators solutions for decarbonizing their fleets.
"We look forward to continuing our work with the ZeroAvia team as we continue on our journey to become one of the world's 1st zero-emission aircraft lessors."
ZeroAvia announced it has finalized the deal with the Paris Air Show. Further, it is currently exhibiting its hydrogen-electric powered engines.
Yesterday announced the successful completion of the first phase of technical studies. Further, affirming the feasibility of their hydrogen-powered engines.
These studies included determining the maximum take-off weight, the center of gravity, and the structural allowances of the aircraft.
The news also comes on the same day as the UK govt announced over £200m of new investment. This in the green aviation research and development projects.
Stay tuned with us. Further, follow us on social media for the latest updates.
Also, read FIRST LOOK: Air India Airlines New Possible Branding, Livery, Logo and More | Exclusive – Aviation A2Z
Join us on Telegram Group for Latest Aviation Updates. Subsequently, follow us on Google News.