AUSTRALIA- The flag carrier of Australia, Qantas (QF), has recently revealed the complete cabin (interior) layout of their specially crafted Airbus A350, which is scheduled to commence non-stop flights between Sydney and New York as well as London, starting in late 2025.
This remarkable endeavor signifies their determination to triumph over the ultimate challenge of long-distance air travel.
On June 16, 2023, Qantas and the Charles Perkins Centre at the University of Sydney announced research results indicating that reshaping the in-flight travel experience has the potential to minimize the effects of jet lag.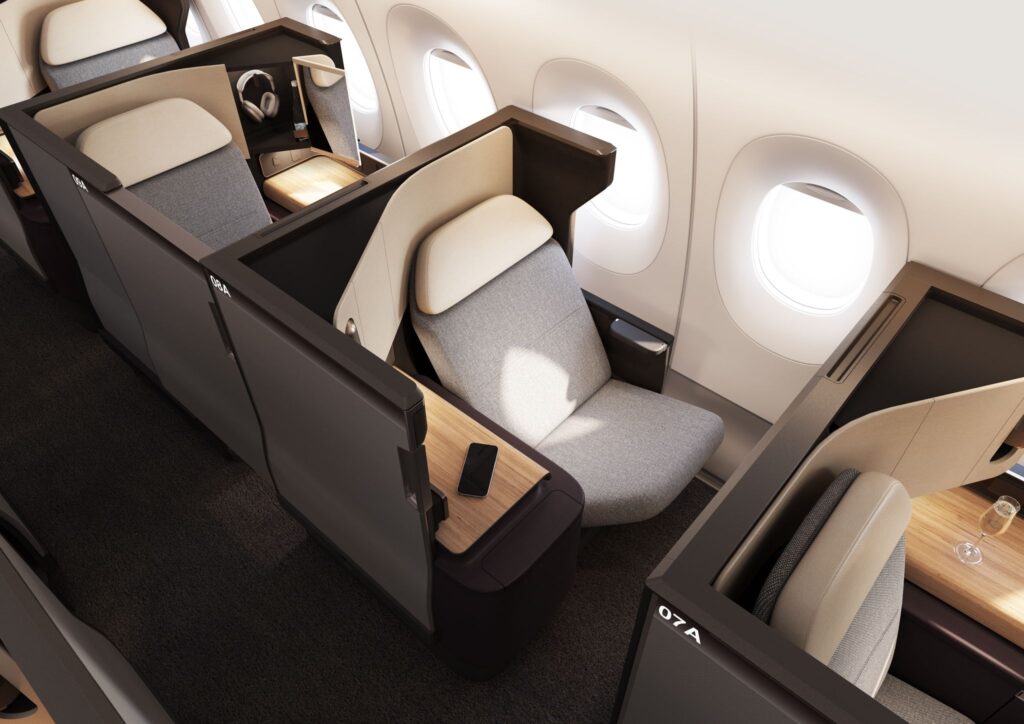 Qantas New Airbus A350 Cabin
In February, the airline presented its luxurious First and Business cabins. Further, it has revealed the remaining sections of the aircraft's interior, including a unique dedicated Wellbeing Zone, Premium Economy, and Economy cabins.
The process of designing the cabin began in 2019. It involved tens of thousands of hours of work to create Qantas' innovative A350 cabin. Which can accommodate up to 238 passengers and enable nonstop flights of up to 22 hours from Australia to nearly any destination worldwide.
Compared to routes with layovers, the Qantas Project Sunrise flights will reduce point-to-point travel time by over three hours.
Qantas will be the pioneering airline to introduce a purpose-built Wellbeing Zone. Further, it will be positioned between the Premium Economy and Economy cabins.
This zone will feature sculpted wall panels and integrated stretch handles. Further, a guided on-screen exercise program, a hydration station, and a variety of refreshments.
New A350 Cabin Layout
Today, Qantas has unveiled the Premium Economy cabin with 40 seats and the Economy cabin with 140 seats. Both offer the most generous seat pitches among all Qantas aircraft. Further, Passengers can enjoy ergonomic leg and footrest systems and personal storage options.
Across all four cabins, each seat will be equipped with multiple fast USB-C charging ports. While premium seats will also have integrated wireless charging capabilities.
With the Qantas A350 fleet, customers will experience unparalleled connectivity, as they will have access to fast and free WiFi. Subsequently allowing them to stay connected throughout their journey.
Bluetooth connectivity will be available in all cabins. Further enabling customers to connect their personal headsets to individual inflight entertainment screens.
The aircraft will feature six spacious enclosed First Suites designed to provide a boutique hotel room experience. Further, it will be complete with a 2-meter flatbed, a dining table for two, a separate recliner chair, and a 32-inch 4K ultra-high definition touchscreen TV.
The 52 Business Suites will also offer sliding doors for enhanced privacy, lay flat beds, and large dining tables. Further, the bespoke lighting and an 18-inch 4K ultra-high definition touchscreen TV.
Executive Insights
According to Qantas Group Chief Executive Officer Alan Joyce, although the Qantas A350 will have a significant proportion of premium seats, the majority of customers will travel in the Premium Economy and Economy cabins.
Therefore, ensuring maximum comfort and well-being across all cabins has been a top priority.
Mr. Joyce stated, "We have dedicated as much effort to the back half of the aircraft as we have to the front. In fact, we initiated studies on the Wellbeing Zone before any other area of the A350."
The introduction of the new Project Sunrise flights offers an opportunity to reimagine long-haul travel holistically. Further encompassing not only aircraft cabin design but also the selection of ingredients for the inflight menu.
By reducing the number of seats on the A350 to 238, compared to the 300-plus seat layouts of other carriers, Qantas aims to optimize aircraft performance over long distances while providing passengers with more spacious and comfortable accommodations.
With fewer seats, each customer enjoys increased personal space. Further, a dedicated Wellbeing Zone allows travelers to stretch, enjoy a snack, and spend time away from their seats.
Qantas will be the only airline worldwide to feature a specifically designed onboard area for stretching and movement.
Qantas World's First Research to Reduce JetLag
Research conducted during test flights for Qantas' Project Sunrise program, which will establish direct connections between Sydney, New York, and London starting in late 2025, has demonstrated the positive impact of various factors on traveler well-being.
These factors include different lighting and sleep schedules and specific mealtimes. Further, the inclusion of ingredients like chili and chocolate during long-haul flights. Additionally, movement and exercise play a crucial role in enhancing well-being.
The world-first research is carried out in collaboration with the University of Sydney's Charles Perkins Centre. The partnership dates back to 2015 when Qantas began preparations for the launch of direct flights from Perth to London.
Qantas conducted three Project Sunrise research flights in 2019 to collect real-world passenger data. Subsequently, traveling from New York and London to Sydney.
During these flights, 23 volunteer customers were equipped with wearable devices. Subsequently, researchers closely monitored their experience over the course of the 20-hour journeys.
The passengers followed a specially designed menu, lighting, sleep patterns, and movement sequences as part of the study.
Jetlag Research Findings
Preliminary findings from the research, which have not yet been published, reveal that passengers following the tailored schedule experienced the following benefits compared to those on a traditional inflight routine of eating and sleeping:
Self-reported milder jet lag symptoms
Improved quality of sleep during the flight
Enhanced cognitive performance in the two days following the flight
The inflight trials involved implementing customized cabin lighting schedules to facilitate adjustment to the destination's time zone. Additionally, simple stretch and movement activities were integrated into the routine.
Meal services were also adjusted to align with passengers' body clocks. Specific menu items, such as fish and chicken paired with fast-acting carbohydrates and comfort foods like soups and milk-based desserts, were included to promote the brain's production of the amino acid tryptophan (referred to as 'Tryp'). This amino acid aids in inducing sleep.
Qantas' specially designed Airbus A350s, utilized for the Project Sunrise flights, include an onboard Wellbeing Zone that incorporates insights from this research.
This zone, unveiled in New York, allows passengers to take breaks. Further, engage in simple exercises and stretches guided by video screens.
Researcher Remarks
According to Professor Peter Cistulli, an expert in Sleep Medicine from the University of Sydney, the ongoing research has demonstrated clear indications that the interventions implemented during the trial flights have effectively mitigated the impact of ultra-long-haul travel.
"The initial results are promising, providing us with a strong impetus to proceed to the next phase of customer research. Which will support the design of products and services for Project Sunrise," Professor Cistulli remarked.
He further highlighted the collaborative effort behind the research. Subsequently, involving a multidisciplinary team of over ten researchers from various fields, including medicine, science, and engineering.
This team consists of sleep researchers, circadian rhythm experts, nutritionists, and movement specialists. Notably, no airline has ever conducted such comprehensive research before.
The positive early findings have instilled optimism within the team. Further suggests that this partnership with Qantas has the potential to improve the health and well-being of international travelers genuinely.
Stay tuned with us. Further, follow us on social media for the latest updates.
Also Read: US Airlines, Including American, United, Delta, and Southwest, want you to Dress Properly – Aviation A2Z
Join us on Telegram Group for the Latest Aviation Updates. Subsequently, follow us on Google News.