INDIA- Indian FSC Vistara (UK) and Air India SATS (AISATS), a prominent airport services management company, are delighted to announce the introduction of India's first-ever Robotic Dry Washing Service for maintaining the exterior finish of aircraft.
AISATS and Vistara, in collaboration with AeroTech Support Services Pvt. Ltd., a globally recognized provider of sustainable aviation solutions, have launched an innovative cleaning technique called 'AeroWash.'
This partnership marks a significant milestone in the aviation industry, bringing cutting-edge technology to enhance the aircraft cleaning process.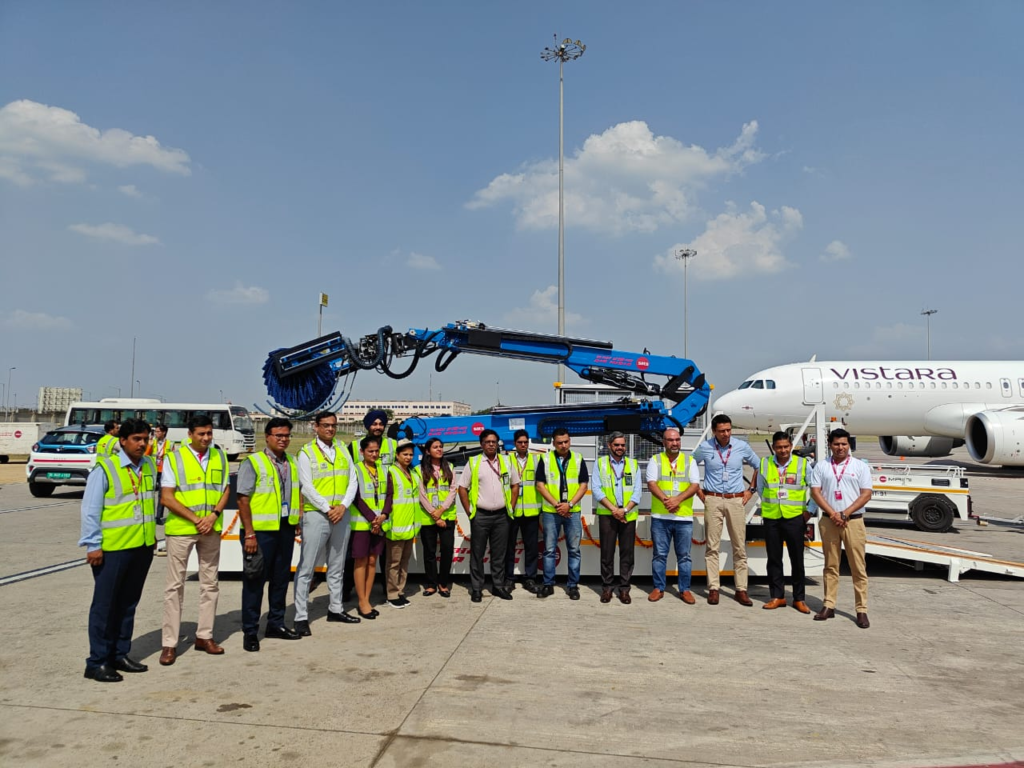 Vistara AISATS Dry Aircraft Washing
The AeroWash system incorporates state-of-the-art robotic technology to deliver efficient and automated exterior cleaning for aircraft. Utilizing a lightweight and flexible brush controlled remotely via wireless operation, AeroWash ensures exceptional cleaning outcomes while prioritizing the aircraft's and operators' safety.
Implementing this comprehensive washing program guarantees time efficiency, reduces the need for human intervention, and enhances the safety of critical areas that may not be adequately addressed through manual cleaning methods. This holistic solution for maintaining aircraft cleanliness and appearance offers a range of benefits.
By introducing AeroWash, AISATS aims to deliver substantial cost savings for airlines while aligning with India's sustainability vision.
The advanced cleaning capabilities not only contribute to reduced aerodynamic drag but also result in increased fuel efficiency and a reduced carbon footprint.
This innovative solution underscores the aviation industry's commitment to operational efficiency and environmental responsibility.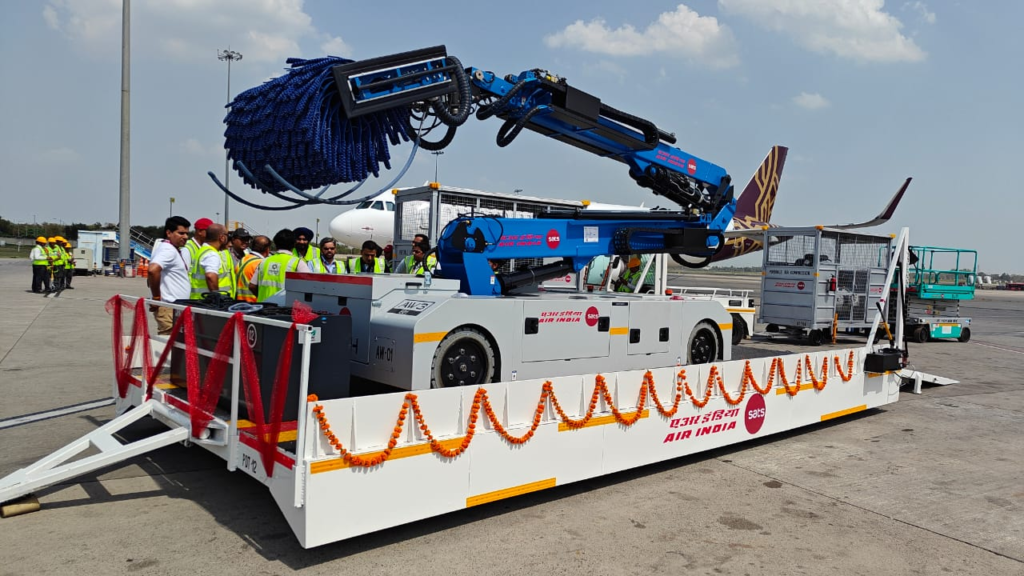 Executive Insights
Pankaj Handa, Senior Vice President – Ground Operations at Vistara, expressed his enthusiasm. Subsequently stating, "We are thrilled to be the first airline in India to introduce this unique initiative. This highlights our steadfast dedication to investing in innovative and purpose-driven technologies right from the beginning."
"This marks another significant milestone in our ongoing endeavors to enhance operational efficiencies. Further, we do this through automation and continuously explore improved, sustainable approaches to conducting our business," added Mr. Handa.
Speaking at the launch of this groundbreaking solution, Mr. Sanjay Gupta, CEO of AISATS, expressed his satisfaction.
He stated, "We are thrilled to introduce AeroWash, in collaboration with AeroTech Support Services, to the Indian aviation industry. The lack of standardized procedures and heavy reliance on manual cleaning systems have posed significant challenges in India.
AeroWash will revolutionize aircraft cleaning practices by ensuring higher efficiency and reduced resource consumption. This addition to our services exemplifies AISATS' commitment to sustainability and our unwavering pursuit of advanced and eco-friendly solutions in the aviation industry."
Dr. Ashwani Khanna, from AeroTech Support Services, added, "We are excited to partner with AISATS, a leading airport service management company. To introduce the state-of-the-art 'AeroWash' technology. Along with the dry wash process, to the Indian aviation industry."
Further this innovative, efficient, and environmentally friendly solution represents a significant advancement in how aircraft exterior cleaning is perceived as a sustainability tool in India.
By incorporating AeroWash equipment during regular exterior cleaning operations, airlines can achieve substantial fuel savings. Further reduce carbon emissions, enhance their brand image, and improve overall profitability.
AeroWash provides a thorough cleaning that goes beyond what the naked eye can see. Further leaving a polished finish that reduces skin friction drag on the aircraft.
Bottom Line
AISATS has brought forward several sustainable initiatives. Among its recent endeavors are the introduction of a groundbreaking towable solar-powered passenger ramp bridge at Hyderabad and Delhi airports.
Furthermore, the company has taken steps to enhance environmental sustainability by deploying electric vehicle (EV) buses at Bangalore airport. These initiatives showcase AISATS's strong dedication to promoting a greener, more sustainable aviation industry.
Adopting this approach will protect the aircraft against structural damage, corrosion resulting from environmental factors, and oil or fluid leakages.
Additionally, it will contribute to extending the overall lifespan of the aircraft. Vistara has been actively conducting demonstrations and proof of concept exercises for AeroWash. Further solidifying its commitment to exploring and implementing innovative aircraft maintenance and care solutions.
Stay tuned with us. Further, follow us on social media for the latest updates.
Also Read: US Airlines, Including American, United, Delta, and Southwest, want you to Dress Properly – Aviation A2Z
Join us on Telegram Group for the Latest Aviation Updates. Subsequently, follow us on Google News.