KOZHIKODE- Through meticulous planning, efficient project monitoring, and seamless execution, the dedicated team from the Airports Authority of India (AAI) achieved an extraordinary feat by completing the Runway recarpeting work at Calicut International Airport in a remarkable duration of 120 days, surpassing the scheduled timeline.
This significant project, estimated at Rs. 60 Crore, encompassed the comprehensive recarpeting of the airport's 2.86 km runway and installing Runway Centre Line and Touchdown Zone lights.
These enhancements were strategically undertaken to elevate the safety standards of the airport, ensuring a secure and reliable operational environment.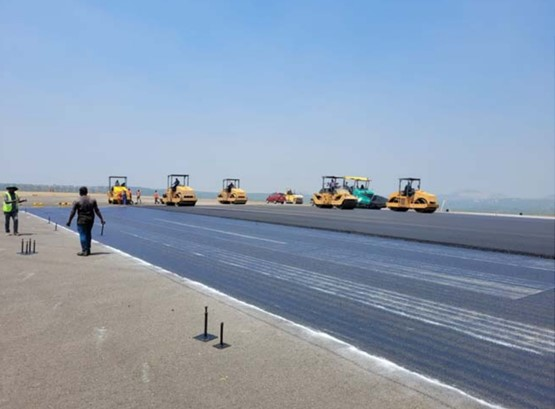 Calicut Airport Runway Recarpeting Work
Recarpeting a runway exceeding 2.5 kilometers typically requires an average of eight to nine months. However, the recarpeting project at Calicut International Airport proved to be an exception.
Commencing on January 27, 2023, the extensive recarpeting work will be accomplished by June 2, 2023. Well, in advance of the monsoon season in Kerala.
The scope of the recarpeting work encompassed various aspects. Subsequently, including milling to remove the previous bituminous layer surface and recarpeting the 2860-meter-long runway, runway shoulders, taxiway, and RESA (Runway End Safety Area).
Moreover, it involved the incorporation of a glass fiber reinforcement grid and the installation of Runway Centre Line Lighting (RCLL) and Touch Down Zone Lights (TDZ).
Remarkably, all of these tasks were completed within a mere 120-day timeframe. The Airports Authority of India (AAI) makes the achievement possible, thanks to their efficient project monitoring and execution. Further, the uninterrupted availability of the runway due to favorable weather conditions.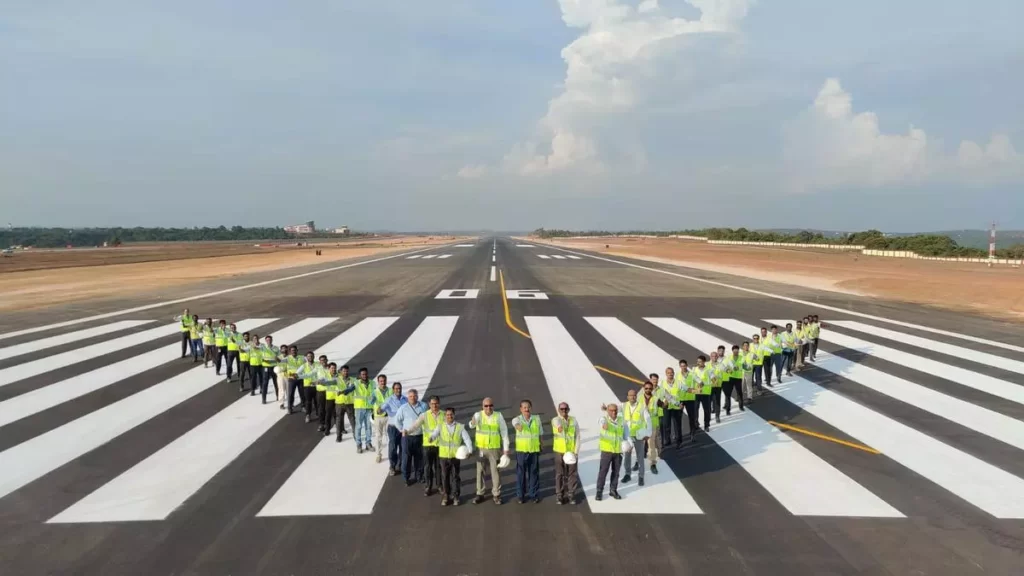 Record Achievement
Internationally mandated standards construct airport runways. The continuous cycle of aircraft landings and take-offs gradually wears down the runway surface.
Additionally, natural weather elements such as rain and sunlight contribute to the degradation of the runway.
Consequently, the decision to recarpet a runway is based on operational requirements. Further considering factors such as traffic volume and the types of aircraft the airport handles.
The meticulous planning of the recarpeting project for the 2.86 km Calicut Airport Runway and associated works ensured its successful execution. To facilitate the project, the runway was closed for daytime operations. A NOTAM (Notice to Airmen) issued to notify them of the closure.
Daytime flights rescheduled to nighttime, mitigating any significant impact on night traffic. The project timeline is carefully structured so the runway will be prepared for landings and take-offs by 18:00 daily.
Despite the airport accommodating 70 to 80 flight movements daily, only a limited number of flights (less than 10) operated between 10:00 and 18:00. Adequate arrangements made to handle rescheduled flights and manage the resulting passenger footfall.
Stay tuned with us. Further, follow us on social media for the latest updates.
Also Read: US Airlines, Including American, United, Delta, and Southwest, want you to Dress Properly – Aviation A2Z
Join us on Telegram Group for the Latest Aviation Updates. Subsequently, follow us on Google News.